When talking about motorcycle luggage, a tank bag is probably one of the most convenient ways to keep items that you need quick and easy access to. Most riders keep things like electronics, cell phone, wallet, maps, water bottle, snacks, chapstick and anything else you might need.
Tank bags come in a big variety of sizes and styles as well as mounting methods. In this article I'll talk about different tank bag styles and share what I look for in a tank bag for my own motorcycle.
Before you choose a tank bag you should ask yourself a few questions. First, what are you going to use it for? Are you planning a long trip that requires the use of a map? Do you want extra space to pack extra gear? Do you want a bag that includes a hydration system? Do you want a small bag to use for quick day rides or commuting?
The next thing to consider is the layout of your tank, the amount of surface space available, and the mounting style you'd like to use.
I personally don't like large, bulky tank bags. I prefer bags that aren't too tall, that will carry only the things I will need at hand whenever I ride, and that's it. I also like tank bags that have a large clear pocket for a paper map, and a front pocket for my phone and wallet.
This might give you an example of what you should consider before purchasing a tank bag. Will a tall bag interfere with your ability to ride or maneuver quickly? Will a large tank bag interfere with your handlebars when turning? I once had a friend who's tank bag would honk the horn every time she made a left hand u-turn.
Tank Bag Mounting Styles
Magnetic: These tank bags have powerful magnets that adhere to your metal tank. They are the easiest to use, with parts to install. You simply place it on the tank and you're ready to go. However, they are also easy to steal, so it's smart to can take your valuables with you when you reach your destination. Pro tip: if you ever put your magnetic tank bag on the ground, ALWAYS check the magnets for gravel before you put it on your bike. Magnetic bags are strong enough to stay put while riding as long as all magnets are contacting the metal tank.
Gas Cap Mounted: Also known as quick lock. These tank bags come with a special ring that permanently attaches to the outer ring of your gas cap. The bottom of the bag has a mounting bracket that slides and locks into the ring and snaps into place. The benefits of this style is that the bag does not touch your tank, it's super easy to take off and this is a good thing when you're at the gas station filling up. They are extremely secure and will not come off while riding.
Strap mounted: Strap mounted bags will give you a more secure fit than a magnetic bag and they are a good solution for bikes with plastic tanks. One concern with strap mounted bags is the hassle that comes with removing them when you gas up. But, this task often only takes a minute or two and once you have a system, it shouldn't be a problem.
My Recommended Small Day Ride Tank Bag
Sometimes you don't need to carry much but you need to carry more than what will fit in your pockets. That's when a smaller tank bag will come in handy.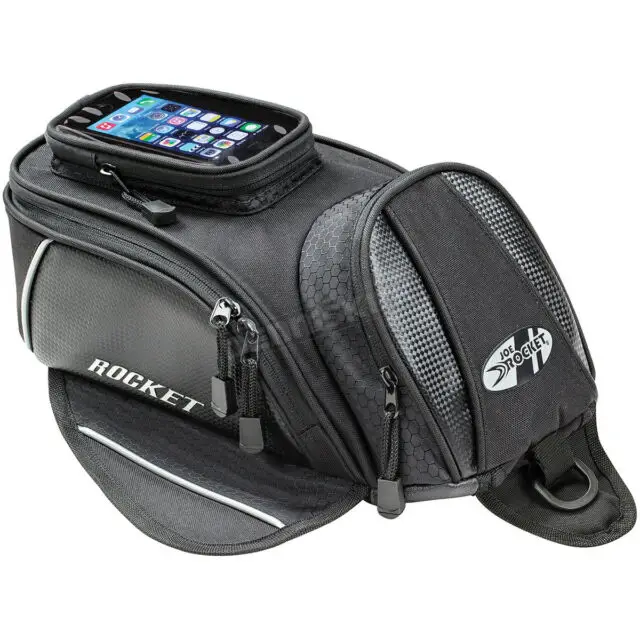 For years I've been riding with the Joe Rocket Manta magnetic tank bag. They call it the Manta because, well, I suppose it's shaped like a manta ray with its wings spread out. The size is just right for a few necessities that I like to carry when I take the bike out for a few hours on local roads. It's the perfect size for packing a water bottle, snacks, my hairbrush, sunglasses, ect. And, it's just big enough to stuff a shirt in if I have to layer up or down.
I've had mine for about 5 years and it shows few signs of wear, zippers work, no ripped seams. Thankfully they have updated the cell phone pocket to accommodate smart phones. So, if you're looking for a small tank bag, check this one out. It's available here on Amazon.
My Recommended Touring Tank Bag
For longer trips of a few days or more, I often take items that I want quick access to, like my cameras and camera mounts. I like keeping these in a tank bag so I can keep my valuables with me if I go in a restaurant. I also like the added feature of a map pouch.
My recommendation for a touring tank bag is the Cortech Super 2.0 18-Liter bag. I like this one for a couple of reasons. First, it's not too big. I'm not a fan of huge tank bags, but it is expandable if I do need the extra space. I also like the shape of the bag. It's curved on top rather than rectangular and that makes it a little easier to lean on, at least in my opinion. The map pocket is removable and some say it's a little on the small side, but I don't see being too inconvenienced by it.
One of the biggest selling point for this tank bag was the hidden backpack straps. It's so nice to be able to take the bag off the bike and throw it on your back. The straps are pretty comfortable too. So, if you're looking for a good mid-sized magnetic tank bag for touring or weekend trips, I recommend this one. Check out the latest prices on Amazon.
Recommended Adventure Tank Bag
If you're looking for a tank bag that's a little more rugged, or one that will fit your dual sport, I recommend the Giant Loop Fandango. Giant Loop makes some great products for adventure riding and their gear is of excellent quality, so, even if you're paying a little more, you'll be getting a good quality product.
What I really like about this tank bag is the large size map pocket that is also touch screen friendly. The bag mounts using the strap system and is designed so you can easily access the gas cap by un-zipping one side, and flipping the bag out of the way. Remove the second zipper to take the bag off the mounting plate completely if you want to take it with you.
The Fandango model is 10 liters, which is not a ton of room, so keep that in mind if you're looking for something bigger. But, if you're out riding the trails, you don't want something bulky or a bag that impedes your ability to ride standing up. They also make an 8 liter bag called the Diablo. You can get them on Amazon here.