The chilly air of the winter brings with it an urge for humans as well as animals to stay home and hibernate.
As humans, the 'Robinson Crusoe' in us wonders, when these chilly months will be over and when exactly can we venture out in the wild?
To many campers, this is a question that does not bug them exactly but puts a lot of doubts in their minds! When are we going to camp again? When does the camping season start? Or, when is the best time to go camping?
In the USA the camping season falls between the months of April to October. However, it can be argued that camping does not need a season, and camping at anytime of the year can have its own colorful moments.
So, whether you are a solo camper or you want to carry a tent in the back of your car, with your family, this article will help you with all the answers, regarding when the camping season starts!
When Does Camping Season Start?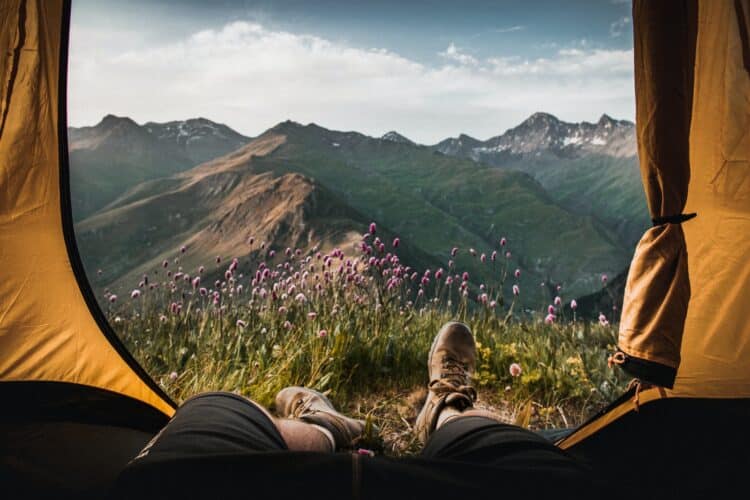 When people talk about 'Camping Season' they are referring to the time of the year when the weather is most favorable for camping trips.
This usually means dry weather, with not too hot or cold temperatures. Therefore, the camping season in the USA generally falls between the months of April to October.
However, this does not mean that you cannot camp outside these months! You can camp all year round if you are willing to put up with some adverse weather conditions. For example, camping in the winter can be a great experience if you are prepared for the cold temperatures.
And, technically speaking, if you live in an area that is warm and sunny throughout the year, you need not worry about when the camping season starts.
In fact, if you are rv camping, camping season may never actually end for you.
For example places like Florida, Arizona, Texas, and California are some notable places where camping grounds are active all year round because of their warmer winter temperatures.
But this does not imply that you won't be able to find a camping ground in the chilly months of January and February in Tennesse or Colorado. In fact, there are many states that keep their camping ground open, all year round.
Now, to give the actual answer of when does camping season start in the USA, let's say, typically it starts at the end of winter, from the months of late March or early April.
However, there are many campgrounds and state parks that do not open to campers until it's May and the warm weather has settled in. Having said that, there are many camping grounds that open from early April and stay open till late October.
So, if you are planning to go on camping, we would recommend that you wait till May and let the weather work itself out if you want to maximize your enjoyment. But if you are a person who loves adventure, you can head out in April as well.
What is the Best Month to Go Camping?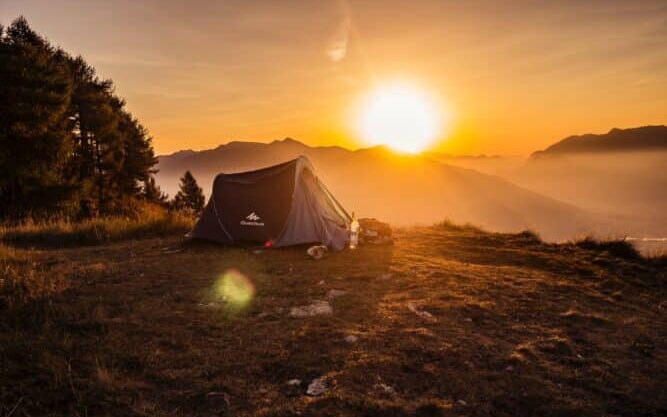 There is no specific answer to this question as it all depends on personal preference and the type of experience the camper is after.
However, before just going out with a tent, a responsible camper should weigh all the options and consider a couple of factors:
Whether the campground is having its peak season, for it will be overcrowded
Whether it rains a lot in the area
What about the natural flora and fauna of the surrounding area, especially the bugs
What is the average high and low in temperatures of the area
What is the rate of the camping ground
Until and unless you have accurate answers to all these questions, it's better that you select another State and another camping ground, which has clear answers to offer.
Generally speaking, the mid-summer months from June to August are the best time for going out camping. In fact, it is this time when all camping grounds become booked and get packed with people.
And this happens for a very natural reason because the season of summer and the excitement of camping always go hand-in-gloves.
Different Seasons for a Fun Camping Trip
Summer Camping
Fall Camping
Winter Camping
Spring Camping
1. Summer Camping
Summer camping has its own set of pros that make it a very desirable experience for many people.
For one, the weather is usually beautiful and mild, with warm temperatures during the day and cool evenings. The outdoors is lush and green, and most flowers are in bloom.
Also, there are usually plenty of daylight hours to enjoy outdoor activities if you are going camping in the summer months. And campgrounds are full of people enjoying the season.
2. Fall Camping
Fall Camping is a good experience for many people as the Fall season brings with it many perks for campers.
The weather is usually beautiful and mild, with warm temperatures during the day and soothing temperatures at night. The forests are in their vibrant colors and you will be in for a visual treat.
Also, after Columbus Day in mid-October, the campgrounds usually start winding up, and therefore, you will have fewer crowds to cause any disturbance on your camping trip.
3. Winter Camping
A camping trip in the winter months comes with its own set of advantages and disadvantages.
The disadvantages are pretty common including low temperatures, chilly winds, and even hail storms.
However, to the adventurous type, this season appeals a lot as there will be almost no crowd and no bugs or other wild animals to worry about.
Having said that, this season is only ideal for experienced campers as you will not just need a proper set of gear to weather the cold but also, you will need a lot of other essentials to enjoy in the harsh weather.
4. Spring Camping
Although Spring can be a tricky season for camping, especially because temperatures during the day and at night vary quite significantly. So, as a camper, you need to be very well prepared for this.
This season might have the most weather fluctuations, but still, we would recommend that you experience at least once what it feels like to camp in the beautiful Springs.
Here are the reasons why:
Crowds are at their Lowest
Camping Rates Get Highly Reduced
The Weather is Comfortable, Vibrant, & Mesmerizing
No Need to Worry About Bugs or Insects as the Weather Stays Pleasantly Cool
So, if you want to experience what it feels like to have a warm cup of coffee looking at the orange and yellow shades of the sky, at least once you need to go out camping in the Spring.
For us, the best time to go camping is the early Spring season.
When Does the Camping Season End?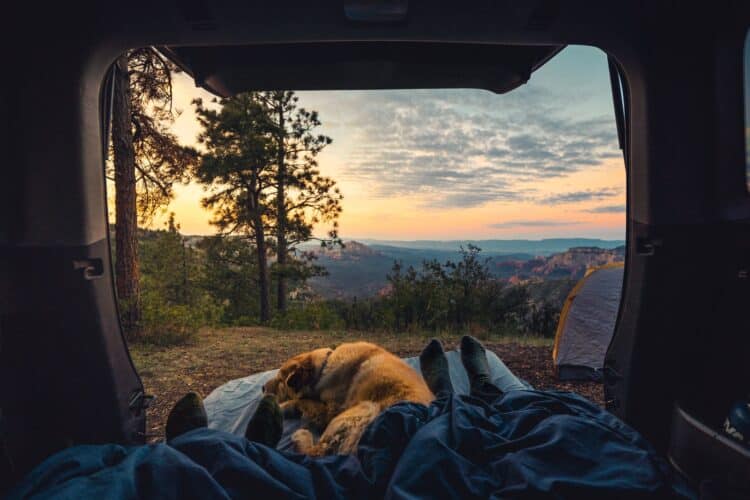 Usually during the winter months, when cooler temperatures are more prevalent, the state parks and campgrounds tend to wind up.
However, this does not imply that all state parks and campgrounds remain closed during the winter, which starts from mid-October and carries on to mid-March in some States.
So, if you are a person who loves to experience the thrill of winter camping, you need to conduct some online research to look for which state parks or campgrounds are open during the season.
Conclusion
Now that you know when does camping season starts, it is safe to say that the best time for camping is generally considered to be between mid-June and early September.
But, if you are planning for an adventurous camping trip in the near future, then we would recommend that you choose an off-peak season like Spring or Fall.
For beginners, it will help them get comfortable with the idea of camping, while experienced campers can seek thrills without having to confront any other hikers on trails.
During the Springs especially, the weather will also considerably improve the chances of pleasant adventures.
So, if you are looking for an experience filled with happiness and excitement at affordable rates, you might want to set out on a trip during either March or April; or September/October.