For a motorcyclist, the thrill of riding a motorcycle on a beautiful day and blasting down a freeway is unparalleled to everything else in the world. However, sometimes long stretches of highway or the daily commute to work can be pretty uninspiring and boring. That's where a motorcycle radio comes in.
One sure way to liven up each and every trip on a motorcycle is listening to a piece of music or a podcast while you are riding your two-wheeler. This might be something new for young riders who perhaps do not know the fact that they can listen to music and kill the boredom of long journeys or cross country commutes.
Here are the 10 best motorcycle radios:
Boss Audio MC470B
Jensen JHD910 Heavy Duty Mini
Kenwood Marine Radio Stereo Bluetooth Receiver Bundle
LEXIN S3
Golden Hawk
GoHawk 4 Channel All-in-One
GoldenHawk RE9-X Handlebar Mount
GoldenHawk TJ4-Q 1000W
INNOGLOW Bluetooth Radio
GoHawk AN3-A
All of these motorcycle audio systems can be installed quickly and easily. This list has been compiled based on numerous reviews from experienced motorcyclists so that you can be sure of a high-quality radio setup on your motorcycle.
You might also find that the best motorcycle radio is just a click away, if you do decide to purchase a motorcycle radio please do use our links, it really helps support the blog.
Let's explore each option!
Boss Audio MC470B
The Boss Audio MC470B is one of the best-selling radio systems for motorcycles from Boss. And could quite possibly be the best motorcycle radio on the market. Why is it considered the best motorcycle stereo system on the market?
The high quality of sound is a guarantee from the brand that so many are loyal to, Boss, and the Boss audio systems look elegant and very stylish on a bike.
Among its many features and specifications, this radio system from Boss comes with the integrated Bluetooth® technology that allows the rider to connect the radio or stream music directly from their smartphones and listen to music just like their Bluetooth® integrated headphones.
The radio system also has a pair of Chrome 3-inch speakers which make sure that whatever audio you listen to has high quality ingrained into it.  To add to the rider's convenience, the radio setup has a wired remote to it which can be used to control the volume settings.
The speakers are also compatible with 3.5mm AUX Input and therefore, they can easily be connected to smartphones or MP3 players. Of course, it comes with FM radio as standard. It has an adjustable bracket that fits most bike handlebars ranging from 0.75-1.25 inches.
If you want your music blast through your motorcycle on an open highway while you are riding at a high speed, the Maximum Amplifier of 1000 watts of this radio setup will definitely attract you.
The only downside of this waterproof radio system is its anti-clockwise volume control option which can be a little inconvenient for first-time users.
BUY Boss Audio Systems (Waterproof) NOW
Jensen JHD910 Heavy Duty Mini Waterproof
The Jensen JHD910 Heavy Duty Mini Waterproof radio system is a great option for riders who want hassle-free installation of an audio setup on their motorcycle.
The power output of this radio system is 12V DC and it comes with a multi-purpose AUX front panel which has all the connectivity options for iPods, MP3 players, and portable CD players.
This radio system comes with a 7-Channel NOAA Weatherband Tuner and is equipped with an automatic switch to the mode of WB, as soon as the system receives warning signals from NOAA.
The 2-Wire connection feature of the radio gives the rider the convenience of 30 programmable preset options for the stations. It also has an advanced work timer for job sites and is packed with all the features of music systems like electronically controlled volume, bass, treble, and balance. On top of all this, the radio system also has a clock which is available in both 12 and 24-hour format.
One of the added benefits of this radio system is its daylight display screen which comes with a wide angle of viewing. This makes the display screen extremely easy to read during bright sunny days.
Its backlit controls and different color illumination settings make it a favorite among riders who want that extra cool feature for their radio systems. The radio system also comes with a 3.5mm Jack pigtail, a 2-Channel amplified audio, and a 2-Channel stereo speaker output.
In addition to all these quality features, the one-touch audio mute option of this radio adds to its overall convenience factor. The only drawback of this UV-resistant and corrosion-protected radio system is that it does not fit motorcycles from Harley Davidson. So, if you own a Harley, you should consider other options apart from this.
Radio signals from the FM radio antenna create a clear and crisp sound, all you could really ask for from a motorcycle FM radio.
BUY Jensen JHD910 Heavy Duty Mini Waterproof NOW
Kenwood Marine Radio Stereo Bluetooth Receiver Bundle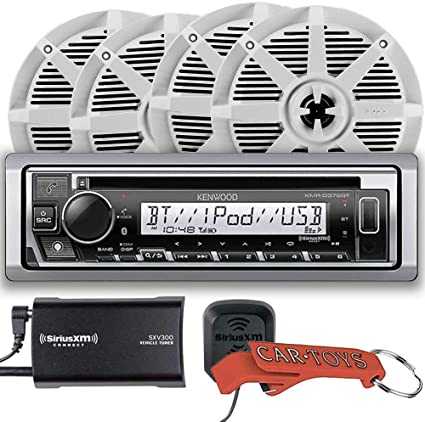 The Kenwood Marine Radio Stereo Bluetooth Receiver Bundle is a motorcycle radio system specifically designed for riders to whom talking over the phone while they are riding is as important as listening to music or a podcast. This radio system from Kenwood is useful, convenient, and is perfect for riders who want a hassle-free installation of audio setups.
This radio system comes with integrated Bluetooth® technology perfect for receiving phone calls. A specially designed kit for installation on Harley Davidson motorcycles, a 40-inch FM radio antenna, and an extremely stylish Metra Steering Wheel User Interface.
The Bluetooth® integrated receiver of the motorcycle radio system is capable of delivering excellent sound quality audio, whether the rider is talking over a phone or listening to their favorite music.
Not just that, the Drive EQ technology of this radio allows the rider to listen to really good overall sound quality output, which does not get affected by riding sound, wind speed, or surrounding noises. When it comes to a motorcycle radio that uses high-quality materials to produce the best sound quality, the Kenwood Marine Radio Stereo has you covered.
The front panel of this radio system is equipped with all sorts of connectivity ports from USB to AUX, which can be used to connect to iPhones, iPads, and iPods.
The radio system also comes with a handlebar control user interface which makes it even more convenient for the riders to control it without leaving the control over their bike. The setup of this radio is a 7-Wire connection that has easily installable frontal speakers.
The only drawback of this power-packed radio system which we can think of is difficult to understand installation instructions that are there in the manual. A little precision on the instruction front will make the life of a rider, even easier, for installing the radio set up on their bike.
BUY Kenwood Marine Radio Stereo Bluetooth Receiver Bundle NOW
LEXIN S3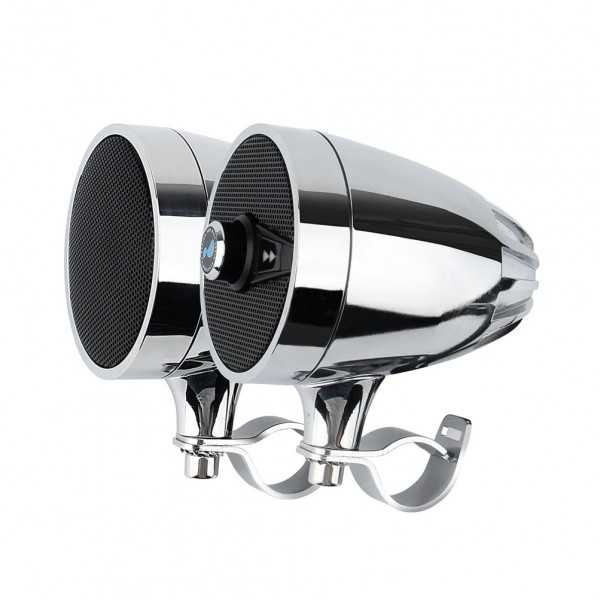 The LEXIN S3 radio system is highly suitable for riders who want a cool and sleek look for their audio setups. The performance of this radio system is excellent and the sleek design of it along with its bullet-shaped mount bar will definitely attract some attention on the road.
This radio system is waterproof and is capable of delivering quite a loud volume of audio regardless of the weather or the condition of the surroundings. It is one of, if not the loudest motorcycle radio on the market.
This speaker is a favorite among riders not just because it's waterproof but also, because of the fact that it delivers high-quality audio at a super loud volume. This exceptional feature along with its metallic chrome polished look is the reason why this radio system is a head-turner on the roads.
Since this radio system comes with mounting holes, it's extremely easy to install, and the 'plug and play' feature makes the installation process even more convenient.
With the high-quality loud sound delivery of this radio, there is no need for the rider to install additional stereo options along with this setup on their bikes. The stylish speakers are already equipped with Bluetooth® technology and 3.5mm AUX Input for easy connectivity to MP3 players and smartphones.
This radio system can be kept on irrespective of the weather and is highly capable of delivering loud music even at a speed of 80 MPH. However, according to some riders, this set of speakers might not be suitable for motorcycles that themselves produce loud noises while in motion.
Golden Hawk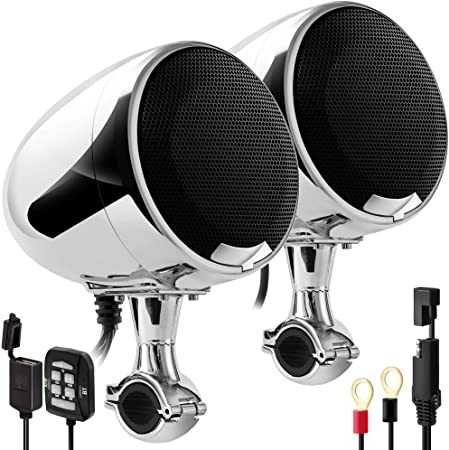 The Golden Hawk Waterproof radio system is the best in its class of 180 Watt audio speakers. When it comes to the wide range of Mid-range speakers that are available in the market today, nothing comes close to the Golden Hawk Waterproof speakers in terms of both quality and durability.
This radio system is equipped with a speaker clamp that is universally suitable for all bike brands, including motorboats, and it also has a built-in amplifier to it, which adds to the superb sound output of this speaker.  
The Bluetooth® technology that is integrated into this sound system has an incredible range of 15 meters –which means connectivity will never be a problem with this radio set up. In the department of support, this radio system features USB support, Micro SD support, and also has an in-built port for 3.5mm AUX Input.
Another cool and convenient feature of this motorcycle audio system is that it can not only function as a simple FM Radio set up but also, can act as a simple USB charging point for your smartphone or other compatible devices.
The overall sound quality of these motorcycle speakers is on par with other motorcycle sound systems, I wouldn't say they're as good as the boss, but good enough to be in motorcycle radio reviews such as this one!
In terms of compatibility, it works perfectly fine with iPods, iPhones, and all kinds of Android smartphones that are available today. The installation process of this system is completely free of any hassle and is very easy for the rider to do on their own.
It also has a mini remote that is connected with a wire and its LED-lit buttons add to the overall style of this radio system. The outer case of this radio system is built with superior quality aluminum and is completely waterproof.  
However, a small thing to keep in mind is that even though the speakers are waterproof, the amplifier that comes with the setup isn't. Therefore, remember not to keep the amplifier attached to the system when you leave your bike, even though you can keep the speakers mounted at the handlebar of your motorcycle.
BUY Golden Hawk Waterproof NOW
GoHawk 4 Channel All-in-One
The GoHawk 4 Channel All-in-One radio system as the name suggests is an all-included package. The amplifier and the speaker of this audio system come hand-in-hand with the setup and this is the reason why the installation of this system feels like a breeze to all the riders.
When you buy the GoHawk 4 Channel All-in-One system for your motorcycle, you will get everything that you need to enjoy listening to high-quality music on your ride.
The built-in amplifier that comes with this radio system delivers high-quality sound along with powerful bass and thus, you won't need any additional amplifier to buy if you are looking for powerful audio output.
The amplifier has connection compatibility with 3.5mm AUX Input and the wired control of the system is extremely convenient and fully functional.
In addition to all this, the amplifier itself comes with proper mounting clamps that are suitable for all bike brands including cruisers, scooters, the Harley Davidsons, and even marine boats.
The radio system has an integrated and updated Bluetooth® 5.0 technology which makes sure the connection to the rider's devices stays strong even from a range of up to 30 meters.
This allows the riders seamless connection to this radio system with their iPhones, Smartphones, or iPods –streaming your favorite music or podcast on this system will be super duper easy. Honestly, if Bluetooth speakers are what you're looking for in a motorcycle radio, get one with Bluetooth 5.
The 'Plug and Play' feature makes the installation process hassle-free and the power connection that is required by this audio setup is 12 Volts. The crystal clear sound quality of this system along with its waterproof design makes it a favorite among many riders.
Going by its name, the radio system comes with everything from the necessary wires to hardware that you will basically need for installation and enjoying your favorite music on your two-wheeler.
Strictly speaking, there are no specific drawbacks of the GoHawk 4 Channel All-in-One except the fact that the setup might look a bit too big for some riders or for some motorcycles. 
BUY GoHawk 4 Channel All-in-One NOW
GoldenHawk RE9-X Handlebar Mount
The GoldenHawk RE9-X Handlebar Mount is a great choice for riders who want a combination of innovation and attractive looks for their motorcycle sound system. Not just the stylish look of the system along with its modern design makes this radio a favorite among many riders but also, the convenience factor of using it appeals to a lot of riders.
The satin finish of the radio system is designed with aluminum that gives this device durability and makes it extremely lightweight for sitting at the top of any motorcycle. It is highly suitable for all kinds of different bikes, G-Karts, Golf Karts, UTVs, ATVs, scooters, and even four-wheelers.
Therefore, compatibility is not an issue with this audio system. The device comes with a battery cable harness of 59 inches along with a ring-shaped terminal connector that can fit easily on your motorcycle.
A unique feature of this radio system is its mounting clamp and ball stub design. What makes it unique is the fact that they come with a full 360-degree swivel range, which makes the overall installation process highly convenient and extremely adjustable.
Other beneficial features of the GoldenHawk RE9-X Handlebar Mount include a one-click button for switch off/switch on and it has a strip of 24 LED lights. The wireless connectivity range of 30 meters makes the radio system compatible with all kinds of android Smartphones, iPods, iPhones, MP3 players, and other similar devices.
In addition to all these, the dual speakers of this system along with its primary aluminum unit are designed intelligently to make them all-weather resistant. So, you need not worry about the outdoor conditions and the weather will never upset your enjoyment of listening to music or podcast when you are riding your bike.
The 'Plug and Play' feature comes in handy during the process of installation and this radio system is capable of producing quality sound irrespective of the sound of the bike or the external surrounding noises. One disadvantage of this setup that comes to mind is that it drains a lot of battery but, apart from this there are no other disadvantages associated with this product.
BUY GoldenHawk RE9-X Handlebar Mount NOW
GoldenHawk TJ4-Q 1000W
The GoldenHawk TJ4-Q 1000W is one of the best-selling radio systems for motorcycles that are available in the market today and it comes from the reputed brand of GoldenHawk. With this audio and radio system, the rider gets high quality, uncompromised durability, and dependable compatibility.
This radio system is equipped with a 1000 Watt amplifier that produces powerful but crystal clear sound and it also comes with a full range of speakers.
The mounting clamp that comes with this device is X-Large, which makes the system compatible with any bike model from any brand. It is also compatible with four-wheelers as well. In terms of connectivity, this radio system has practically no substitute. It supports a USB port, Micro and Mini SD cards, MP3 files, and even has a 3.5mm AUX Input port.
So, iPhones, iPads, iPods, Android Smartphones, MP3 devices; everything can be connected with this device, and thus, you can stream your favorite podcast or listen to your favorite music with any device possible and your enjoyment will never get a pause. The LCD display of this radio system helps the rider view all its controls with exceptional clarity even on those days when the sun is beating down the road.
The audio system is also equipped with both wireless and wired remote connectivity which again adds to the convenience factor of this device. No matter how sunny the day is or how speedy your bike is, controlling this device is extremely easy for all the riders.
The setup is all designed with high-quality aluminum which makes sure that it is durable and stays protected from all sorts of hazardous weather elements. This makes the radio system waterproof, weather-resistant, and suitable for various outdoor conditions. Another great feature of this device is its wide range of connectivity that can go as far as up to 15 meters.
The radio system is also equipped with Chrome speaker housing which makes the audio output from this device crystal clear and powerful as well. The quality of the sound would never be a problem for Harley-Davidsons or other similar motorcycle brands that have a distinct noise.
The setup comes with all the necessary hardware and wiring, along with the 'Plug and Play' feature which again contributes to the hassle-free installation factor. It can act like an audio device, an FM radio device, and also as a simple USB port.
It's important to note that the GoldenHawk TJ4-Q 1000W is the only speaker on this list that has an IP56 waterproof certification. The only downside of this radio system is that a weird 'beeping' sound comes out of the device when the rider either turns up or lowers the volume.  
BUY GoldenHawk TJ4-Q 1000W NOW
INNOGLOW Bluetooth Radio
The INNOGLOW Bluetooth radio system is a great choice for riders who want their motorcycle radio system to be both durable and reliable. This Bluetooth® technology integrated radio system has fantastic output in terms of audio quality and on top of that, it is extremely easy to use as well.
This radio system just like a few of its competitors on this list comes with all the necessary hardware and wiring that is required for the installation process and this makes it easy to install on a motorcycle for all the riders.
The device is especially noted for its high quality of sound and is compatible with different motorcycles from a variety of brands. When it comes to connectivity, this audio system is also equipped with a connection port of 3.5 mm AUX Input which makes it compatible with any android Smartphone, iPhones, iPads, and iPods. Even MP3 players which have AUX cables can be easily connected to this motorcycle radio system.
The stereo system that comes with this set-up is capable of delivering loud and powerful audio, without compromising on the quality of sound. Even at very high speeds, you can clearly listen to your favorite song or your preferred podcast.
The audio system has an exceptionally engineered LED display screen which makes it easy for the rider to read all the control and functionality information of the device even under direct sunlight.
This undoubtedly adds to the convenience factor of this radio system especially during those summer days when the sun beats down on the motorcycle on open roads.
Another great feature of this device is the materials that have been used for making it. These materials are sturdy which makes the radio system highly durable and dependable even in harsh weather conditions.
Both the speakers including the radio device are shockproof and waterproof. Therefore, as a rider, you can be double sure of your device not getting damaged due to different hazardous weather elements. So, with this radio system on your bike, you will have minimum worries about maintenance.
Given all these positives, one negative point of the INNOGLOW Bluetooth speaker system is that it will not allow you to set your own radio stations. Apart from this minor drawback, this is a great option for riders who are looking to buy a new radio system for their motorcycles. 
GoHawk AN3-A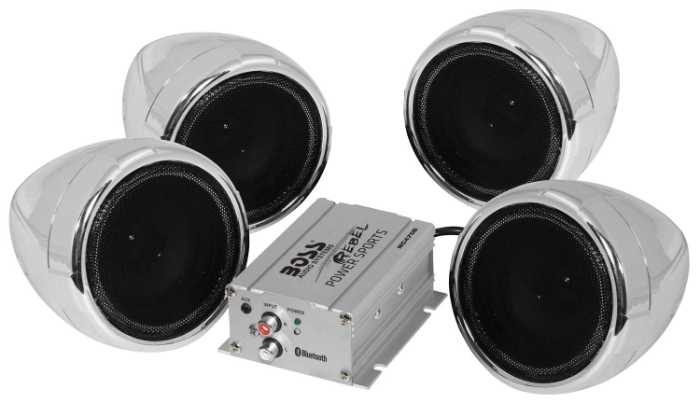 The GoHawk AN3-A radio system might appear at the very last on this list but that does not mean in any way that this radio system is not a great choice. In fact, coming from the house of the established brand GoHawk it is among the favorites when it comes to rider satisfaction or customer reviews. It has gained immense popularity in the market lately because of its stylish and modern look.
However, the look is not the single category in which this device stands out in the crowd. In terms of sound quality, this audio system is capable of delivering superior output, both for radio and for music or podcast streaming.
To provide the rider with a high-quality FM radio output, this set-up comes with an external antenna that enables the system in getting a better signal reception.
The complete set-up of this radio system comes with a 3-inches full-body aluminum housing and an in-built powerful amplifier that is compatible with all bikes from different brands.
The range of connection that this audio device is capable of holding on is up to 15 meters. The materials that have gone into the manufacturing of this device are all of superior quality which makes this device highly durable.
The classy chrome finish looks sleek and stylish on all motorcycles and is highly compatible with different riding styles as well. On top of this, the set-up gives you the added advantage of a waterproof design. So, you need not worry about the device getting affected by rough weather conditions.
Apart from all these exciting features, the radio system from GoHawk comes with all the necessary hardware and installation wires so that the rider does not have to search for any additional requirements. This makes the installation of the device very easy and simple even for a novice rider.
The audio device is equipped with FM Ready technology which means you cannot just stream your favorite music or podcast but also, can listen to high-quality FM radio stations without any interruption. In terms of connectivity, the radio system has a USB port and can act as a phone charging point as well.
It is also compatible with iPhones, iPods, iPads, and all Android Smartphones. One downside of this radio system is that the wires that come with the set-up might be a little too short for optimum convenience.  
Best Budget Option
The GoldenHawk RE9-X Handlebar Mount is the best budget option among all the motorcycle radio systems that are mentioned on this list. It is a perfect combination of attractive looks and power-packed innovation that makes sure you enjoy high-quality music or podcast while riding on your beloved bike.
Factors to Consider Before Buying a Motorcycle Radio
We have made this comprehensive list of the 10 best radio systems for motorcycles that are available in the market today. If you are looking to buy any of the products that are mentioned on this list, the article will provide you with an in-depth analysis and guidance on each and every product.
However, if you want to look upon your own and make your own decision on what radio system would you like to be installed on your motorcycle, here are a few factors that you should consider before purchasing one –
Sound Quality
This is the most important and foremost aspect that you should consider. If the sound quality of the device you choose is not up to the mark, then what's the point of having a radio system in the first place, right?
If you own a Harley Davidson or a similar kind of bike that produces considerable noise, you should always settle for devices that deliver powerful but superior quality sound.
Always Go for Waterproof Models
The fact of the matter is that there is a small but critical difference between waterproof models and water-resistant models. The products that fall in the first category are immune to even pouring rains but the latter means that your device is only protected from either drizzle or droplets of rain and not completely safe from thunderstorms.
So, be very careful of which model you settle for and we always recommend that you go that extra mile and buy a waterproof product that is immune to heavy rain.
Dust-proof Products are Always Better
This aspect of a motorcycle radio is mostly suitable for riders who own a dirt bike or frequently go on adventurous off-road trips.
If your device is not protected from dust when you almost regularly drive through dusty outdoor conditions, it will be at risk of getting damaged easily. However, if you are the type of rider who most of the time travels on roads and highways, you need not care much about this factor.
Look for the Compatibility Factor
In the case of motorcycle radio systems, compatibility means how easily the device can be mounted on your motorcycle. Always remember that not all radio systems are suitable for all bikes.
This is the reason why audio device manufacturers state the compatibility information on the packaging of the product as well, for you to understand clearly.
We recommend you purchase a radio system that fits or mounts comfortably on your bike's handlebar.
The Device Should be Easy to Install
This is another important factor to consider before purchasing a motorcycle radio.
Today, most of the devices come with all the necessary wires and hardware that are required for installation, which makes the whole process of installation feel like a breeze.
Even if there are some models that do not come with any wires or hardware, the instructions on the manual are usually pretty clear and easy to understand for all the riders.
Durability
Always purchase radio systems that are made from lightweight aluminum and not from cheap quality plastics. If it is stated that the materials used to make the product are shockproof, it makes your choice, even more, better for you will have a guarantee that your device won't get easily damaged even if gets dropped suddenly.
Also, look for products that are made from corrosion-resistant materials. This will not allow rust to settle in when your radio system is repeatedly exposed to rain.
Power specifications & Input Sources
As far as the power specifications are concerned, make sure both the speakers and the amplifier receive a similar voltage of power and are not any different. Otherwise, they won't be able to perform in sync and the quality of audio will definitely get compromised.
When it comes to Input sources, the more sources available on the device the better it is for the connectivity. Go for AUX inputs, a USB port, Micro and Mini SD supported products.
The more input options mean you will be able to connect your radio system with any smartphones, iPhones, MP3 players, iPods, iPads, portable CD players, and other equivalent devices. Also, Bluetooth® technology integrated devices should be your primary consideration.
Easy Controls & Lively Visuals
A motorcycle stereo system that has easily accessible buttons and switches is always better because you do not want to compromise your safety on the highway at a high speed, trying to change a song, or switch off a podcast.
Easy-to-see displays, daylight-sensitive LCD screens, and LED-backlit buttons are always the best in terms of convenience.
Bluetooth Connectivity
Sadly, it's not just about getting a Bluetooth device anymore. All Bluetooth headsets and Bluetooth speakers have different generations of technology in them.
Understanding the different generations of Bluetooth technologies and what type of Bluetooth connection and connectivity you are looking for will help you have a pleasant experience with your new Bluetooth speaker system.
Conclusion
Today, there are many high-quality radio systems available on the market that are specifically designed and engineered to give you top-notch audio quality while you are riding your motorcycle.
All of these radio systems come with a different set of features and accessibility options and therefore, choosing the best out of them or the right one for your bike can be a bit challenging.
This is the primary reason that we have compiled this comprehensive list of the 10 best motorcycle audio systems. This guide provides you with every bit of critical information that you need to know before spending your bucks on an expensive motorcycle radio system.
So, pick any of the radio systems mentioned in this article and be sure of adding fun and excitement to all your long or boring motorcycle trips.
Enjoy Your Ride!