There's nothing better than loading up your motorcycle and heading out into the woods for a camping trip, sleeping under the stars, cooking over an open fire, and enjoying nature. But, motorcycle camping is not the same as packing up the car or truck and heading out. Nope, there's no room for the Webber grill or the cast iron skillet. There's no space for the giant 5 person family tent, or an ice chest, or a beer cooler.
I've been going on a motorcycle camping trip every summer for about 5 years and in the beginning, I used to overload my bike with a lot of unnecessary stuff and oversized camping gear. I would bring big, thick sleeping bags, a heavy blow-up mattress, a nice clean outfit for every day, and plenty of stuff that I never even used. Over the years I've learned what camping gear I need and what I can leave at home and I've whittled down my gear list to the point where I only carry the basics, but I still have the things I like to keep me comfortable.
Obviously, there is some motorcycle gear that you should also take for overnight motorcycle camping trips but in this article, we just focus on motorcycle camping gear. Motorcycle camping gear is pocket-friendly and easily available. Some of the most compact motorcycle sleeping gear includes a camping stove, coffee gear, sleeping pads, bike jacket, pocket stove and additional small fuel bottle in the store. Pack small for a small camping trip. A two person tent does not take too much space for a wild camping trip. Foam pad materials, cooking fuel, basic tools and a repair kit is appropriate for a camping trip.
When choosing gear for motorcycle camping you need to think like a backpacker. You want to pack small and light, although the lightweight is not as much of an issue. So, I've put together a list of gear that works great for motorcycle camping. I am not including things like luggage, saddlebags or top cases in this list. This is a list of gear that you will pack inside those bags. So, let's dive into what you need for the perfect motorcycle camping trip.
1. Tent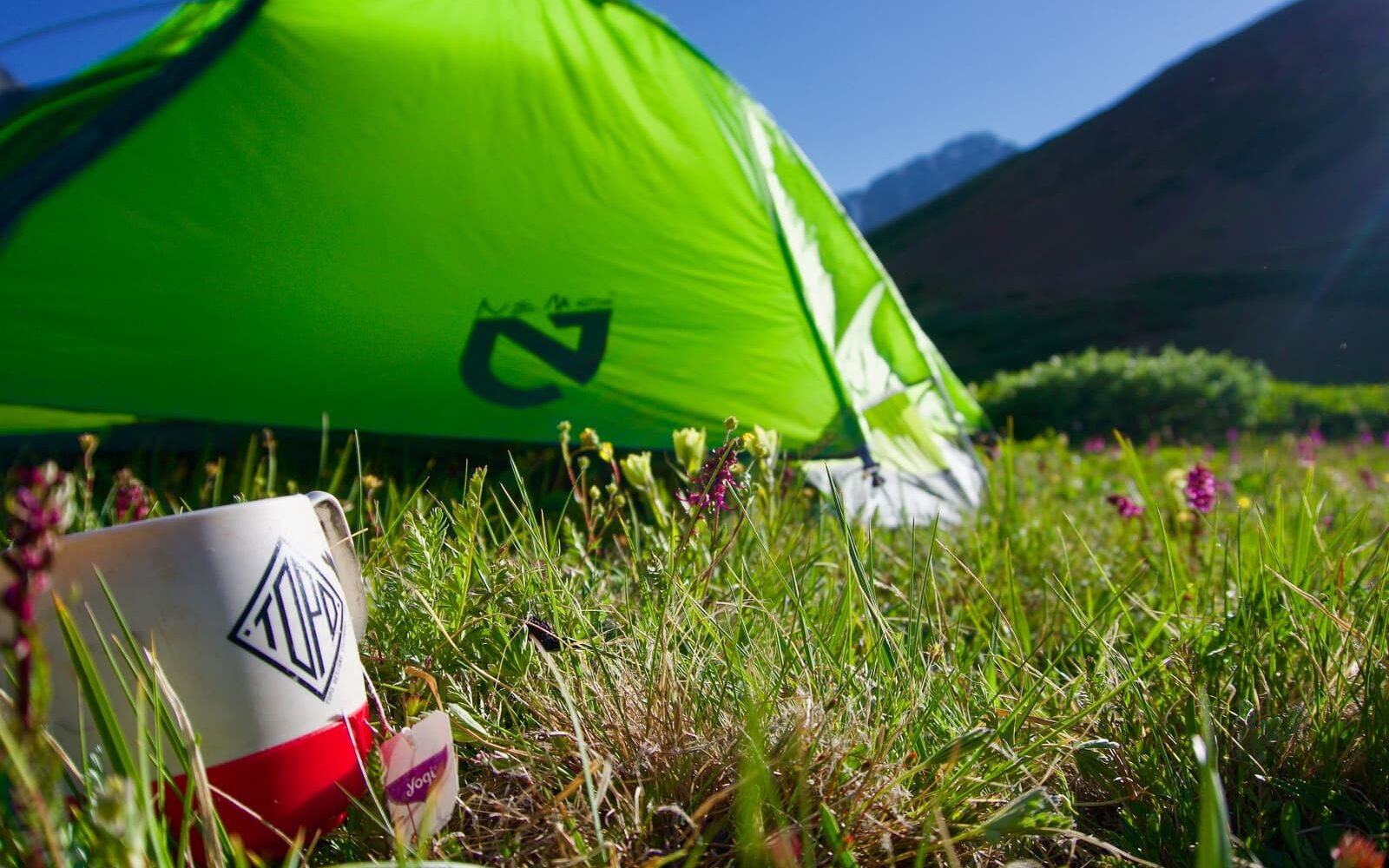 Your tent is your portable shelter. It's your tiny house in the woods. It will keep you dry and protect you from pesky insects and basic woodland creatures. There are a few things you need to consider when selecting a tent. Will it be just you sleeping in it? Do you want to keep your bike covered? Do you want a room to sit up, or stand up in your tent? Here are two tents to consider. The first is my favorite and works great for me. The second is a tent I'd love to get for extended trips.
My recommended tent is the REI Passage 2.  It's a two-person tent, but I prefer to use it as a one-person tent plus my gear. I love the fact that it's roomy inside. Although it's not tall enough for me to fully stand up, there is plenty of room to sit up and move around. The tent, with the REI footprint, weighs about 5 pounds and packs down to a length of 18 inches, which fits perfectly in a duffle bag or fits nicely across the back seat of the bike.
It sets up easy and usually takes me about 10 minutes total to get it up, with the footprint and rain fly, and secured with the included aluminium tent stakes. If it's a warm night and I'm not concerned with privacy, I will often leave the rain fly off so I can see the stars and the trees.
If you want a tent that gives you more room, including a way to keep your motorcycle out of the elements, you might consider a Motorcycle Tent (check the current price on Amazon). This tent has a very roomy sleeping area that is big enough for 3 people if you don't need to store your gear. It has an extended area that is equally as large that will accommodate your motorcycle and your gear.
The reason I would choose this tent over the RedVerz Expedition tent is that the Vuz Moto tent is a dome tent that stands on its own without the use of tie-downs and tent stakes. The RedVerz tent requires tent stakes just to keep it upright and this limits the places it can be used.
When I can justify a need for such a tent, I will be purchasing it, and at that time I'll do a full review. But, I love the idea of having my motorcycle close by and protected during the night. Having it out of sight from other people will be a deterrent for motorcycle thieves, and having it out of the elements means it will be dry and ready to ride in the morning.
2. Sleeping Bag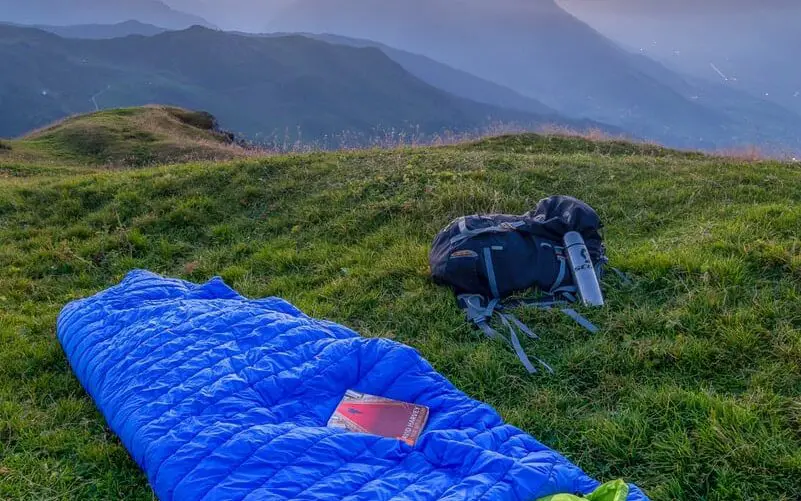 Now that you have the perfect tent, you will need good sleeping gear to keep you warm and comfortable at night. There are usually two types of sleeping bag people; the mummy bag people and the rectangular bag people. I've found that the people who like a rectangular sleeping bag absolutely hate mummy bags.
The mummy bag shape is designed to keep your body heat contained, therefore keeping you warmer in cold weather. And, if you're a side sleeper, you can curl up with the sleeping bag curled up around you. But, on the downside, if you like to spread out when you sleep, you'll probably find the mummy bag a bit confining and frustrating. So, what kind of sleeping bag person are you? Here are two recommended sleeping bags, one of each shape, that would be great for 3 season moto camping.
Currently, I use the L.L. Bean Ultralight 20 degree mummy sleeping bag. I chose this bag because of its lightweight and compact size when in its stuff sack. It is incredibly warm and I find that I don't need to bulk up on a lot of extra clothing when sleeping in cold weather, which makes it so much more comfortable. It comes with a stuff sack and packs down small enough to fit in my saddle bag. Since I occasionally go backpacking, it was a very smart purchase.
If you want something roomier, I recommend the Northface Dolomite 20 Degree Down Sleeping Bag. This is a reasonably priced, rectangular sleeping bag made of breathable nylon materials and synthetic down filling. Most down sleeping bags these days are synthetic, but are still as effective as true goose or duck down. Synthetic material is also good if you have allergies to real down feathers. This bag is rated for 20 degrees Fahrenheit or higher, making it perfect for cool weather camping. It packs down into its stuff sack nicely, but will not pack quite as small as the mummy bag due to its wider size. Still, an excellent choice that won't take up much room on your bike.
3. Sleeping Pad
Now that you have your tent and a bag, you're probably not going to want to sleep straight on the ground. So, the next thing you will need as part of your sleeping gear is a sleeping pad or air mattress. People sleep a lot of different ways, on their sides, back or stomach, so you want to choose a sleeping pad that will fit your sleeping style. If you're a side sleeper, it's best to get a pad that will support the pressure points like your hips and shoulders.  A thicker, firmer pad would work better. If you sleep on your back, those pressure points are not as much of a concern but you will still need something that will support you.
You should also consider your size and purchase a pad that is appropriate. You want to make sure that the length and width of your pad is big enough so that part of you is not hanging off the edge while you sleep.
Currently, I use the Therm-a-Rest ProLite Ultralight Self-Inflating Backpacking Pad. I chose this pad because it packs down small to 11″ x 4″ bundle and weighs only 18 ounces. It also fits in my saddle bag along with my sleeping bag. The honey comb design of the pad traps the air in little pockets so the entire sleeping pad stays firm. I like that I can adjust the firmness by blowing it up tight, or letting a little air out to soften it up.
If you are not as concerned about size and weight, and you're looking for a little more luxury, then this is the pad for you. The Therm-a-Rest MondoKing 3D Self-Inflating Foam Camping Mattress. This foam mattress inflates to a full 4 inches thick and can be blown up to fit whatever level of firmness you like. It's great for people of a larger stature, or for those who have back problems. It weighs in at a hefty 8 pounds and will take up more room on your bike, but it does compress down nicely and fits in its own stuff sack.
4. Pillow
For years I would use my clothes bundled up in a stuff sack for my pillow, but I finally got tired of the neck pain and decided to invest in a good inflatable pillow. Best decision I ever made. This piece of sleeping gear has become clutch to me having a goodnight sleep. A nice feature to look for in a good quality pillow is a layer of fill between you and the inner bladder. Without that soft layer, you'll feel like you're resting your head on a balloon, bouncing you around. Another great feature to have is a soft brushed polyester layer to lay your head on.
I use the Cocoon Ultralight Air-Core Hood Camp Pillow. I like the shape of this pillow because it's designed to fit in the hood of my sleeping bag and it stays put all night. Because it's inflatable, it can be adjusted to whatever firmness you like. It weighs only ounces and is about the size of a folded up pair of hiking socks, so I can stuff it anywhere I have a little extra room.
If you want something a little larger, the Sea to Summit Aeros Premium travel pillow is a great choice. It is slightly larger than the Cocoon pillow but still packs small enough to fit in the palm of your hand. Its square shape gives you a little more surface room and would be a good pillow for use with a rectangular sleeping bag.
5. Camping Chair
Most campgrounds come with picnic tables that you can sit at, but it's nice to be able to kick back in a chair by the campfire too. That's where a camping chair comes in. I'm sure you're familiar with the folding chairs that are sold just about everywhere; the ones that we take to our kids' soccer games or throw into the car for bar-b-q's at the park. But these chairs are heavy and take up a lot of space. That's where a good, compact camping chair comes in.
Small, lightweight, super durable and surprisingly comfortable, the TrekUltra chair (check Amazon's price) is the one I take with me on every motorcycle camping trip. These chairs, and others like it, are so easy to assemble. When you take it out of the small carrying bag, the legs almost snap into place on their own. The design is intuitive, and putting the seat cover over the frame takes very little effort. The TrekUltra is said to support up to 300 pounds and while they may seem a little wobbly when you first use one, I have no doubt they would support the heavier than average person.
6. Table
As stated above, most campsites will come with a picnic table so you have a place to prepare your food and sit and eat it too. But, that's not always the case, especially if you are doing some adventure riding or camping on public or BLM land. While cooking with your stove on the ground or a rock or tree stump is rugged and cool, there's no shame in having a table when you need it or when you just want one. When relaxing by the campfire, it's nice to have a small table to set your drinks or anything else you want at arms reach. When considering which table to buy, again, you need to think small, compact and lightweight.
There are two types of camping tables to consider; one with a cloth top and one with an aluminium slat top. One difference between the two is packability. The cloth top tables will pack down quite a bit smaller than the aluminium top table. The downside to the cloth top table is that it has a bit of a bounce to it and it lacks stability. So, a simple can of soda could end up tipping over, and it's a bit more difficult, or unsafe, to cook on the unstable surface. This is the main reason I don't want to recommend a table with a cloth top.
So, after careful consideration, I present to you two ultra light tables.
My first choice is the Trekology Portable Side Table (3 sizes here on Amazon). There are a number of reasons why I would pick this one over other tables, but one of them is because of its height. If you're using a camping chair as I mentioned previously, this table matches that height perfectly. Making it the perfect companion for preparing a meal or as a side table while sitting by the campfire. It is easy to assemble, as it only comes in two sections. The legs fold out and snap into place. Then, the top folds out and snaps on top of the leg assembly. There are no complicated parts or pieces that can get lost.
The Trekology table comes in three sizes; small, medium, and large. The smallest table is 13 x 16 inches, about 12 inches tall and weighs only 2.2 pounds. For me, someone who does a lot of solo camping, this is a perfect size. However, if you need something larger, it's available too.
If you're looking for something that is ultra lightweight and more compact in size, then I recommend the GSI Outdoors Micro Table (also found on Amazon). This little table weighs just under a pound at 14 ounces and stands at 6 inches tall. The surface is 15 x 11 inches which are just slightly smaller than the Trekology. So, if you're not concerned with height, and want something that is super lightweight, the GSI might be the table for you. It also comes in a larger model, the GHI Macro Table, with more height and a larger surface area.
7. Stove
If I only carry one stove with me while motorcycle camping, I always take my JetBoil (see the latest sizes and prices on Amazon). It heats things up super fast and doubles as a drinking container or serving container. In the mornings, I generally use it to heat up water to make my instant coffee, because I have my priorities. I'll drink my coffee out of a separate insulated cup, leaving the Jet Boil free to make my food. The Jet Boil is great for heating up pre-packaged food, freeze dried foods, or things like oatmeal, soup or pasta. It's a quick, uncomplicated, one-pot solution to cooking outdoors.
Sometimes I'll bring a second stove to use with a mess kit. This is usually when I want to fry something up in a pan like, eggs or bacon or a burger. Although I enjoy prepping a lot of my food over an open fire, sometimes it's not possible depending on where you're camping. For this type of outdoor cooking, I carry the Etekcity Ultralight Camping Stove with Piezo Ignition. This thing is super small but really does a great job. It screws right on top of a fuel canister and will accommodate smaller pans. No, you're not going to heat up a big skillet with this thing but it works great with smaller cooking kits. The built-in ignition is a nice touch, although I generally use a lighter, it's nice to know it's there. 
8. Mess Kit
A good mess kit, or a cooking kit, will come with a few different goodies. At a minimum, it should include a pot with a lid, a frying pan, and it should also include utensils to cook and eat with. Drinking cups and a small plate or bowl is also a nice touch. There are a lot of good mess kits on Amazon and a lot of them look alike. The kit I use is the Kemp Travel Camping Cookware set (you can find it on Amazon). It's perfect if you're only cooking for yourself. My favorite part of this kit is the little bamboo wooden spatula. I never knew how bad I needed one until I got one.
If you're looking for something with more, you might want to consider the Wealers 11 Piece Mess Kit. More pots, more lids, compact design. It comes with cooking a wooden spatula and a serving spoon but doesn't come with eating utensils, so you'll have to get those separately. Still, it's a really good, all around mess kit.
9. Grill
Taking a portable grill on your trip will depend on what kind of cooking you plan on doing. If you're just boiling water to hydrate your meals, then you really don't need a grill, you just need the Jet Boil or tiny stove mentioned above. But, if campfires are permitted where you're camping, and if you love grilling on an open fire, then I recommend packing some kind of grill that you can put over your campfire and use for cooking.
There are several packable, lightweight portable grills on the market, but I'm only going to recommend one because it's the most amazing grill I've ever used. It's the Bison Rolling BBQ Grill. It's made of aluminium and Teflon coated so it's easy to clean.
10. Hatchet or Ax
I like to bring a hatchet with me when camping mostly for chopping kindling if I need it. In order to be able to pack it in my saddle bags, I use a hatchet with a short handle. You really don't need a long-handled axe since you're not likely to be splitting your own firewood. The one I use is nothing fancy and I purchased it at a local sporting goods store.
When you're looking for a hatchet it's a good idea to find one that's compact in size, but you don't need to skimp on the weight. A little heft in the blade will work in your favor. If the hatchet is too light, it's harder to get a good chop. Also, forged steel blades will be a bit more durable, and stainless steel may form pits on the blade edge and will need more frequent sharpening.
11. Hydration System
Whenever I take long trips on the motorcycle I always wear my 2 liter CamelBak hydration system. And, yes, I wear the bright yellow one for better visibility. It's smart to use your camping gear as well as your motorcycle gear for visibility. It's not only convenient while I'm riding, but while at camp, I'll remove the bladder from the backpack and hang it from a low tree branch. It functions as a faucet and is very handy. I also bring a refillable water bottle for drinking while at camp.
If you need more water, it's a bit of a hassle to pack a gallon. It's heavy and takes up a lot of space. A great solution to this problem is a collapsible water jug. Carry an extra 4 liters with the Hydrapak Seeker. It's durable, easy to fill and pour from, is BPA free and folds up to a nice packable size.
12. Camping Towel
Staying in a campground with showers is a nice luxury when you're out on the road a roughing it. But, packing a bath towel from home is bulky. Since we have a limited amount of space on the motorcycle, we need a way to pack a good towel without compromising that space. So, a camping towel is the best solution.
Camping towels are small microfiber towels that are super absorbent. Consider it as a chamois for your body; you dry off a section, then wring the excess water out. That's how a camping towel works. They don't cost a whole lot and come in several sizes. Also, a good outdoor towel will include a clip so you can clip it to your tent and let it air dry.
I recommend the Wise Owl Outfitters Camping Towel when it comes to camping gear towels. This towel comes with everything we are looking for. It is large, so it will double as a beach towel, which is one of the reasons I prefer this towel over others. It has a clip that allows you to hang it out to dry. It is made of a quick-drying microfiber, and, it's soft and absorbent, which is exactly what you're looking for in a motorcycle camping towel.
13. Lights
Unless you want to feel your way around the woods at after dark, you're going to need a light source. I'm a firm believer in headlamps. They are very popular among outdoorsy people such as backpackers, hikers and campers and there are plenty to choose from. So, here are a few features to look for when selecting a headlamp.
A wide, comfortable, adjustable band
Adjustable angle so you can tilt it down when needed.
Adjustable brightness. You don't always need a super bright light.
A flashing feature for safety or a SOS distress signal.
A red  light feature. The low, red light allows your eyes to adjust to night vision and gives you better peripheral vision than white lights.
If you're looking for a good, packable lantern, I recommend the Suoaki Led Camping Lantern. This lantern serves as an adequate flashlight and a soft table lantern. The soft light makes it easy on the eyes. When not in use it folds down small so it's easy to pack away. The company makes a solar powered version, as well as a battery, operated one.
14. A Good Knife
A good camping knife will come in handy for a lot of different uses from chopping small tree branches to slicing meat to carving a little fox out of a knot of wood. I feel like buying a knife is a very personal choice. I'm not an expert on knives and with so many to choose from, I'm really not comfortable recommending something specific.
With that in mind, I always thought it would be cool to carry a big, Crocodile Dundee type knife tucked in my boot. But, for me, that's not too practical. Besides, I'm not going to skin a dear or anything like that. I've purchased a couple of folding knives that are very good quality, but I always come back to my small, lightweight and simple 2 inch Gerber knife. It serves me well for my simple motorcycle camping needs, and miraculously always stays sharp.
15. Bowl and Cup
The last thing I want to recommend on my list of 15 best camping gear items is the Sea to Summit X Series 2 piece set of collapsable bowl and cup (here on Amazon). They are made of BPA free food-grade silicon and smash down flat when not in use. I find that they can fit along with my mess kit and they nest among the pots and the whole kit still fits in the mess kit bag. The cup is large and is great for enjoying a cup of coffee, tea or hot chocolate.
I hope this extensive list of camping gear has helped you figure out how to put together your camping gear kit. Remember, it's ideal to choose items that are compact and lightweight. While we're not scrutinizing ounces like backpackers do keep in mind that keeping your motorcycle light will make your trip easier on your bike.