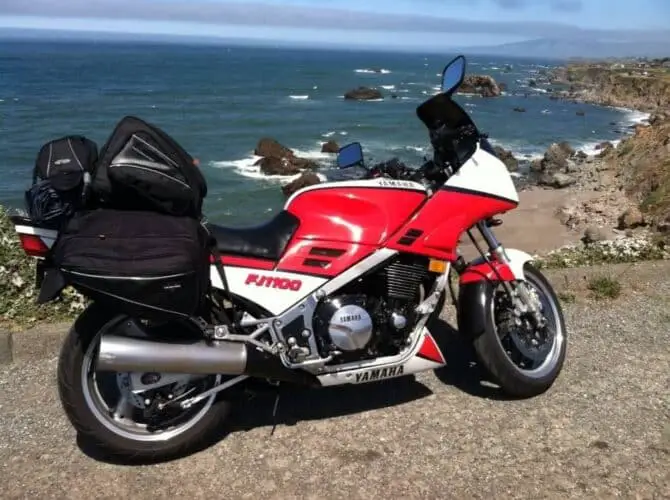 So, you want to start traveling on your motorcycle. Maybe take a few overnight trips, weekend excursions, or a long 2 week motorcycle adventure vacation. You're going to need some way to pack up all your stuff. That's when it's time to invest in some motorcycle luggage.  Harking back from the days of the cowboy traveling on his horse, the most trusted way to carry your supplies, is with saddle bags. But where do you start? There are so many different types and styles of saddle bags on the market these days.
What kind of saddle bag should you buy? The first thing to consider is what kind of saddle bag will fit your motorcycle. Secondly, how much stuff do you need to bring with you? Lastly, you need to determine what kind of riding your going to be doing. On pavement? Off road adventure riding? or a combination of the two?
I've owned several motorcycles and each required different saddle bags. The first set I owned is not even worth mentioning. I don't remember the brand, and that's probably a good thing. I was on a tight budget, it was cheap, and, let's just say you get what you pay for.
My Current Choice
But, my absolute favorite soft saddle bag system is the one I use currently on my 2014 Honda CB500X, it's the SW-MoTech Blaze Saddle Bag System. (find it for your bike).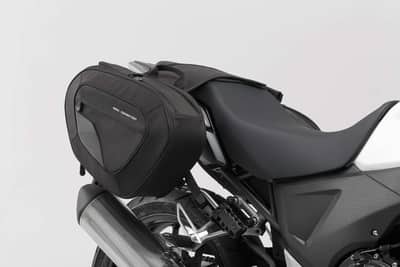 The Blaze saddle bag system is designed for smaller bikes, or for bikes that are on the sporty side. If you ride a sport bike, this is a perfect way to convert your sport bike into a touring bike. The bags are durable and slick looking. They are expandable to carry plenty of gear and the fitment system, customized for your bike, keeps them steady and secure on the road and makes them so easy to install and remove. I go into a lot more detail about these bags and why I love them in a blog post found here: Gear Review – the SW-Motech Blaze Saddle Bag System.
Two More Recommended Soft Saddle Bags
As mentioned at the beginning of this post, the type and size of saddle bags you buy depends on the type of motorcycle you have. Not all bags will fit on all bikes.
The motorcycle you ride and how it's configured is going to be a big factor in selecting the right saddle bags. One of the biggest things to consider is where your exhaust is mounted. Soft sided saddle bags don't always come with an exhaust cutout and you may need to consider a bag system that comes with mounting racks so that the bags set on your bike without interfering with the exhaust system. Also, if you own a motorcycle with exterior spring suspension, you will need to consider a bag that doesn't interfere with those as well.
Sport Bikes, Sport Touring and Naked Bikes
So, what's a good soft bag solution for sport bikes, naked bikes or sport touring bikes? My recommendation is the Nelson-Riggs CL-950 Deluxe Saddle Bags. (check the prices here)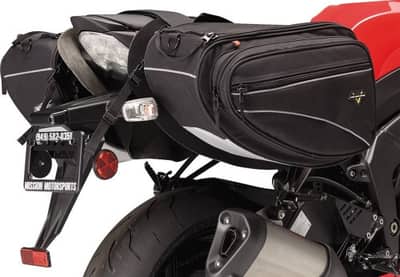 I used to own a 1985 Yamaha FJ1100 (shown at the top of this page) and was looking for a set of luggage that would fit it. Being a vintage bike, bag manufacturers weren't making sets specific to that bike, so, I did a little measuring and found a set that worked well; the Nelson-Riggs. I owned these saddle bags in combination with the CL-1040-TP soft top case. These bags worked great on my bike and they held all my camping gear, clothing, tools, and had room for a lot more. They were extremely well built with durable stitching, especially in those week spots at the top where the bags get stretched. They required no racks or brackets to install and were pretty easy to put on and take off.
One of the biggest concerns for a sporty type bike, is the risk of the bags rubbing against the rear tire, and this is a common problem.  To reduce this risk, you'll notice that most sport bike bags are tear drop shaped, with the thicker part of the bag towards the front. The helps keep the bags higher above the rear wheel and will provide more clearance over the exhaust. Make sure you don't install them backwards. The thinner part of the tear drop shape should always go toward the rear. One common mistake when people install saddle bags on a sport bike, is letting them angle down too far. Your first step in fixing that problem is to tighten the velcro yolk over the seat, until the bags are angled outward, instead of inward.
Naked bikes, which simply means there are no plastic fairings or covers around the engines, have similar issues. Often this style of motorcycle will have suspension on the outside of the bike rather than under the seat. Think along the lines of the Triumph Bonneville, or the Honda CB 1100RS. Some of these bikes have a spring suspension on each side. Choosing a Saddle bag that will work around those springs will be important. Again, this is what I love about the SW-Motech Blaze system. Designed for each specific bike.
One thing I notice about the Nelson-Riggs bags that I owned on my Yamaha, and this is a common problem with any soft saddle bag that doesn't utilize a mounting rack. When I had the bags fully packed with the expansion bevels fully extended, this increased the weight and the bag's tendency to camber in closer to the rear tire. I remedied this by stringing a single bungee cord from the bottom of one back to the bottom of the other bag. In a sense, angling them up more, pulling the bottoms of the bags away from the tire. So, caution should be taken with any soft saddle bag in combination with a sport bike or sport touring bike to make sure the bottom of the bags don't rub the tires.
Adventure Bikes and Dual Sports
I have a good friend who also happens to own a Honda CB500X, but his bike has been converted into a full-on dual sport. He loves to pack it up and take it on long camping trips around the Northwestern United States and rarely takes it on the highway if he can help it. Each trip he is guaranteed to find a way to dump that bike in the dirt. But, he built it to withstand that kind of riding, and he chose a specific saddle bag system to accommodate his tendency to lay it down. He swears by the Giant Loop Coyote Roll Top bags.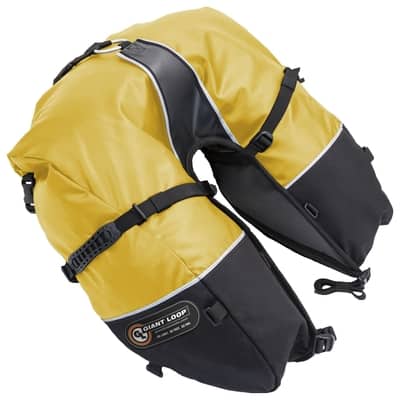 These Giant Loop bags are U-shaped and lay over either the rear fender or passenger seat of your bike. Cam buckle straps connect them to the rear foot peg brackets on each side, and at the top of the bags they will connect to any available hold via straps with clips. The are durable enough to withstand a minor get off without having to worry about breaking a clip, denting the sides (like hard panniers).
These bags are waterproof and act the same way a dry bag does, with the roll top, Velcro closure so you don't have to worry about a rain cover in bad weather.
One tip is to keep the contents of these bags as light as possible, placing the heaviest objects down at the bottom of the bags equally balanced on each side. This will keep your center of gravity lower, making it easier to maneuver the bike on the backroads.
Wrap Up
So, there you have three different style soft saddle bag system. Each of them are excellent. Pick the style that will fit your bike and your riding style. I hope you found this article helpful.