I've been on a lot of motorcycle camping trips, both solo and with groups, and one thing I've noticed on every trip is that my eating habits take a dive while traveling.
So, how do you eat healthy while on a long motorcycle trip?
Eat as clean food as possible. Avoid gas station foods, greasy spoons, and processed foods. Shop at local grocery stores for a few days worth of fresh foods and cook your own food. Keep foods cold in a small, insulated lunch bag. In this article, I talk about how to eat healthy while on the road.
When I first started motorcycle camping, I would take the easy route and resort to eating junk that was quick, easy, taste great, and loaded with too many calories. It's much too easy to eat fast food, greasy spoons, and processed foods. This might be ok for short trips of one or two nights, eating like that on an extended trip can take its toll on my health.
So, I started thinking about what kind of motorcycle camping food I can eat when I'm on a long motorcycle tour that is a week, or even months long. That's a tough one, because, on a bike, you have limited space and have to pack light for an easy journey.
So, I'm looking for is food that is easy to pack, takes less space, easy to prepare at a campsite, but is still as clean and fresh as possible. There will be nights where I'll stay at a hotel, so I'll need to learn how to cook and eat healthy based on what's available at the time.
Avoid Gas Station Food
It's tempting to grab a snack or meal at the gas station when you stop to fill up. It's so convenient. I mean, it's right there and you don't have to make a special stop just to eat, and a lot of rest stop style gas stations have good things like hot burgers, burritos or hot dogs ready to eat. Stop. Don't eat them.
Those foods are high in calories and very high in sodium. If you want a snack at a gas station, look for a piece of fruit or a bag of nuts instead.
Limit Sweet Craving
If you've got a sweet tooth, grab a small bag of trail mix, or a small bar of dark chocolate. Dark chocolate is a nice thing it has antioxidants and is a much better option than a regular candy bar. Often you'll find smaller pieces of chocolates or other candies at the cash register. Buy just one piece to satisfy your craving, instead of buying a whole candy bar. Plus, the last thing you want is a melted Snickers bar in your tank bag.
Avoid the huge refrigerated wall of drinks. Stick with your plan of drinking only water during the motorcycle trips instead of sodas or energy drinks.
Shop at Grocery Stores
Whether you're looking for something to eat for lunch or you're buying food for a few nights of camping, one of the best places to stock up is at a grocery store, just like when you're at home.
A lunch break at a grocery store can give you a lot of options, assuming you're traveling in a well populated area. But, even small, rural towns will have quality grocery stores with lots of excellent stuff. They will often have deli counters where you can get a sandwich, and a lot of stores are providing soup and salad bars.
Healthy Motorcycle Camping Food at Grocery Store
If you're loading up on food for camping, there's no reason why you can't eat clean and healthy. Here's a list of healthy, packable food to buy on a camping trip.
Go to the butcher counter and purchase a single chicken breast, fish, beef steak or hamburger, just enough for one proper food serving. Moreover, don't forget to get some salt and spices for seasoning.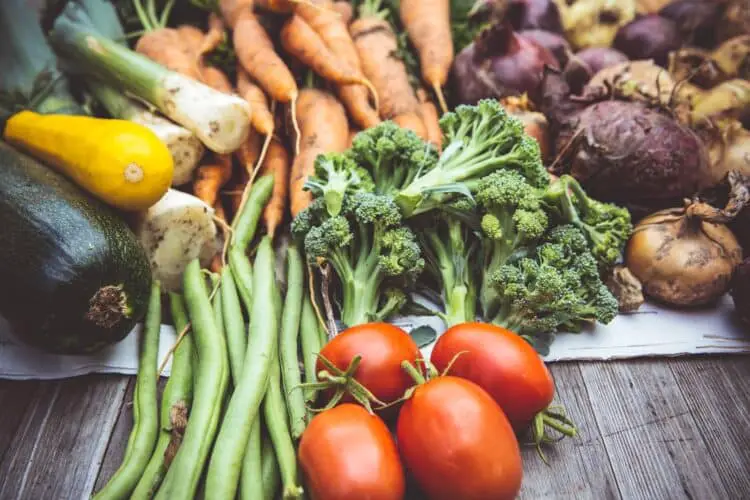 Small bag of baby carrots
A small head of broccoli
A handful of fresh green beans and a couple of onions
Tomatoes are easily bruised, but roma tomatoes are a bit more sturdy. Store it at the top of your bag to avoid crushing.
A small sweet potato, red, or white potato, which usually come smaller than russet potatoes.
Bagged salad mixes. These come with dressing and all the fixin's. Don't make the entire salad at one time. Instead, portion it out before you put the dressing on.
Single serving pack of tuna. Avoid cans which are heavy and bulky, and instead buy the resealable pouch or envelope style packing.
If you like cheese, grab hard cheeses, like parmesan. They keep well without refrigeration. Babybell cheeses, those little wax covered single servings, will stay fresh for several days without refrigeration.
Oranges and apples are perfect fruit choices. Grab a banana if you're going to eat it right away, or store it carefully so it doesn't get bruised.
Get a small bag of rice if you can ignite a fire or have a compact stove and bowl to boil water.
Also, get a bag of coffee for the morning brew.
Buying some snacks and healthy drinks like chips, juices, crackers, and biscuits is beneficial.
Lastly, learn some backpacking recipes to add spices to your dinner
These are only a few suggestions for fresh, clean, healthy motorcycle camping food that you can grab at a grocery store and take with you into the woods for a few days of camping. Don't forget to pack utensils like a plate, cup, fork, spoon, and pot. You can also keep a small hook and wire for fishing if the camping site is near a lake or stream.
How to Keep your Motorcycle Camping Food Cold
When you buy fresh vegetables and meat to take into the woods, you're going to need a way to keep it cold, especially the meat. Raw meats will begin to spoil after only two hours without refrigeration and must be stored at below 40°F, so, if you're not going straight to your campsite to cook it, you must keep it on ice.
I carry an insulated lunch bag to use as a cooler. I fill a slightly larger heavy-duty ziplock bag with ice whenever I need to keep something cold. You can grab some ice from a soda machine at a gas station, or from a hotel ice machine, but sometimes you'll have to buy it.
How to Prevent Cross-Contamination
To prevent cross contamination between different kinds of meats and between meats and other foods, keep the meat in individual, leak proof bags, and store them at the bottom of the ice container. If they do leak, they won't drip on the rest of your food spoiling it.
As long as it's not 100° outside, and you keep the cooler bag out of direct sunlight, the ice will melt fairly slowly and the motorcycle camping food will stay fresh for at least 24 hours.
Eat up your most perishable foods first. Most fruits and veggies will keep much longer with only moderate refrigeration. If you're able to refill your bags with ice, of course, your food will stay fresh longer.
Packaged Foods
Packaged, dehydrated meals are popular with backpackers and they are a good option for motorcycle camping too, simply cut open the bag and enjoy a nice meal. However, keep these types of food to a minimum and don't make them your everyday meals.
A dehydrated meal is great for backpackers who are burning 3,000 to 4,000 calories a day, they are too high in calories and sodium for riders sitting on a motorcycle all day.
So, limit your intake of frozen dehydrated food like Mountain House or Backpacker's Pantry. They are excellent options for an emergency meal or when there is no other option available. While you don't have to completely avoid these foods, they shouldn't be your main staple.
Prepackaged pastas are a pretty good food choice for a motorcycle camping trip and you can make them healthier by adding fresh vegetables. Usually, these packages are enough for two people, so consider dividing them in half.
Order healthy options when eating at a restaurant. Avoid grease spoon diners. If there are no healthy restaurants in a small town, go to the grocery store.
Limit Freeze Dried/Dehydrated Motorcycle Camping Food
When asked what kinds of food people take on a motorcycle camping trip, they will often suggest backpacking foods such as freeze dried or dehydrated meals. It makes perfect sense because they are easy to prepare, just add hot water, and they don't spoil. However, they are high in calories.
A day of backpacking or hiking can easily burn 3,000 calories or more, so refueling and putting those calories back into your body is important. Not so much on a motorcycle. An average day on the motorcycle is not going to burn 3,000 calories if you're chasing the sun on paved roads.