In the riding world, this is a common question that plagues many riders –experienced or novice. They wonder about the weight of their motorcycles either out of simple interest or when they have to shift their motorcycle by loading it on a trailer.
To give you a straight answer on "how much does a motorcycle weigh?" we need to compare different types of bikes along with different models. In this comprehensive guide, we will discuss the different categories of motorcycles that are available in the market and compare the weights of different models that fall under the segregated categories –so that you have a clear idea of the average weight of a motorcycle.
So, let's dive in and explore the world of motorcycles in terms of weight –
What Is The Average Motorcycle Weight?
Before going into the details of each category of motorcycles, let us begin by stating the average motorcycle weight which is somewhere around 275 KGs or 600 pounds. However, it is important to note that this is the average motorcycle weight and therefore, there are many motorcycles that weigh more than 600 lbs, depending on the class of bike and the materials that have gone into the manufacture of it.
What is the Reason behind the Varying Weight of A Motorcycle?
As we mentioned earlier, there are reasons why different motorcycles have different weights. These include the type of motorcycle, the class of motorcycle, and the materials used in the production of a motorcycle. For example, cruisers will have a different weight than choppers; a dirt bike will weigh different than a adventure bike; so on and so forth…
We will provide a detailed chart for you later in this article, with average weights of different types of motorcycles, so that you have a clear idea of the subject.
When it comes to different types or classes of motorcycles, we need to remember that different bikes have different purposes. If some bikes benefit from low weight, then there are bikes that benefit from being heavy and sturdy.
To give you an example, a dirt bike will always need to be lightweight and agile, for they need to wriggle their way through dirt, mud, and difficult terrains. They can only be driven fluently if they have a lean frame and light bodyweight.
On the other hand, if we look at the category of touring bikes, they have a lot of storage spaces, radio compartments, big windscreens, and many more things, which require them to be the best options for comfortably traveling long distances. Therefore, they need to be heavy to be the rulers of the roads. To put it simply, the more luxury you have on your bike, the heavier it is compared to others.
Things that Add To a Motorcycle Weight
Other than the luxuries and fancy features, there are a couple of in-built components that add weight to a motorcycle. Let's have a look at those components –
The Engine
We start from the engine not just because it is the most important part of your motorcycle but also because the engine is by a long mile, the heaviest component on your bike. The bigger the engine gets, the more weighty the bike becomes.
Usually, engines of motorcycles range from 125 CC to 1600 CC. If we look at mopeds, scooters, or dirt bikes, they have smaller engines and are therefore lightweight. But motorcycles like adventure bikes, choppers, cruisers, or sports bikes come with bigger engines and are automatically heavy.
Panniers
After the engine comes to the panniers, which are similar to the engine, could add a lot of weight to your motorcycle.
Touring bikes are a type of motorcycle that usually come equipped with stock panniers. In fact, panniers are also a common theme in Adventure bikes as well.
If the panniers installed on a bike is of the old school, then they are usually made of steel which makes them weigh 10 Ibs each. This is only when they are completely empty and when you add your regular important staff which you need to carry, naturally the weight increases even more.
For example, if you are commuting long distances, you will need to carry a spare helmet, an extra can of oil or gas, a spare chain for safety purposes, and you will see how all these things along with the panniers make your motorcycle feel heavier.
Materials Used in Manufacture
The materials that usually go in the production of a motorcycle are not considered components of a motorcycle but nonetheless, they play a crucial role in the overall weight of a motorcycle.
For instance, bikes in the olden days were all manufactured using steel, because the material is super strong and highly reliable. But this sturdy material made all bikes extra weighty and heavy.
Café racers are an ideal example of this kind because old café racers were usually built out of old motorcycle steel, which made them quite heavy. However, the modern café racers are much lighter as they only have the vintage look of the classic ones without the old steel materials.
Motorcycles that are manufactured in modern times use technology exceptionally well along with lightweight materials like plastic. This makes modern bikes more agile and lighter.
The Fairing
Again for this component there lies a big difference in the manufacture of old and modern motorcycles. Motorcycles that are manufactured currently have fairings made of plastic materials that do not add extra weight to the motorcycle frame.
On the other hand, motorcycles of the old days have fairing made out of sheet metal. Compared to the plastic fairings, the metal ones add a significant amount of weight to the motorcycle and if you want to reduce some of it, consider replacing your old fairings with modern plastic ones.
Different Types of Motorcycles & their Different Weights
Here is a detailed list of the different types of motorcycles available in the market along with their different (average) weights –
Touring Bikes
The heaviest bikes that are available today are the touring bikes and in terms of weight and capabilities, they are truly the kings of the roads. The luxuries, features, safety measures, and other comfort factors add a lot of weight to a touring bike, taking their average count to almost or over 900 lbs which are around 400 KGs.
Choppers
Choppers are the second on our list and are one of the heaviest bikes out there. Back in the day, these bikes were heavier than their modern counterparts because of the materials being used. However, to date, they are one of the heaviest bikes, with their weight ranging from 500 lbs to 900 lbs. On average, a modern chopper weighs around 700 lbs or 315 KGs.
Adventure Bikes
Adventure bikes are also some of the heaviest bikes with their average motorcycle weight being around the 550 lbs or 250 KGs mark. In the case of adventure bikes, it is the panniers that contribute a lot in adding to the overall weight of the bike. So, if you have metal panniers on your adventure bike, consider replacing them to shed off that extra weight.
Dirt Bikes
After the heavier ones, comes the category of a dirt bike which are lightweight, agile, and lean compared to other types of bikes. Their average motorcycle weight is around 220 lbs or 100 KGs and they need this lightweight to run smoothly on off-road or dirt tracks.
Sport Bikes
The average weight of sport bikes is around 400 lbs or 180 KGs. However, it's important to remember that the weight of a sport bikes range from 300 lbs to 500 lbs, depending on the size of the engine installed in the bike. The bigger the engine, the heavier the bike!
As a rule of thumb, it is safe to say that a bike with an engine capacity of 1000 CC usually weighs more than a bike with an engine of 600 CC.
Café Racers
In the case of café racers, it is important to determine whether the bike is manufactured in modern times or is a product of the olden days. This is important because older café racers weigh more than their modern versions. The café racers or the scramblers that are produced in the modern days usually have an average weight of around 450lbs or 200 KGs.
Scooters
The types of scooters that you will see in the town or in urban areas weigh around 250 lbs or 115 KGs, on average. However, there are some larger models that have come in the market nowadays which can weigh easily up to 500 lbs.
Now that you know the different categories of motorcycles along with their different average weights, let's look at the chart below to have as a CheatSheet for the weight of different bike models –
Average Weight of Touring Bikes Weigh around 900 lbs or 400 KGs
A touring bike is manufactured for long-distance journeys As a rider, you can travel cross country on them, with much comfort and without any excessive exhaustion.
Since they are manufactured for long rides, there are many safety, comfort, and convenient features on these bikes along with spaces for extra storage, which make them quite heavier than other motorcycles. These motorcycles have wide windscreens, which can be adjustable, radio compartments, panniers, etc.
However, not all touring motorcycles are big and heavy. There are some smaller bikes for example the BMW R 1200 RT or the Ducati Multistrada which are small touring motorcycles and do not weigh as much as 900 lbs.
Examples of A Touring Bike Weighs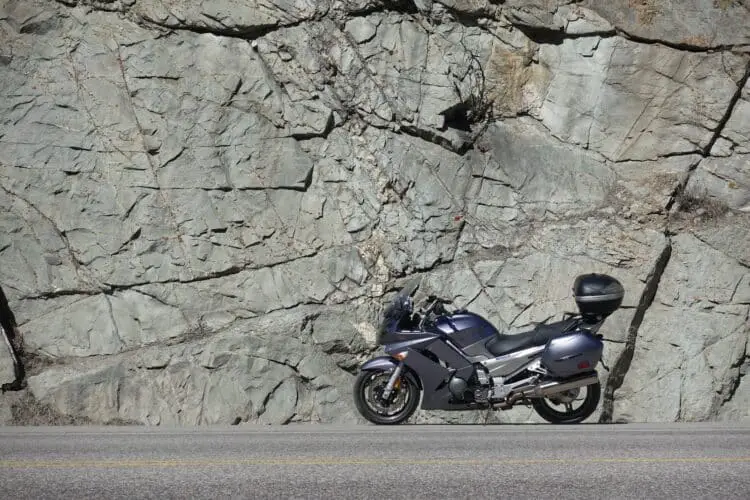 Ducati Multristrada – 516 lbs
BMW R 1200 RT – 514 lbs
Honda Gold Wing – 933 lbs
Harley Davidson Ultra Limited – 908 lbs
The Indian Challenger – 796 lbs
Kawasaki Vulcan 1700 Voyager – 895.2 lbs
Average Motorcycle Weight of Choppers Weigh around 700 lbs or 315 KGs
Like touring motorcycles, choppers are one of the heaviest bikes available in the market today. The average weight of a chopper motorcycle is around 700 lbs and the primary reason behind all this weight is the design and construction of chopper motorcycles.
The choppers that have been manufactured back in the day are heavier than their modern versions. This is because earlier, heavy materials like steel and metal sheets were used in the production of them, compared to the lightweight materials that are used now.
Examples of Chopper Motorcycles Weights
Kawasaki Vulcan 900 – 611 lbs
Honda Fury – 663 lbs
Suzuki Boulevard M109R B.O.S.S. – 764 lbs
Indian Scout Bobber Sixty – 527 lbs
BMW R18 – 760 lbs
Average Weight of A Adventure Motorcycle Weighs Around 550 lbs or 250 KGs
Adventure bikes, as the name suggests, are made for adventurous and exciting rides. They are big and tall, which makes them stand out among other types of motorcycles. However, in terms of weight, they fall midway in our list as on average they weigh around 550 lbs.
The primary reason these bikes are not extremely heavy as a chopper or a touring motorcycle is that they are meant for adventure or off-road driving. If a bike is very heavy, it will pose a high level of difficulty to the rider for handling it or maneuvering the bike in off-road conditions.
Therefore, these bikes are made lightweight, agile, and easy to handle. It's important to note that most adventure bikes have accommodation for the installation of panniers. Panniers can add extra weight to your bike, depending on the materials they are made of. Also, after installation, panniers are not going to be sitting empty on your bike as generally they are filled with fuel, locks, or other important stuff.
Examples of Adventure Bikes Weights
BMW R1200 GS Adventure – 580 pounds
KTM 1290 Super Adventure R – 478 pounds
Honda Africa Twin – 511 pounds
Kawasaki KLR 650 – 337 lbs
Moto Guzzi V85 TT Adventure – 463 lbs
Average Weight of A Dirt Bike Weigh around 220 lbs or 100 KGs
When it comes to cool motorcycles, Dirt Bikes are a popular choice among riders. they are the lightest motorcycles on our list, barring the scooters and mopeds as they are technically not considered full-fledged motorcycles.
Just like Adventure bikes, a dirt bike needs to be lightweight and agile as they have to handle tricky off-road conditions and terrains.
Manufacturers of dirt bikes are that they have put a lot of work into making them as light as possible, to give the rider the highest degree of control and maneuverability over these bikes when they are riding them on mud, sand, dunes, or through the woods.
Another great advantage of a dirt bike being lightweight is that they can be carried on small trailers if the rider is looking to shift one from one State to another. A dirt bike can be even carried behind a car if proper safety measures are carefully taken.
Examples of Dirt Bikes Weights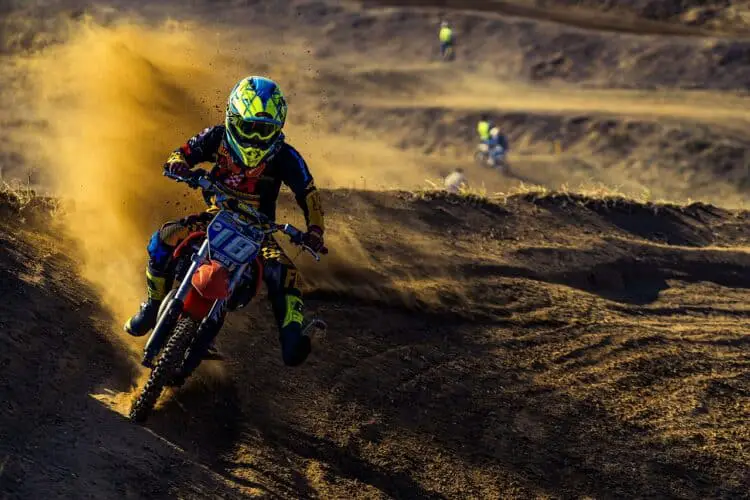 Honda CRF230F – 249 pounds
Yamaha YZ125 – 207 pounds
Honda CRF250X – 254 pounds
2022 KTM 450SX- F – 208 lbs
Kawasaki KX 450 2022 – 232 lbs
A Average Sport Bike Weighs around 400 lbs or 180 KGs
A sport bike usually weighs around 400 lbs. There is a prevalent misconception in the riding world, especially among inexperienced riders, that sport-bikes ought to be heavy because of the big engines they have installed in them.
However, this is not absolutely true. In fact, the engines installed in the sport-bikes are not big at all –they simply have a higher RPM count but in terms of size, they are more or less similar to the ones installed in Touring Motorcycles.
On the contrary, sport-bikes need to be lightweight and extremely agile because of their sole purpose on race tracks – the need for speed!
Sport-bikes are precision instruments built to go fast. Any extra weight on a sport-bike means it will counter its ability to go fast. So, a big engine is simply a big no-no for sport-bikes. In fact, if you remove the fairings from a sport-bike, they will become even lighter.
Examples of Sport-Bikes Weights
Yamaha YZF 600 R6 – 366 pounds
BMW S1000RR – 458 pounds
Honda CBR600RR – 370 pounds
Ducati V4S Panigale 2022 – 385 lbs
Kawasaki Ninja H2 – 476 lbs
Average Weight of Café Racers is around 450 lbs or 200 KGs
When it comes to Café Racers, there are currently two types of them available in the market today. One type is the older versions of Café Racers and the other type comprises modern machines. The old classics that go through modifications and renovations are a beauty to behold.
But at the same time, they weigh heavier than their modern counterparts. However, it's safe to say that on average, a Café Racer weighs around 450 lbs.
As far as the old classic Café Racers are concerned, there is simply not enough data to round them up and bring to you an average. Either people do the modifications themselves or give them to a big dealer for unique customizations. Therefore, we are giving you examples of Café Racers, which have been manufactured in modern times.  
Examples of Café Racers Weights
Triumph Thruxton – 472 pounds
Continental GT 650 – 437 pounds
Moto Guzzi V7 Racer – 395 pounds
Royal Enfield Continental GT 650 – 445 lbs
Ducati Scrambler Cafe Racer Urban Motard – 397 lbs
Average Weight of a Scooter is around 250 lbs or 115 KGs
If we take at the scooters, they are not technically motorcycles because of the lack of power and other fancy mechanisms. Naturally, they are extremely lightweight compared to bulky and hefty motorcycles.
On average, a scooter weighs around 250 lbs or 115 KGs. Since they weigh so little they are extremely easy to handle or maneuver through heavy traffic.
In fact, scooters were manufactured in the first place primarily for going around congested urban towns in a seamless manner. Generally, scooters today are used for this purpose only, and therefore, you will see many riders riding them without wearing proper motorcycle gear or any kind of protective clothing.
However, it's important to note that there are different types of scooters available in the market and their weights are all different. The average we stated above complies with scooters that have an engine capacity of 125 CC or less. There are some scooters, especially in Italy, which can easily weigh up to 400 or even 500 lbs.
Examples of Scooters Weights
BMW C 400 GT – 447 lbs
Honda Super Cub C125 – 240 lbs
Honda Forza 300 – 401 lbs
Honda SH350i – 383 lbs
Piaggio Medley – 300 lbs
Average Weight of Cruisers is around 550 lbs or 250 KGs
When it comes to Cruisers, it is important to remember that there are different types of cruisers with a wide range in weights. Usually, they weigh 550 lbs or 250 KGs on average.
Cruisers are designed to travel long distances and therefore, it is imperative for the manufacturers to make them as lightweight as possible. However, power cruisers or the high-end cruisers from Harley Davidson weigh a lot more than the regular ones, where some can easily weigh from somewhere between 650 lbs to 700 lbs.
Harley Davidson is the most notable house of motorcycle manufacturing when it comes to cruisers. They make some of the best bikes in this category and their weight is usually above 600 lbs. you will be surprised to know that there are even small cruisers available in the market which do not weigh more than 300 lbs.
Examples of Cruises Weights
Yamaha V-STAR 250 – 324 lbs
Kawasaki VULCAN S ABS – 498.3 lbs
Triumph Bonneville Bobber – 502 lbs
Harley Davidson Low Rider S – 679 lbs
Harley Davidson Road Glide – 855 lbs
Average Weight of a Moped is around 180 lbs or 80 KGs
Technically speaking, mopeds are motorcycles with very limited power and abilities. They are the lightest in our list, with their average weight being hovering around 180 lbs or just 75-80 KGs.
These are the lightest motorcycles, in terms of weight that are available in the market. If you are a person with a muscular build, you can even lift a moped up along the staircases of an apartment.
So, if you are transporting your motorcycle from one State to other, and if that's being a Moped, there is no need to hire a big carrying vehicle or a trailer. You can simply tie it up on the back of your own vehicle, with proper safety measures and carry it wherever you want.
In fact, mopeds are made lightweight because of the same very reason that they could be ridden at all places and at any time. Additionally, you do not need any licenses or government documents to ride a moped.
Examples of Mopeds Weights
Honda ADV350 – 182 lbs
Honda ADV150 – 277 lbs
Kymco DT X-360 – 167 lbs
Honda Trail 125 – 248 lbs
Ubco 2X2 ADV – 145 lbs
Average Weight of a Bagger is around 750 lbs or 340 KGs
After the lightest, we are going to end our list by telling you about the heaviest motorcycles that are available today. These motorcycles are called Baggers and they come with additional rear space for extra storage.
Extra storage space means excess weight and unsurprisingly, these giants weigh somewhere around 700 lbs or 340 KGs. To transport or shift these giants, you need heavy trailers or carriers with utmost safety.
Examples of Baggers Weights
Yamaha FJR1300 – 588 lbs
Honda Gold Wing – 803 lbs
Kawasaki Concours 14 ABS – 642 lbs
Indian Challenger Dark Horse – 795 lbs
BMW K 1600 B – 682 lbs
Dry Weight Vs Wet Weight
Now you know how much a motorcycle weighs, including a total of 50 bikes, from each category. But do you know that there are two types of weight calculations involved in determining the actual weight of a motorcycle?
These are Dry Weight & Wet Weight
Dry weight, as the name suggests is the weight of the frame of the motorcycle, with all its components and equipment, but without gas or fuel. On the other hand, Wet Weight takes into consideration the weight of the vehicle, after it is filled with fuel.
The list above is a compilation of all the bikes with their dry weights. To know the weight of all the models when they are filled with gas or fuel, all you need to do is add around 20 KGs or 45 lbs to each of their weights.
Conclusion
So, this is all you need to know about the weight of a motorcycle.
To summarize, if you are looking for a lightweight motorcycle, then Mopeds or Scooters would be your best pick. On the other hand, if you want a heavyweight motorcycle so that it can handle more cargo and storage space, Baggers would be ideal for you.
Purchase a motorcycle according to your needs and kickstart your riding life!