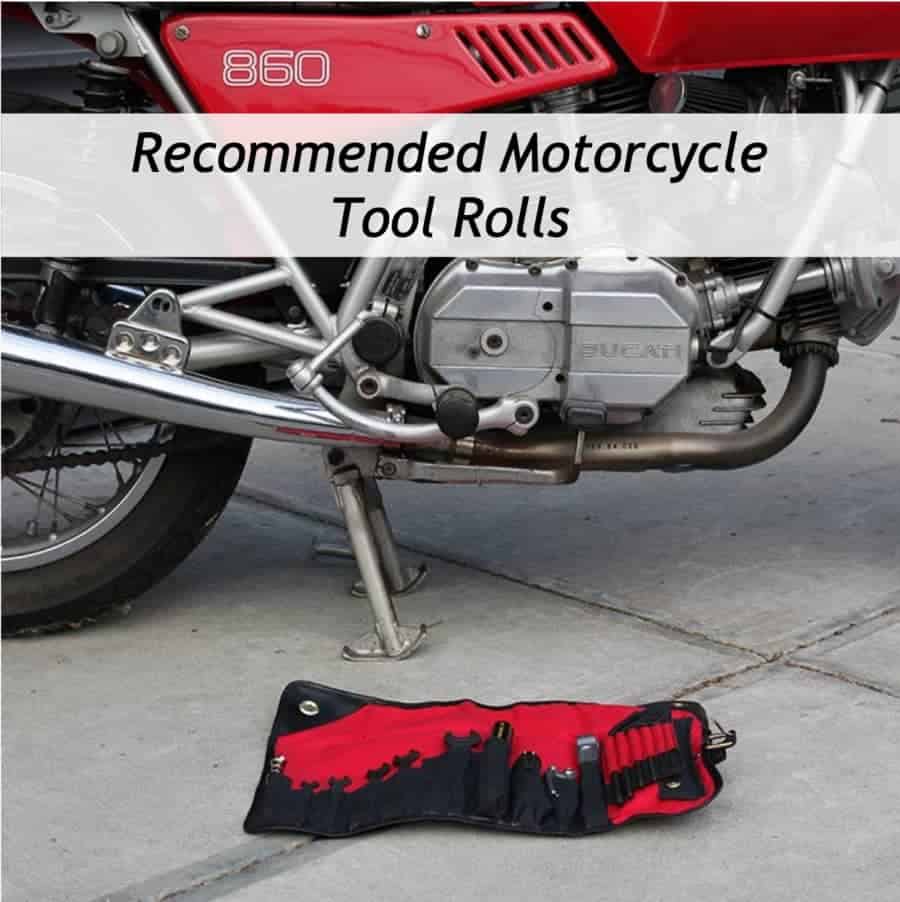 Whenever I'm planning a motorcycle camping trip I always make sure I have a set of tools with me, as well as other small items, so that I can make minor repairs while on the road. In the past I would throw a handful of tools in the cheap plastic bag that came with my motorcycle, but that bag didn't last long. So, it was time to look for a good tool roll.
While shopping for a simple tool roll I found so many different options for storing tools and other repair items, so I thought I would share what I found here.
Features to look for in a tool roll
Depending on where you mount or store your tool roll, you're going to want to look for certain features. If you mount it on the outside of your bike, especially up front on the forks, then you're going to want something that is weather resistant or waterproof if you plan on riding in the rain.
Do you plan to carry sockets? Then choosing a bag with individual elastic bands for sockets would be a good choice. An inside zippered pocket is very handy feature. It's perfect for carrying small, loose items such as spare tubing, spare wire, a roll of tape, etc.
Molle straps on the outside of the bag will give you more mounting options. A good tool roll should include top and bottom flaps that fold over your tools to protect them from slipping out when the bag is rolled up. It also provides you with a work surface when the bag is unrolled and unfolded.
A good tool roll will include durable stitching, often double stitched at the seams. Look for good, thick materials, especially if you opt for a canvas bag. There are some very inexpensive canvas tool rolls on the market, but you often get what you pay for as these cheaper bags will deteriorate rather quickly.
Another feature to look for is the mounting method. If you choose to strap your tool roll to the outside of your motorcycles, on the fender, on the forks, or onto one of your panniers, look for quick and easy mounting options. Quick release clips are nice to have.
Decide What to Put in your Tool Roll
Before decide on a tool roll you first need to decide what you are going to put in it. This will help you determine what size you need. I recently wrote a post about repair items to take with you on a motorcycle trip, you can read it here.
You can start with the tools that came with the motorcycle from the manufacturer (if you have them). This set usually comes with a few of the proper size wrenches, a screwdriver with multiple points, maybe some pliers, and a couple allen wrenches.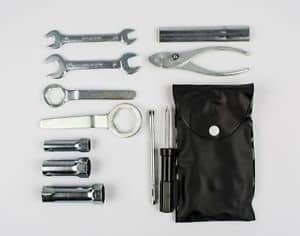 Once you have those standard tools in your bag, decide on what extra tools or repair items you will want to include, such as tapes, wire, fuses, clamps, first aid items, a rag, etc. Choose which tools are "must haves" and which tools are "nice to haves". Once you have your set of tools ready, you will know more about what size and type of tool roll to choose.
If you're starting from scratch there are a few good choices for pre-stocked tool rolls. The quality of the tools in these sets are certainly not the highest quality available, but, then again, they are there for emergency repairs rather than everyday use.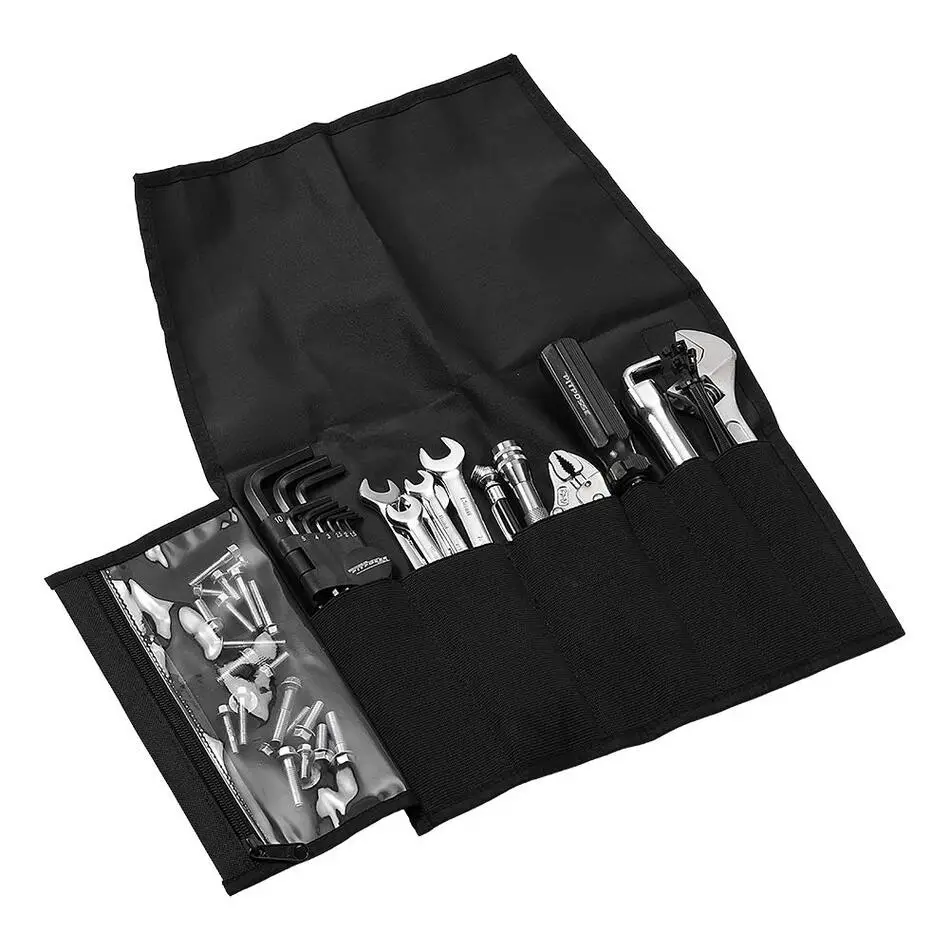 The Pit Posse Motorcycle Tool kit is an excellent starter kit. It comes in a standard set for American built motorcycles, as well as a metric set. The nice part about this kit is the zippered pouch for screws and small, loose items. And, it's very affordable.
Find the current price of the Pit Posse Tool Roll HERE on Amazon.
The basic, no frills tool roll.
Often a simple, no frills tool roll is enough for most riders who simply want to stow away a small set of tools into their luggage or saddle bags. These tool rolls have no fancy snaps, straps or mounting systems and are simply a good place to keep your tools organized and easily accessible.
Materials can vary from canvas, to leather, to ballistic nylon. The nylon bags are durable, water resistant and will last a long time if not abused too much. Choose a bag with reinforced stitching in areas of stress, like the tops of the pockets.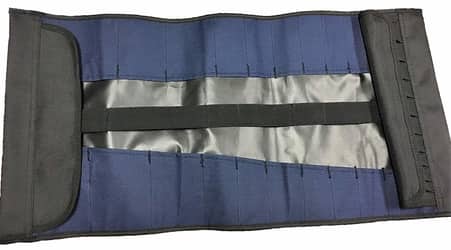 Here's a great tool roll that will hold just about anything you need for roadside repairs, or basic maintenance when you're on a long tour. Fill it with your motorcycle brand specific tools and additional necessities.
Find the current price of the 32 Pocket Tool Roll on Amazon here.
Canvas Tool Rolls
A lot of people like the look and feel of waxed canvas. It has that classic vintage look and gets more rugged looking as it ages and with more use. Look for the same type of features in a canvas tool roll than you would with any tool roll such as strong seams, a small pocket, fold-over sides and multiple mounting options. 
Canvas tool rolls have that old style, military look to them, especially when they have leather accents and buckle straps. Canvas is a heavy, cotton material and bit more flexible than leather or nylon, which will make it easier for your bag to roll up, however, it is not waterproof or weather resistant. Waxed canvas will provide more protection against the elements and it makes the material more water resistant.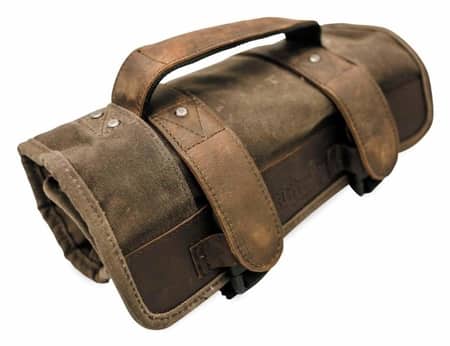 For a top-of-the-line, vintage-looking canvas tool roll, I recommend the Burly Brand Voyager tool roll, manufactured and sold in the USA. It's very durable, comes with quick release clips cleverly concealed by leather straps, and a fold-over flap to keep your tools in place. Inside it features 8 pockets of varying sizes and a zippered pocket. The strap system that wraps it up can also be used to mount the bag to your bike's handlebars or front forks. It can also be stored inside your saddlebags if you like.
See the latest price of the Burly Brand Tool Roll here on Amazon.
Fork Mounted Tool Bags
If you ride a cruiser or a vintage-style naked motorcycle instead of a touring motorcycle, then it's likely that you have room to mount a tool bag on the front forks either above or below the headlight. Front fork tool bags are often an expression of style and come in so many different materials and looks.
Leather tool pouches come in a bunch of styles and designs and choosing one depends on your personal taste. You may want clean black leather or a cool brown vintage leather look. Or maybe you want one with buckles, studs, and fringe. Whichever you choose it should be an extension of your motorcycle style and your riding style.
Fork mounted tool bags are, in most cases, simple bags or pouches. They don't often have an inside pocket and they don't come with handy sleeves for every wrench and socket. On the upside, they are conveniently located and you don't have to unload all your other gear to get what you need.
One thing you need to consider when choosing a fork-mounted pouch is exposure to the elements. The bag will be right up front bearing the brunt of whatever the road throws at it. Sun, wind, road grime, and rain (if you ride in the rain) will take their toll. Simple tool pouches are not usually waterproof, so consider that when choosing a bag.
Fork mounted bags can also be mounted on a sissy bar or behind the passenger backrest. But, keep in mind how you will mount it if you'll be carrying luggage, like a sissy bar bag, which might interfere with the tool bag.
You should look for a bag that is real leather instead of vinyl, has strong double stitching where it counts and comes with easy mounting methods.
Fender Mount Tool Bags
When considering a fender-mounted tool kit you have to keep in mind that it will be out in the elements. Fender mount tool bags are most often found on dual sports and dirt bikes but don't discount them if you have a street bike or a light dual sport (that is, a bike that's 80% street and 20% dirt). There are often other mounting options other than the fenders. You have to ask yourself if you want something waterproof.
Fender-mounted tool bags are most popular with dirt bikes, dual-sport bikes, or enduro motorcycles. These bikes have the fender style necessary to accommodate a tool bag. The bags use clips and straps to either wrap around or grasp the edges of the fender.
Fender bags are super easy to install and remove. Place the bag on top of the fender as close to the headlight as possible. Place the 4 gutter hooks each under the edges of the fender, and tighten the straps. Once tightened, they stay in place really well and won't affect your riding at all.
When choosing a fender mount tool bag, you will need to consider the weight of the loaded bag. A typical dirt bike fender will not be sturdy enough to hold a heavy bag of tools. Most dual sport riders use the fender mount bags to hold an extra tube, some tire irons, and a few other things, so keep that in mind when deciding on this style tool bag.
Here are two choices in fender mount tool bags, both are excellent quality.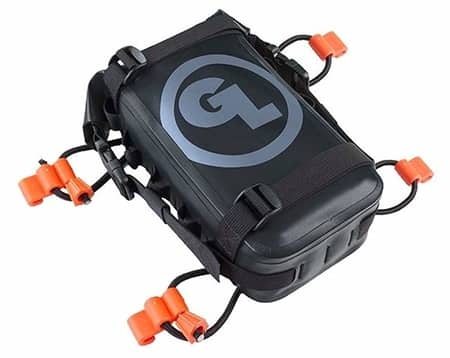 Giant Loop: While the Giant Loop bag is designed to be installed on a fender, the molle straps on the outside of the bag allow you to mount it in other places on the bike. The bag is waterproof and is big enough to hold an extra tube, tire irons, and quite a few other items. Check out the latest price on Amazon.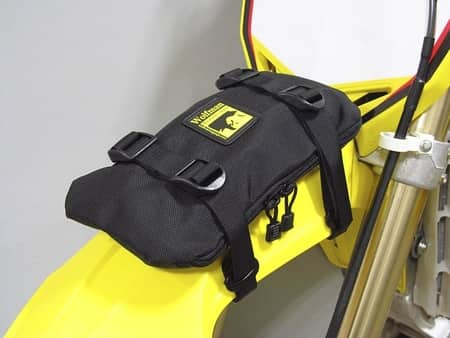 Wolfman Enduro Fender Bag: The wolfman fender bag is quite a bit smaller than the Giant Loop and its mounting design is limited to strapping it to a fender. But, its small size may be just what you're looking for if you need a little more space to keep a few items. Check out the latest price on Amazon.
Tool Tubes
Tool tubes are a very clever and convenient way to carry not just your tools, but a lot of other items including fuel bottles. They are more popular among adventure riders and they require a hard surface to be mounted on.
Riders most often mount them to the inside of their side pannier frames in that empty space between the frame and the motorcycle. Others mount it to the rear of their hard panniers. And other riders find they need to be more creative and have found ways to mount it to the rear fender or other parts of the motorcycle.
A lot of people like to build their own DIY tool tubes made from PVC pipes. If you're the DIY type and enjoy a good project, then this might be a viable option for you. But, if you're not up for building your own, there is an excellent tool tube out there for sale.
Tool tubes are waterproof. However, I should note that there is often a very small hole to allow for air to escape when the pressure changes as you change altitude. Still, the hole is so small, it won't likely let water in and you can orient it in such as way that rain will not drip on it.
DrySpec Tool Tube:  This is arguably the most popular tool tube on the market. It is large enough to hold plenty of tools, or it will hold a 30 oz. size MSR fuel bottle. It comes with a complete mounting kit that even includes the proper size drill bit.