Riding your motorcycle across the country is going to include a lot of nights away from your own, comfortable bed. So, how do you decide where to sleep on a motorcycle trip? There is a wide variety of choices with varying levels of comfort and cost. Cross country motorcycle trip offers choices like camping, boondocking, fancy hotels, cheap motels, couch surfing, hostels, and a lot more.
A cross country trip on a touring bike is a great deal for riders. Aid kit, rain gear, tire repair kit and other essentials are necessary for traveling cross country on touring bikes. Save money on a road trip to the grand canyon or a glacier national park. Drive away from rush hour traffic into unlimited options for cruise control on two wheels. There are appropriate tools to guide riders to new places of camping across the countryside. Riders need to wear protective gear at all times during riding. Popular destinations include Southern California, Las Vegas, Washington State Park, Canadian provinces, New Jersey and more. Always carry granola bars in case of emergency and hunger. Bad weather can create a dangerous situation for a cross country motorcycle ride. Extra gear should always be packed for long stretches. There are many hotels throughout small towns. A cross country motorcycle ride or a motorcycle road trip is incomplete without a local gas station. There are fun roads in Salt Lake City and incredible locations for skyline drive in New Mexico, New Orleans and other places. Always carry bottled water, extra t shirt and remember to stay hydrated.
A cross country motorcycle trip or a motorcycle road trip is highly economical. It is important to keep a check for gas stations at all possible junctions to refill in case of emergency.
Where to sleep When Riding Motorcycle Cross Country Trip
1. Camping in National Parks
A national park is a land set aside and protected by the federal government so that we all can enjoy them for generations. The US has some incredibly beautiful landscapes in the world and most are in a national or state park. These are places where you can enjoy mountains, deserts, towering forests, and grasslands. Entering national forests requires payment of an entrance fee and in some, more popular parks such as The Grand Canyon, the entrance fees can be up to $30 per vehicle. Luckily, fees for motorcycles are usually discounted and a pass is good for up to 7 days. If you plan to visit a lot of parks, consider purchasing an annual pass. Riding cross country is a thrilling experience.
National parks are more protected than other places and the rules for camping are a little more strict. You will be staying in an assigned, designated campsite with a picnic table, food storage locker, fire ring, and often a platform for a tent. You'll find a designated area next to your campsite to part your motorcycle and it's probably against park rules to park your motorcycle inside your campsite.
Campgrounds are patrolled by park rangers who are there to make sure your stay is safe and enjoyable but also to make sure the rules are being followed. They are authorized to give citations, so, make sure you know and follow the rules of the park. Most campgrounds require reservations well in advance, especially in peak seasons, and some may be closed for winter. So, if you want to camp, be sure to plan ahead. However, parks often have first-come-first-serve campsites as well. They are easily found on any map, digital or printed.
2. State Parks
Campgrounds within state parks are similar to a national park but on a smaller scale and they are funded and maintained by the state government. Each state will have its own regulations for its campgrounds as well their own process for making reservations. Again, depending on the popularity of the location, reservations may have to be made well in advance. 
State parks also have first-come-first-serve campgrounds. Often these campgrounds can be a good bet if you didn't plan ahead with reservations. On weekdays you will have much better luck finding a spot when you ride up. Check with the state's park website to find all the information you need, where to go, entrance fees, and vehicle fees. Sometimes you can actually find these on google maps.
3. Privately Owned Campgrounds
Privately owned campgrounds can be found all over the country and can greatly range in size as well as in amenities offered. Some of these campgrounds can be found tucked away in a grove of trees close to a small town, while others can be found smack dab in the middle of a large suburban area. Many of them cater to the RV crowd but they often have sections set aside for tent only camping with no hookups and at a lower price. 
You will often find a camp host that is either the owner of the campground or is employed by the owner. The camp host lives on-site and can help you if you have any issues or questions about camping there. They are often the ones you will go to for firewood. Because private campgrounds can be so different, you'll find a wide variety of services for each one. Some will have flush toilets and free showers. Many have coin-operated showers.
 You might find a small camp store which is great when you're camping. There you can pick up snacks and often a cold beer. Most private campsites will be motorcycle friendly, but, if you don't enjoy being surrounded by families in big RV's, try for a tent site instead. The price for these campgrounds will depend on what kind of services they offer. The more services, generally the higher the price. But, most seem to range between $20 to $35 per night.
4. Dispersed Camping
Also known as boondocking, dry camping, or wilderness camping, dispersed camping is when you find a spot on public land such as a national forest, park your motorcycle, and camp. Keep in mind that you can't just park anywhere and there are common rules that must be followed when camping. Check the local national forest information center to find out the rules and regulations regarding taking motorcycles off the main road in order to camp.
In some states, like California, you will need a permit to have a campfire and will be required to pass a short fire safety test to obtain that permit. This is common in dry states where the threat of forest fire is imminent, and I can't stress enough how important it is to follow fire safety rules in drought-ridden areas. But, permits are free, easy to get, and can be found online.
There will be no services when wilderness camping. You will have to bring in your own food and water, you'll have to dig a cat hole for your waste, and you will be expected to pack everything out, including all your trash. As a motorcycle camping enthusiast myself, this is the type of camping I love. Away from the crowds and noise, out in nature, and disconnected from the daily grind.
5. Roadside Camping
Camping by the roadside is similar to dispersed camping. You won't find any services, picnic tables, bathrooms or camp host, and, like dispersed camping, it's free. But, be aware that roadside camping doesn't mean you can pull over at any point and set up your tent. That would be illegal as most roadsides are private property or owned by the city or county. Even in designated rest stops, you will find signs that specifically say "No camping". And if you ever see a No Trespassing sign, don't camp there unless you want a rude awakening and possibly dangerous situation.
If you are on public land, however, you can camp just about anywhere you like. Land that is managed by the Bureau of Land Management (BLM) or a national forest, or any federally owned land, is fair game for camping up to 14 days at a time. A good example of this is a section of BLM land off highway 10 just outside Joshua Tree National park. There's literally nothing there, but you are allowed to camp there.  
Follow the same rules as you would for dispersed camping. Bury your waste, pack out your trash, control your fires and put them out completely. Try to look for an area that has been used before and avoid trampling on nearby vegetation. Keep your campsite clean and store your food and toiletries away from your tent in a place where critters can't get them. Also, practice common sense personal safety. These areas won't be patrolled by park rangers.
6. Beach Camping
Beach camping can fit into all other categories like national and state parks, or private campgrounds. But camping on the beach is a whole different experience and everyone should try it at least once. There's nothing better than watching the sun rise or set, depending on what coast you're on, over the ocean and listening to the sound of the waves while you sleep.
Beach camping comes with its own set of problems, the main one being sand. You will get sand pretty much everywhere, in your tent, your shoes, your boots, your sleeping bag. Sand seems to show up in the oddest places.  So, be prepared to shake everything out when you leave. Even if you don't take your motorcycle on the sand, you might consider cleaning and lubing your chain after your beach stay. 
Beaches can also be very windy especially in the late afternoon and you can expect fog or a lot of moisture in the morning. Make sure you use a rain fly and that your gear is covered and protected and that your tent is secured to the ground. Check with the local authorities to see if fires are allowed on the beach. A beach bonfire is an incredible way to enjoy the evening. 
Beach weather can vary greatly depending on where you are and what season it is. All of my experience with beach camping is on the northern coast of California. It's usually pretty chilly at night and summer brings morning fog. But, southern beaches are warm and sunny for most of the year. And it's so nice to have a coast trip or if you're in a group of touring bikes riding up the east coast.
7. Resort Camping
Resort camping could be considered the same as a private campground, but on a more upscale level, we're talking luxury campsites at their best. I suppose KOA could be considered a resort-style campground, but there are others that are more luxurious. Resorts have extra goodies like swimming pools, spas, upscale cabins, often a restaurant on-site, private showers, and concierge services to take care of your needs. For long trips, resort camping is a cruisy way to spend the night after being on two wheels all day.
Keep in mind that resorts are more popular with RVers and some require a membership. This is where rich old people go with their million-dollar motor homes. Some can be expensive and not all of them will be motorcycle friendly. So, if you want to be pampered for a night or two, do some research for resort camping in the area you want to stay. Check all the fine print to make sure they allow motorcycles. 
8. Glamping
Glamping has become a buzzword in the travel world over the last few years. Glamping is glamorous camping or luxury camping. You will find them on privately owned properties and some of them will be tucked away in a beautiful forest, on the coast looking over the ocean, or in a desert valley. Glamping is for people who love the outdoors and would like to camp but don't want the hassle of setting up, sleeping on the ground, and roughing it.
These campsites can come it a variety of themes and levels, of luxury. You could be sleeping in a large canvas tent, a yurt, a teepee, or a treehouse. In any case, you will be sure to have a comfortable bed and nice linens, sitting areas, maybe a deck, along with other perks such as continental breakfast, or even room service (or yurt service). Most glamping campsites will be motorcycle friendly, but always double-check when you make a reservation.
Like resort camping, this luxury comes at a price. The simplest glamping experience will probably cost around $150 per night and can go as high as $1500 a night and anywhere in between. But, hey, if you have the money and you want the experience, go for it. 
9. Urban Camping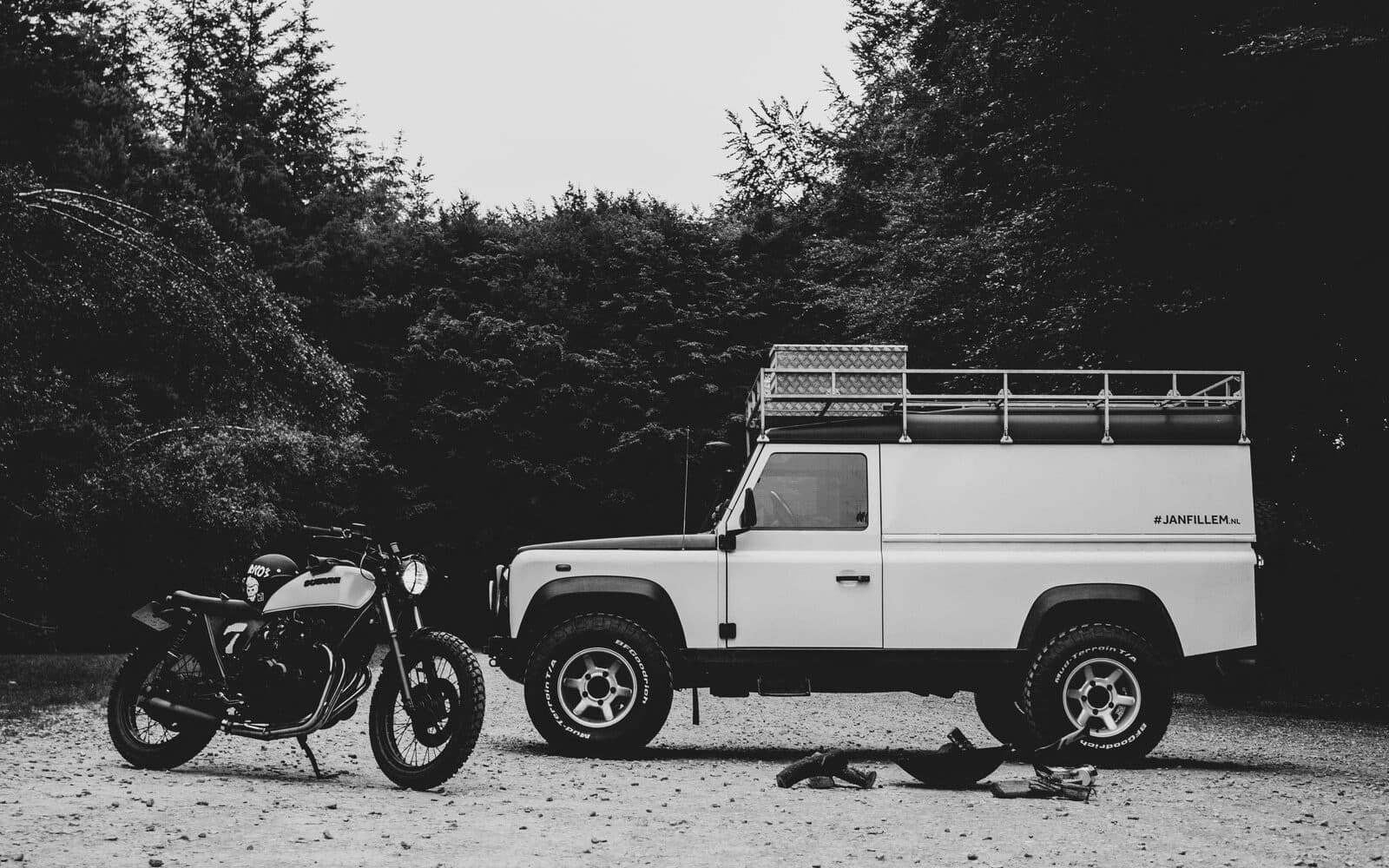 It's possible that while on a long trip cross country, you find yourself in a town with absolutely no place to stay. Hotels are full, there's no camping available, no rentals available, etc. This is a time when you could consider urban camping, also known as squatting. Whilst it might not be the most glorious cross country ride experience you'll have, it'll give you a memory for sure!
Keep in mind that it is illegal to camp in a non-designated camping area without a permit. But, a lot of people do it, and homeless people are forced into this lifestyle of squatting due to their situation.  You could probably get away with one night of urban camping on private property as long as you are respectful of the area, quiet, and have no fire. 
Some of the more acceptable places to camp in an urban area would be on the property of a church, or on the property of a business that allows boondocking, like Walmart. Often you can tuck yourself into a hidden area alongside a park, creek, a greenbelt, or by a river. Once you find a spot, be aware that you could, at any time, be asked to leave by local authorities. Even at 3:00 in the morning. If this happens, be respectful and comply with their requests, pack up and move on. 
Urban camping can also be more dangerous since you are in an area that has more night time activity.  You are more susceptible to criminal activity. As a woman on a solo trip (just you), I would only urban camp if there were absolutely no other option and I probably wouldn't sleep very well. 
10. Vacation Rentals
A vacation rental is a privately owned home, managed by a rental company, and offered to anyone who would like to stay there. They can be houses, cottages, cabins, condos, large or small and come equipped with dishes, cook wear and linens so you can make yourself at home. Owners of vacation rentals rely on the property management company to take care of the logistics of renting, maintenance, cleaning, etc. When staying at one, you deal with the management company and not the property owner.
If you're interested in staying at one of these homes, your best bet is to turn to a website that manages reservations. Vacationrentals.com is a great start. The rental prices will vary widely depending on location and size. for instance, a studio apartment in downtown Chicago will cost more than a 4 bedroom house in the Sierra mountains. But, if you want a few days off while on your cross country motorcycle trip, you can feel like you're at home again at least for a while.
11. Air BnB
Air BnB has become a very popular way for people to find a place to stay. They are similar to vacation rentals because they are privately owned homes, condos or apartments that are offered for short-term rental. There is no property management company and you will deal directly with the owner of the property for pricing, keys, maintenance requests, etc. The Air BnB website is simply a way to connect you with the owner and find a great place to stay.
It's a good idea to read the reviews carefully. One important thing to know about these rentals is that the owner of the property or house is often present and living there. Some deals are for a single room in an occupied house. Some are for small cottages or pool houses in the backyard of an occupied home. Owners have the right to enter at any time and check up on the rental whenever they like. This is the number one downside I've heard from people I know who've used Air BnB. So, if you're ok with that, you could have a great experience. Make sure you ask about the parking situation and if there is a safe place to park your motorcycle.
12. Motorcycle Festivals
Wouldn't it be great to coordinate your trip around the country to include Stergis, or Daytona bike week? Or how about women's only festivals like Babes Ride out or The Dream Roll. There are small motorcycle festivals happening all over the country. Find one to join and camp with 1,000 motorcycles nearby. It's a great way to make friends, share stories, party and listen to music and each festival brings its own special flair. 
13. Home Sharing
Motostays.com is a home-sharing service that is designed strictly for motorcyclists. This membership website allows motorcyclists to offer up their home and their hospitality to other motorcyclists who are looking for a place to stay.  The website is a vehicle to connect the homeowner with the rider who needs a place to stay. 
Membership to Motostays is free and, get this, there is no charge for staying with a host. It's based on sharing and hospitality and a common love of motorcycle travel. The website allows the guests to leave reviews about the experience and hosts can earn badges and a reputation for being great hosts. Also, staying with a local host give you the chance to meet other motorcycle enthusiasts and learn about some of the great roads in the area. 
14. Couch Surfing
Couch surfing is another way to stay with a local host. You'll share their home and it's a great way to get to know the area in which you're staying. Often people who are hosts really enjoy having out-of-town guests and are often open to showing their guests the sights and local attractions. 
If you want to meet some great people and are willing to stay in a shared home, couch surfing might be for you. The couch surfing website provides a platform for hosts and guests to connect. It allows the guest an opportunity to leave reviews and report negative experiences, so, as a guest, you can feel more confident that you'll have a safe experience and it'll be more fun.
15. Upscale Hotel
Another option when you're on a cross country motorcycle trip is to stay in a nice, upscale hotel. After a long stretch of camping and roughing it each night, it might be nice to spoil yourself and have a good night's sleep. One of the perks of staying in an upscale hotel is the services you'll receive. Nicer hotels have laundry services, not just washers and dryers. Stuff your dirty clothes in a bag and have them returned to you washed and folded.
Pools, jacuzzis, and spas are commonplace in nice hotels as well as fully equipped gyms so you can get a good workout in or a massage during your stay. They also have perks like room service and complimentary snacks. Depending on your travel budget, consider a night or two in a really nice hotel.
16. Budget Hotel
An inexpensive budget hotel will give you a decent place to stay on the cheap. These are places such as Motel 6, Econo Lodge, or Holiday Inn. Often these rooms go for less than $100 per night, often as little a $50. Stay at a budget hotel when you just want a place to sleep and don't expect too many perks, although you might get a free continental breakfast out of the deal.
Accommodations can be hit and miss and towels and linens are generally lower quality, aka, scratchy. That's why I usually pack my own, don't get me wrong I pack light but my luggage rack always has a few things like a first aid kit, towel, rain gear, and a motorcycle maintenance kit. Because it's zero fun getting stuck out without these things of a road trip.
When looking for a budget hotel for your road trip it's recommended that you look at reviews on websites like Yelp to get a good idea of what you'll get for your money. It's often easier to find a room in a budget hotel without a reservation so it is an option when you roll into town that's not on your itinerary.
17. Motorcycle friendly hotels
Some hotels, motels, and travel lodges recognize the potential for catering to the motorcycle community. These will be places where you won't get dirty looks when you roll in loud, tired, and grimy from a long day of riding. Many mainstream hotels have adopted a new attitude towards motorcycle guests and now offer designated motorcycle parking and other perks like, wipe down towels or a space to do maintenance or clean your bike during your stay after your road trip. 
Often motorcycle friendly hotels will allow you to park your motorcycle under the carport directly at the main entrance give you peace of mind that your bike will be safe at night. So, at any hotel, be sure to ask if you can do that.  
18. Youth Hostels
Youth Hostels are a unique and cheap way to find a place to sleep while you travel. Hostels can be found all over the world and they are most popular in big cities like Manhattan, Chico, or San Francisco. Hostels offer dormitory style shared rooms with bunk beds and shared bathrooms. These are usually used by younger tourists when on a road trip around the USA.
Or they offer private rooms at higher prices. Depending on the location, you can get a bed in a shared room starting at around $30 a night. In a shared room, if you're traveling solo, you will most likely be sharing your room with strangers. You'll claim a bunk and a locker, and ALWAYS lock up your belongings, and call the place home for a night.
A good hostel will offer gender specific dorm rooms or co-ed rooms so you have a choice. While accommodations are minimal, they offer other perks such as a communal kitchen, shared refrigerator, coffee bars, live bands, movies, and game rooms. And, you're always bound to meet someone interesting from another country.
Because hostels are usually found in major cities, they may or may not have on-site parking. That may be a concern for some riders and can be a little expensive. I know for a fact that parking a motorcycle overnight in a San Francisco garage costs around $45 per night. So, keep that in mind if you choose a place to stay. Hostelling International is a great place to start.
19. Stay on a Farm
Consider staying a day or two on a working farm, ranch, or vineyard. Farmstayus.com is a website that connects guests with farm and ranch owners for a unique experience. You could relax and enjoy the sights, sounds and probably smells of a farm too. Do some fishing or horseback riding and if you want to really get involved, you can participate in the daily chores like, feeding the animals or milking the cows, or how about harvesting grapes on a vineyard.
Prices will range quite a bit depending on where you stay, but the experience might be worth it to work into your budget. Seems like it would be a great way to experience country life while on a tour of the USA.
20. Motorcycle Trailer
If you've got the right kind of motorcycle, you could consider hitching up a pull-behind trailer so you always have a place to sleep wherever you go. These things come in plenty of different sizes and layouts and some with tents that give you a surprising amount of sleeping and living space. It's also a great way to pack your gear and belongings while you travel. 
You will need to have a bigger motorcycle like a Harley Davidson Road King or Honda Goldwing or a larger touring bike to pull a trailer big enough to sleep in or convert to a tent camper. This takes motorbike camping after a long ride to another level.
21. Family and distant relatives
Do you have family scattered across the country? Personally, I have cousins and second cousins all over the place that I've never met. But, knowing my family, all I'd have to do is put the word out that I'll be in town, tell them I'm so-and-so's grandkid, and I know I'll have a place to sleep, a home-cooked meal, and a chance to learn a little bit about my ancestry. Most riders I know going on a long ride at least two weeks will stay with some family along the way. But be careful, chances are you won't be going to bed early!
And this works for more than just distant relatives. Maybe you've got an old college friend or military buddy that you haven't seen in a long time. Get in touch and let them know you'll be in town. Try not to impose too much and let them invite you to stay rather than you ask. Some will just want to have a visit, while others will open up their home. Don't be insulted either way.
22. Stay with Church Family
Do you belong to a church community? My grandfather and uncle were both ministers in the Nazarene church and they knew a lot of other preachers around the country. I always felt that if I stepped into any Nazarene church around the country and dropped Grandpa's name, I would have an instant family. So, consider contacting a local church in a town you'll be visiting to see if someone would like to be a host family for a fellow church member. 
23. Stay with internet friends met on forums
Motorcycle forums are very popular and a great way to make internet friends with a common interest; riding. Post up on a forum that you'll be taking a long, cross country motorcycle trip. You'll probably be surprised with the number of offers you get from your forum friend to stay at their place, or at least meet up while you're in their town. They might even join you for a leg of the cross country trip. Make sure they have their own bike though, I would never pillion a cross country trip.
24. Apartment Hotels – Extended Stay
There are other types of hotels that accommodate people who will be staying for longer periods of time. If you plan on taking a week-long break in one place, consider looking into an apartment hotel. It's similar to renting a condo, but you will have hotel services like housekeeping, on a daily basis just as if you were in a hotel. 
Some hotel chains are designed for this type of travel. They'll include kitchenettes so you can prepare meals and are often set up more like an apartment with a separate living area. These types of hotels may offer weekly rates that might be less expensive than a daily rate. Perfect for your next cross country motorcycle trip.
25. University Dormitory
This last suggestion is limited to the summer months. Some colleges and universities will allow the general public to rent a dorm room while the students are away on summer break. You can often get a room for as little as $25 per night. You'll most likely have a room with a shared bathroom, but some of the newer dormitories have really nice accommodations. So, it's certainly something to look into.
So, there you have it. 25 different places to sleep while on a cross country, or around the USA, motorcycle tour. Mix them up to fit them into your budget and get the best experiences during your journey. If you need help prepping for a camping trip on a motorcycle, be sure to check out our article by clicking here!