Every rider knows how important it is to have the right type of riding pants.
Not only do they need to be comfortable for hours on end, but also protective enough to keep you safe. Let's take a look at the best motorcycle pants for your needs.
There are many different types of riding gear available and frankly more than you'd want to research!
So in this article, we'll be giving you our top picks for each category of riding.
Best All-Round Pants
 4.7/5
This is the Alpinestars Men's Hyper Drystar Motorcycle Riding Pant, let's take a look at why… First off Alpinestar is a tried and true brand that every motorcyclist and their dog can testify to!
Pros
PU-Coated Polyester Outer Layer
100g removable lining
heavy denier nylon
stretch panels
Cons
Limited Color Range
Expensive

Buy Alpinestars Hyper Drystar Now

The HYPER DRYSTAR® PANT is a 3-season pant that offers good protection from the weather as well as any slides should you come off your bike.
Alpinestars are a household name and are known for building quality protective gear. The HYPER DRYSTAR® PANT is no different.
Boasting a multi-panel, multi-material construction these pants are made from a PU-coated 450 denier poly-fabric main shell and 600 deniers dobby reinforcement for optimized levels of durability and abrasion resistance.
With pre-curved legs for comfort, you'll be happy wearing them all day long. Additionally, the stretch panels on the crotch and knee, plus an extensive stretch panel on the rear yoke, provide enhanced freedom of movement.
A huge benefit of these pants is their balance between protection and style. You'll be grateful you've got their level 2 CE protection if you come off your bike, whilst you'll be happy walking around the shops for the day in them too.
Best Street Pants
 4.5/5
The John Doe Defender Mono is a stylish, yet functional pair of motorcycle pants that look good on & off the bike.
Pros
Breathable & Water Repellent
Heaps of Sizes & Well-Fitted
CE certification: AAA
Ultralight
Cargo pockets
YKK Zippers
Cons
No Waterproof Membrane
Only CE 1st Level Knee Protection
No Active Ventilation

Buy John Doe Defender Mono Now

The John Doe Defender Mono is our first choice when someone asks us for a street pant recommendation, and it's not hard to know why.
With a stylish, slim-fit aesthetic, no one would even pick them as motorcycle pants. Plus they are made out of a firm, yet stretchy material allowing you to move freely around on your bike.
You'll feel safe wearing these for city rides, with AAA-certified protection and knee protectors and hip protectors 1st Level CE Protection. Level 2 would be better, but I guess we can't have everything
Designed for the everyday rider looking for good value and equally styled protection, John Doe has done an outstanding job in providing that here. One thing to mention is that the ankles do have elastic to stay closed, some like that others don't.
Best Racing Pants
 4.7/5
This is the Alpinestars Men's Hyper Drystar Motorcycle Riding Pant, let's take a look at why… First off Alpinestar is a tried and true brand that every motorcyclist and their dog can testify to!
Pros
Cowhide Leather
Level 2 CE Hip & Knee
Ventilation: Perforated Areas
Cons
No Waterproof membrane
Limited Colors

Buy Alpinestars Track V2 Black Now

The Alpinestars Track V2 is our first choice for racing pants.
With an all leather construction, Level 2 protection all around and perforated areas to keep you cool on the track, this pair of pants are perfect for a day in the mountains or on the track.
A lot of people seem to find sizing these Alpinestar pants difficult. A simple way to get the correct size is to take your waist size (I'm a 32-inch) and add 18 to equal your Alpinestars Track V2 pant size.
Another great thing about these racing pants is that they will zip with almost all Alpinestars leather jackets to create a two-piece suit. A huge deal on the track.
4-way stretch fabric is used around the crotch to allow you to move around your bike well & all hip & knee protection is removable. hip armour pockets and all other armour pockets are easy to access and straightforward to do yourself with ease.
Best Touring Pants
 4.5/5
The REV'IT Defender 3 GTX pans are a serious adventure touring pair of pants packed with the features to match the rough conditions of multi-day touring expeditions.
Pros
Perfect Combo with the Defender Pro GTX Jacket
detachable Gore-Tex waterproof liner
CE Level 2 hip & Knee
true 4-season pant
Cons

Buy REV'IT! Defender 3 GTX now

The REV'IT! Defender Pro 3 GTX is the best motorcycle pant for touring.
With a 1000d Teflon-coated outer shell, Level 2 protection all around, and true four-season weather protection in a 2-layer construction these pants really are the single best pants for that long cross-country trip you've been planning.
There are leather panels inside the legs & a breathable, detachable GORE-TEX Liner. Which is a really nice touch.
The level 2 hip armour, knee & shin armour is C-Flex which holds a better more optimised and stable position no matter the temperature.
Best Riding Jeans
 4.7/5
The best motorcycle jeans made from reinforced jeans are the Scorpion EXO Covert Pro Jeans Men's Reinforced Motorcycle Pants. The design of the pants is simple enough that they almost look like normal jeans but are effective in protecting you in a crash. They really do look just like a normal pair of jeans.
Pros
Kevlar Lining from knee to waist
reflective material on the rear cuff
Looks like traditional jeans
5 pockets & YKK zippers
Cordura® 373 GSM
great value
Cons
not as durable as other options

Buy Scorpion EXO Covert Pro Now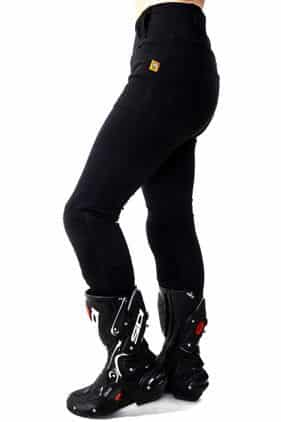 Best Women's Pants
 3.5/5
These motorcycle leggings are filling a huge gap in the market for women who are after comfort, style and protection. With a ribbed knee design, they are stylish on and off the bike.
Pros
DuPont™ Kevlar®
CE Rated 2 Level hip & knee protection
Cons

Buy MotoGirl Ribbed Knee Leggings Tall Now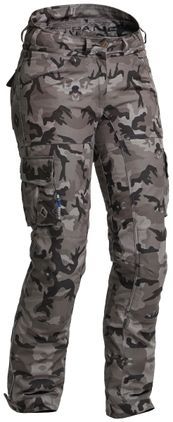 Best Camouflage Pants
 4.5/5
The Lindstrands Zion Camouflage is the ideal choice for someone looking at purchasing a pair of camouflage-style pants.
Pros
Detachable Dryway + ® functional membrane
600D High-Tenacity PE Weave
Adjustable leg ends
Cons
No active ventilation
Only CE level 1 knee Protection

Buy Lindstrands Lund Black now



Best Chopper Pants
 4.5/5
Lindstrand's Lund Black motorcycle pants are a popular chopper-style of motorcycle pants. However, they do lack a lot of high-end functionality found in other pants.
Pros
single layer stretch denim
Cons
No Waterproof Membrane
No Active Ventilation
Only CE Certified 1 Level Knee Protection

Buy Lindstrands Lund Black now



Best Pants for Air-Flow
 4.7/5
The best riding pants for air-flow are hands down the Alpinestars Missile v2 Airflow Riding Pants. These are designed for hot days out on the track. The pants utilize their unique airflow design to keep you cool in the summer by pushing the air through the pants themselves; whilst still, giving you heaps of protection with a leather construction
Pros
High-Density Perforation for Airflow
Durable Genuine Bovine Leather
Accordion Leather Stretches
1st Level CE-Certified GP-R Protection
Cons

Buy Alpinestars Missile v2 Airflow Now

What to Look for in Motorcycle Pants
Motorcycle pants are an essential motorcycle safety garment but there are some things to look for in motorcycle pants. This is because not all motorcycle pants are equal.
Below is a list of what to look for in motorcycle riding pants:
Leather or heavy denim riding jeans
Abrasion resistance
Hip and knee armour
Removable thermal liner
Look for slits for a rider's legs for ease of movement
Leather or Cordura Denim Moto Jeans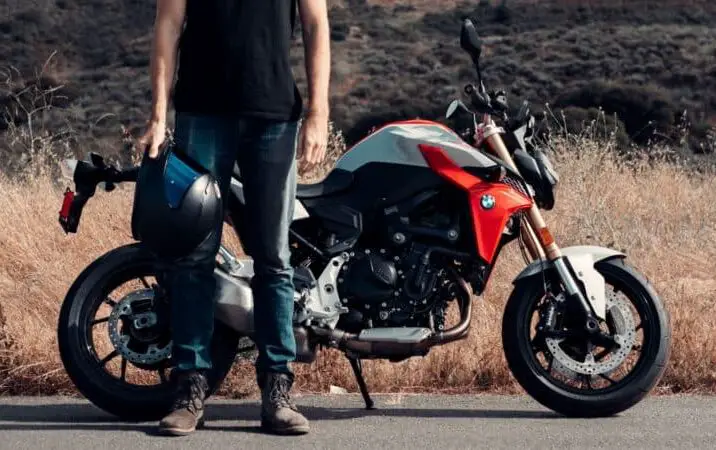 Leather or heavy denim riding jeans are the most popular type of biking pants. They are hard-wearing and offer abrasion resistance in the event of an accident. Kevlar is also a super popular material when it comes to moto jeans because it provides an additional layer of protection in the event of a crash.
Urban riders prefer serious protection to match their riding style with relaxed fit jeans with front pockets for optimal comfort.
Regular jeans don't offer the same level of protection as riding-specific pants, so be sure to give any casual jeans a hard pass.
Abrasion Resistance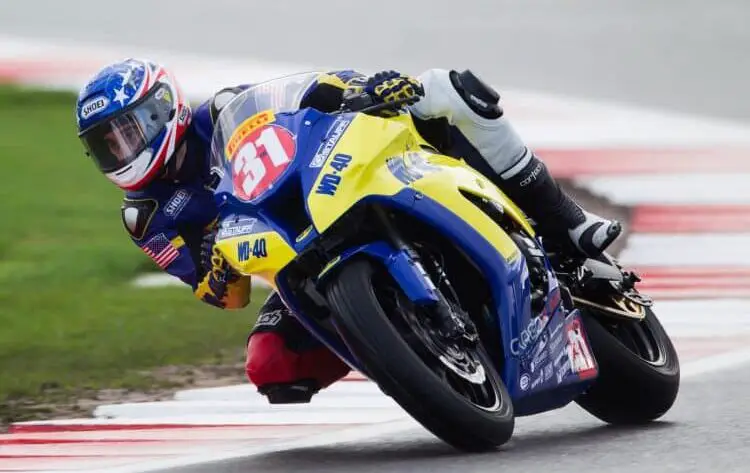 When we talk about abrasion resistance, this means the material's resistance to wear and tear. Abrasion testing is usually done on materials by rubbing them against each other. The more abrasion-resistant pants are, the longer they'll last without getting worn out or shredded. The more abrasion resistance the more likely it is that you'll be able to wear them after a slide. Alpinestars Copper or Alpinestars Andes stay warm and are fully adjustable.
Hip and knee Armor
Seek motorcycle pants that offer both hip armour and knee armour. These should fit properly and should be removable because you can get extra.
Wearing a full set of armour is the best way to protect your body in the event of an accident, but sometimes it's not possible or practical to wear all of them at once. For example, while riding on a hot day, some riders choose to remove their armoured jacket for comfort. In these cases, it may be necessary to have some additional protection such as hip and/or knee protectors that can be worn with any outfit. When shopping for these items keep in mind how often you'll need them so that you don't end up purchasing more than what you really need!
Removable Thermal Bike Wear
Covert jeans usually come with a mesh lining to boost abrasion resistance. This means that you can remove it in warmer weather and put it back on when the temperature drops. The other good thing about having a thermal layer is that if your pants get wet or ripped, you will not have to replace the entire motorcycle pant.
Should Motorcycle Pants be tight?
Motorcycle pants should be fitted tight without being restrictive. If the pants are too tight, you will not be able to move easily, this can make you uncomfortable and even may result in a crash. If the pants are too loose then there will be more drag and friction in the case of a crash.