When it comes to customizing a motorcycle wrapping is one of the coolest options compared to painting.
The best thing about a motorcycle wrap is that the change will not be permanent and therefore if at any point in time you get bored by the look of your motorcycle, you can simply peel off the wrap, without causing any damage to the bike.
However, wrapping a motorcycle involves a lot of factors including which material you want to use as motorcycle paint, which parts of your bike do you want to wrap, etc. So, we have compiled this article for you which will provide you with all the necessary information regarding motorbike wrap.
Let's get into it!
Cost to Wrap a Motorcycle
Before getting any further, let's answer the question of how much does it cost to wrap a motorcycle. The answer is somewhere around $1,500 to $4,000. However, this range is not the ultimatum as the final cost will depend on the quality and type of material you use, the parts you choose to wrap, and how labor-intensive or tedious the job is.
If you choose a high-quality material to fully wrap your bike, the cost may even exceed $5,000 as well.
There are three different types of wrapping that you can settle for:
High-end Wrapping
Average-end Wrapping
Low-end Wrapping
High-end Wrapping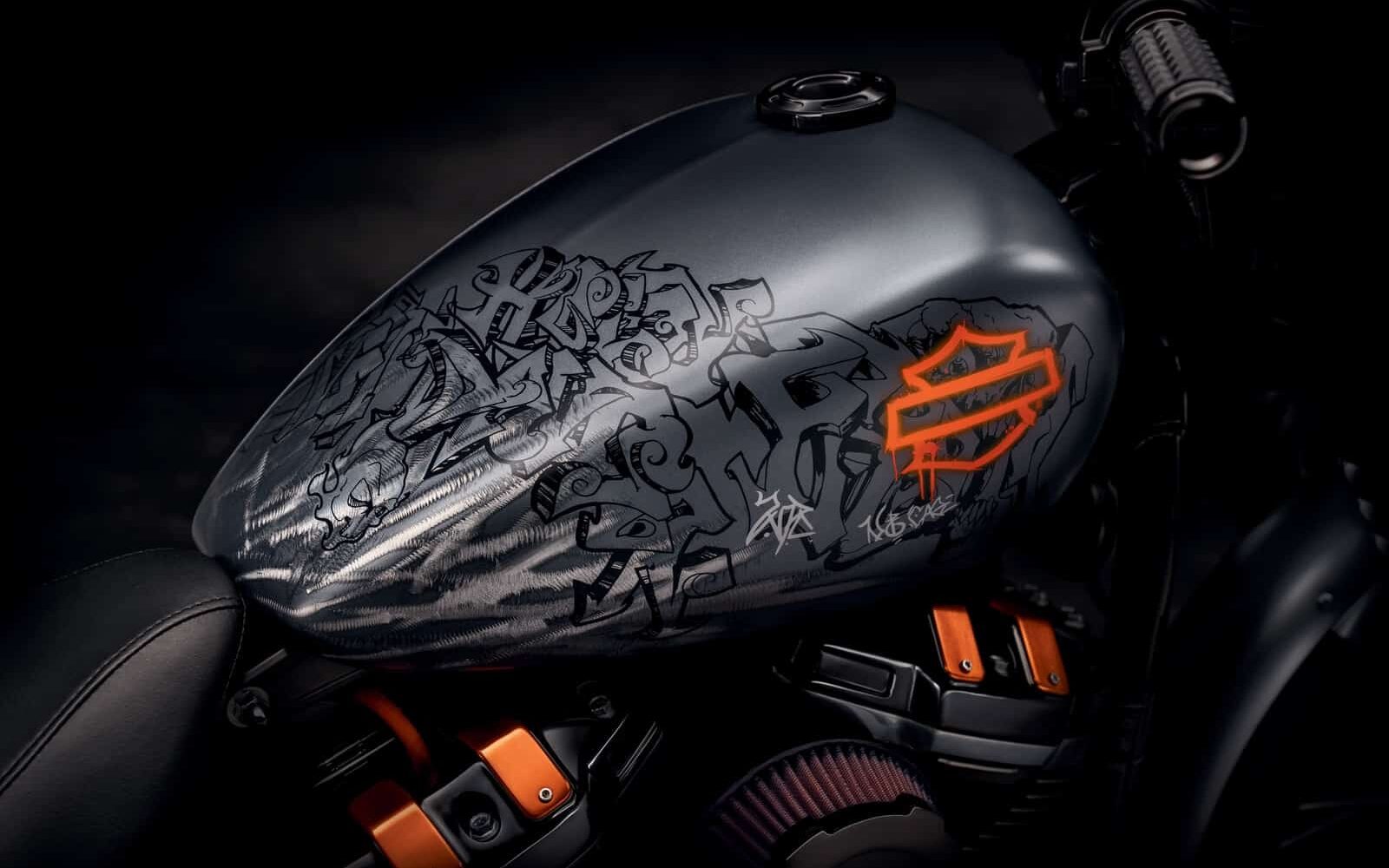 High-end wrapping is the most expensive and time-consuming option, but it also provides the best results. If you're looking to wrap your motorcycle with high-end material, the cost is likely to exceed $5,000.
Some of the materials that are used in this process are vinyl, carbon fiber, 3M DiNoc, and brushed aluminum.
The process of doing a high-end wrap usually requires the services of a professional who has adequate experience in this field. The labor cost is also significantly higher as compared to other types of wraps. Vinyl wraps are the best DIY motorcycle wrap than a custom paint job. A vinyl film is easily available to partial wrap or custom wrap motorcycles. Vinyl wrap is the favourite option of motorcycle riders who also love the artwork on their rides. These are way better than the stock paint. A heat gun is used to install a vinyl wrap for custom graphics on motorcycles. The gas tank is the best place to apply vinyl films. Vinyl wrapping has carbon fiber that acts as a protective layer in the paint method. Pressure activated adhesive is used for creating a smooth surface on the motorcycle. The ultimate customization sets the resale value of the motorbike. A full wrap completely changes the look of the bike.
Average-end Wrapping
If you're looking for something that's not as drastic as high-end wrapping but still want to add a little bit of custom touch to your bike, then this is the best option.
The average-end wrap works very well if you want to give your bike a new look different than the one it had when you bought it.
The process of average-end motorcycle wraps involves the use of basic spray adhesive with some quality vinyl material. The labor rate for this process would be somewhere around $1,500 to $2,500. It can also go above $3,000 as well.
Low-end Wrapping
Just like average-end wrapping, low-quality wrappings are also not permanent and can be peeled off whenever you get bored of them.
However, unlike high-end or average end wrapping; low-end wraps will not provide any sort of visual improvement in terms of higher price or better quality.
Low-end wraps are usually done with poor materials like paper, tape, and vinyl (which is basically used for wrapping furniture). The labor rate for the process would be somewhere around $600 to $900 depending on the area you live in.
Different Materials Used for Wrapping a Motorcycle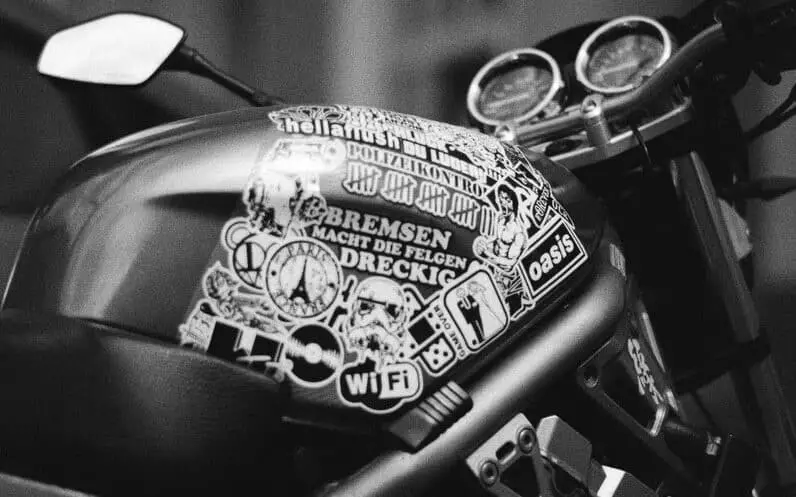 The three prominent choices that a rider has when it comes to wrapping material of a motorcycle consists of:
Cast Vinyl
Wrap Material/Film
Real Gold/Silver
Cast Vinyl
The most common type of wrapping material is cast vinyl which is also available in three different finishes of gloss, metallic, and matte. If
If we talk about the cost, then it can vary based on your choice, for example,
Gloss Cast Vinyl: $6 to $9/sqft
Matte Cast Vinyl: $4 to $7/sqft
Metallic Cast Vinyl: $9 and above/sqft
Cast vinyl has been in use for a long time now because of its low cost and ease of installation. Compared to all other types of wrapping material available in the market today, cast vinyl is also considered the least expensive option.
Wrap Material/Film
The next most common type for motorcycle wrapping is used wrap or film. The best thing about using a wrapping material is that it will work well with both OEM parts and custom parts alike.
When it comes to cost, wrap material is a bit more expensive than cast vinyl. It usually costs around $10 to $15/sqft.
The main drawback of using wrap material is that it's not as durable as cast vinyl and it may fade or become brittle over time.
Real Gold/Silver
If you're looking for a truly unique and luxurious look for your motorcycle, then real gold and silver might be the best option for you.
These materials are significantly more expensive than all other types of wrapping material and can range from $50 to $100/sqft.
However, because they are real gold and silver, these materials will never fade or lose their shine.
Wrapping Labor Cost
The cost of installation of different types of motorcycle wrapping material is also very important. The more the labor time, the higher will be the cost of installation. For example, it's clearly evident that if you hire someone who has experience with only average-end wrapping then they shouldn't even think about charging you $500.
On average, one can expect to pay anywhere between $1,000 to $5,000 for having their motorcycle wrapped depending on the type and quality of wrapping used along with other factors like experience, etc.
Also, if you settle for partial wrapping instead of full wrapping, it will cost you in the range of $300 to $500, depending on the parts you choose to wrap and how difficult those contours of the bike are to reach properly.
The best thing about installing a custom motorcycle wrap is that there are numerous online tutorials available these days on how to wrap your bike yourself (DIY). You can always follow these home improvement videos or tutorials and wrap your bike yourself.
However, it's always advisable to hire a professional company that specializes in motorcycle wrapping for getting done with the job.
Conclusion
Wrapping can be expensive but it will be an important decision if you want to sell your bike later on because wrapping increases the resale value of your bike by significantly adding a premium look and appearance to your ride.
Wrapping is also considered as one of the best ways to customize your bike. It will give your motorcycle an attractive look that cannot be achieved through other means like changing brake calipers etc. 
It is said that there are approximately 20 colors/finishes available in cast vinyl; although some people claim even more than this number. You can also order a custom color if you want something unique for your motorcycle. The color selection for wrap material is not as diverse as cast vinyl, but it still has a good range of colors to choose from.
The bottom line is that it's important to do some research before deciding on what type of wrapping material to use for your motorcycle. You need to consider the cost, durability, and appearance of the different types of materials before making a final decision.
So, have fun with the looks of your beloved bike!