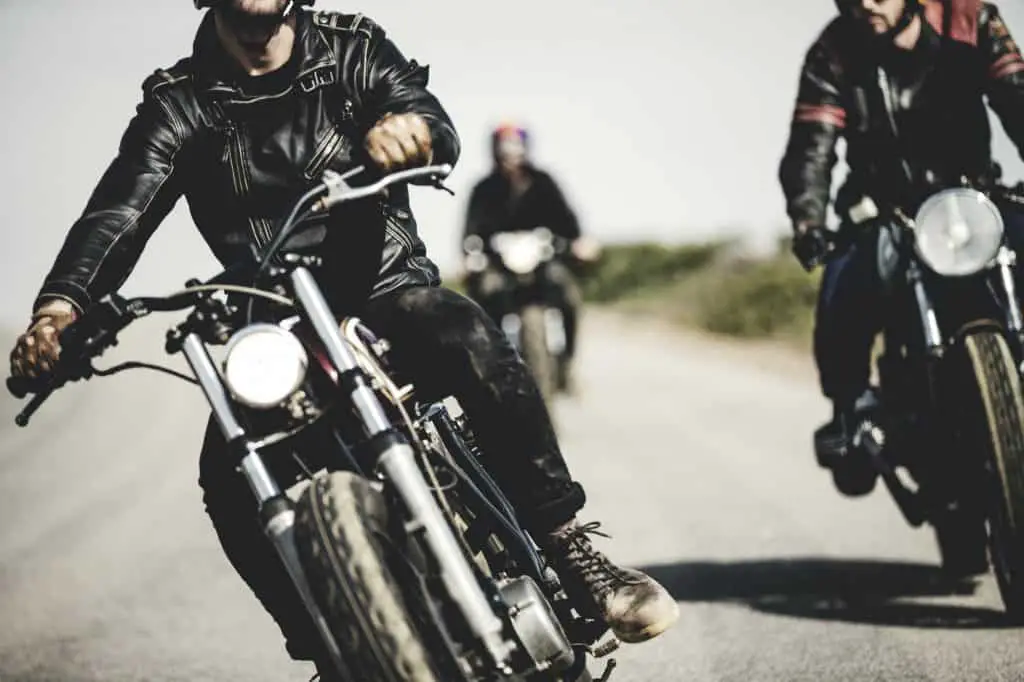 While deciding on the type of motorcycle riding jacket, textile jackets are the affordable option that offer 90% of the protection of leather. However, leather jackets are going to wear better overtime, look cooler and outperform textile when it comes to abrasion resistance and durability. Apart from providing you with optimum safety, leather jackets are an obvious choice for those looking to make a worthy investment in terms of riding gear. 
So what are the important factors to consider?
While deciding on the type of motorcycle riding jacket, it is important to consider that the jacket has ample ventilation. Another important factor that you should keep in mind at the time of purchase is the climate of your area. Choosing a proper breathable jacket prevents excess sweating and thus, helps to maintain the right body temperature while riding. 
If you are a beginner motorcycle rider who wants to buy their first jacket, the confusion between a textile and leather jacket can be very natural. Of course, for most motorcyclists, their riding jacket is one of the protective gears that offer great value. However, while choosing the right jacket, you must also make a purchasing decision from the perspective of aesthetics and comfort. Understanding which material suits you, your style and riding the best, is the most important part of choosing a motorcycle jacket. 
Still struggling to understand which material, leather or textile makes the best option for you? Don't worry. We won't leave you in the dust. Here, we will discuss all the factors that you must consider while picking between leather and textile jackets. 
What Do You Need to Know About Leather Jackets? 
The motorcycle industry mostly makes use of three common types of leather –  cowhides, goat hides and kangaroo hides. Each of the leather types makes excellent abrasion resistance and is convenient to carry while riding. Among them, cowhide is one of the widely used leather types, which also makes an economical option for riders on a budget. 
The cost-to-abrasion ratio for leather jackets is tough to beat. Highly breathable in texture, these jackets are highly comfortable to wear, and when treated properly, last for years. If you are one of those riders who favour a traditional look, leather makes the perfect jacket to suit your style. 
But there are a few downsides that you need to take into account while purchasing a leather motorcycle jacket. Though leather jackets are comfortable to wear, they are not always the best for extreme hot or cold weather conditions. Leather jackets are heavier than textile ones, and thus, are not the ideal gear in hotter climates, where the sun is strong. 
Again, only a few leather jacket types are waterproof. Though there are a few exceptions, waterproof leather jackets are very costly and thus, cannot be afforded by all. So, if you are buying a budget-friendly leather jacket, consider carrying a waterproof layer while riding. 
Pros of Leather Jackets 
Highly abrasion-resistant
Bestows a stylish look
Can be tailored/fitted according to individual measurements 
Comes with elbow, shoulder and back armour
When properly cared, lasts long. 
Cons of Leather Jackets 
Heavier material to carry
Required special treatment like conditioning after exposure 
The material is seasonal 
Can't bear heavy rain as most of them are non-waterproof
Jackets with features are mostly high-end
What Do You Need to Know About Textile Jackets? 
If budget is a concern for you and you are looking for versatility, textile jackets are the best option for you. From good airflow and warmth to waterproofing, textile jackets mostly meet all your needs. One of the types of textile jackets is a four-season jacket, which comes with good ventilation along with removable layers so that a rider can manage to wear it in all kinds of climatic conditions. However, the four-season jackets are better suited to the winter than summer. During summer, these jackets won't be able to provide you with optimal airflow like summer riding jackets or mesh textile jackets. 
Mesh jackets, another type of textile jackets, are best suited for summer climates. These jackets provide great airflow and many of their kind comes with a removable windproof or waterproof layer that makes the gear more summer-friendly. So, if you mostly ride in tropical climates, a mesh textile jacket is the one you can consider purchasing. 
Pros of Textile Jackets 
Medium abrasion resistance 
Versatile features that offer more room and freedom 
Wide range of pricing 
Mostly windproof and waterproof 
Comfortable for all seasons 
Cons of Textile Jackets 
The impact resistance doesn't match leather jackets
Not all jackets come with armour
Factors to be Considered While Choosing Between Textile and Leather Jackets
Want to make your decision-making process easy and effective? Here are a few factors you can bank upon while choosing between leather and a textile jacket. So, let's dig deep here. 
Durability- While purchasing comfortable riding gear, you must always consider the durability of the fabric to make sure that you are not wasting your hard-earned money. In this regard, textile jackets are easy to clean and maintain. For example, you can toss your textile jacket into your washing machine to revamp its look. On the other hand, leather jackets are costly to maintain, as they require professional care and cleaning. However, when professionally cleaned and maintained, leather jackets pass the test of time, unlike its counterpart. If a textile jacket gets into an accident, it needs to be replaced by a new one to ensure that the armour is in good condition. Leather jackets are highly durable and thus, can bear scuffs easily. 
Protection- If you are looking for maximum protection, consider investing in leather jackets. Leather is known for offering high abrasion resistance. Though high-end textile jackets too provide protection, there's no comparison with leather. However, while choosing a leather jacket, make sure to check the thickness of the material with the seller. Remember, a minimum of 1.2 mm thick leather serves the best when it comes to resisting abrasion. 
Style- Let's admit the truth. Every rider wants to show off their individuality with their gears and outfit. So, if you are a motorcycle enthusiast who wants to create an individual statement, shop for a jacket that suits your personality and riding style. For riders who prefer a vintage and classic look, leather is the perfect fit. However, for a modern look, you can always go for textile jackets to show off your personal sense of style. 
Budget- Both leather and textile jackets come with their own set of merits and demerits. Thus, if budget is not an issue for you, you can invest in different types of jackets for the best solution. However, as most of us cannot afford such luxury, pick the ones that suit both your specific needs and budget. Textile jackets are versatile and are less costly than leather ones. However, both the jacket types come in both high-quality and low-quality variants. However, it's always best to choose the one that provides you with optimum safety. Remember, high-quality jackets might cost you high, but provide maximum safety and are definitely worth the cost. 
Concluding thoughts…..
Whilst there are many different factors to consider while choosing between textile or leather jackets, it is best to work out what pros and cons are important to you. Of course, styling is an important feature that most riders contemplate while purchasing a jacket, but you should never compromise on safety while choosing riding gears. No matter if you are investing in a leather jacket or a textile one, just remember, when it comes to motorcycle safety gear the one you will wear is the best one to choose.