Let's assume you've purchased a sexy sport bike with sleek lines and a slim tail, but  you need some saddle bags so you can take your sexy bike to more than just the local bike night at Hooters. You want to do some multi-day rides and you need a place to pack your PJs. The problem is, finding saddlebags that safely fit a sport bike is not an easy task, and the last thing you want to do is mess up those clean lines with bulky pannier brackets. Lame.
So, what's the best saddle bags for a sport bike? SW-Motech has designed a saddlebag system specifically for sport bikes and smaller bikes called the Blaze saddlebag system. It includes and ingenious removable mounting system that won't spoil the look of your bike when the bags are not in use and it's incredibly easy to install and secure the bags whenever you're ready to use them.
I ran into the problem of finding a saddle bag solution when I purchased my 2014 Honda CB500X. There are several pannier systems on the market for this bike, one designed by Honda and very over priced. But, I didn't like the idea of having mounting brackets permanently installed on the bike. I didn't want it to look like an adventure bike. So, I found the SW-Motech Blaze system for the CB500X and I've loved them ever since day one.
The secret to this saddle bag system is the low profile mounting brackets and the removable support arms unique to your model of motorcycle. These brackets solve the dangerous problem that a lot of smaller bikes have. Throw over, soft saddlebags have a tendency to sag too low, and sag inward coming dangerously close to the tail pipe and rear wheel. A bag tangled up the the rear wheel could spell disaster, and contact with the pipes will destroy your bags and whatever is in it. The support arms prevent this from happening.
The saddle bags themselves have a sleeve that slips right over the support arm to prevent them from bouncing or swinging outward while riding. A quick release clip on each bag snaps into place at the support arm bracket to prevent the bags from sliding backwards and possible off the bike. With this system, no additional tie-down straps are necessary.
What Motorcycles do they Fit?
SW-Motech has developed unique support arms and mounting brackets designed for over 150 different motorcycles. They make brackets that will fit numerous models from Honda, Ducati, Triumph, KTM, Kawasaki, BMW, Yamaha, and I'm probably forgetting some. Every kit is unique to the bike as far as the mounting brackets and where they fit as well as the curve and bend of the support arms. They are designed to fit around pipes, external shocks, rear foot pegs and any other obstacle that your bike might present.
What you won't find are saddle bag system that fit cruisers. Generally there are so many other ways to fit a saddle bag on cruisers and they don't tend to have the same luggage issues as sport bikes or smaller sporty bikes.
What's Included?
In the kit you will receive everything you need to install and use the saddle bag system. The kit will include:
All necessary bolts, washers, spacers and hardware to mount the brackets.
Two support arms with plastic end caps.
2 male and female mounting brackets.
2 semi-rigid panniers.
2 waterproof dry bags that fit inside the panniers.
two sheets of clear plastic protective adhesive.
Installation instructions.
This kit does not include rain covers for the saddle bags, and instead provides the two dry bags. I actually prefer this because I've used saddlebags that come with rain covers, but I've actually lost a couple while riding due to the wind pulling them off. Since then, I've always packed my gear in dry bags if rain is expected.
The Support Arms and Brackets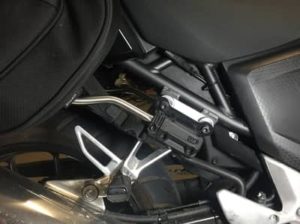 The support arms at first glance don't look like much but are surprisingly sturdy. They are light weight and smooth yet rugged enough to hold your fully loaded saddle bag.
When you put the support arms on the bike, you slide the male end of the brackets into the female on the bike. Each arm is labeled Left or Right and they will lock into place with a noticeable and satisfying click, letting you know that they are secure in place. And they are indeed secure. The bars are easily removed by pressing on the spring loaded clip, giving it a little wiggle, and pulling the bar out. You do have to depress the clip fairly hard to get them off, but that's a sign that they are secure when in place and they aren't going to come loose on the road. One complaint I have is that I always manage to pinch my thumb somehow, but maybe that's just me, or I have a low tolerance for pain.
Once the support arms are in place, the bags slide on to the arms via the sleeve. Next, you'll secure the bag by connecting the quick release clips at the bracket. Pull the strap tight and it will pull the bags forward, preventing it from sliding around. Once you pull the straps tight you can wind up the excess and tuck it under the elastic strap holders. It's a great mechanism for securing the bags.
Installation
Installation of the mounting hardware and brackets doesn't require any specialty tools nor does it require any drastic modifications to your motorcycle. By this I mean, you don't have to relocate your turn indicators and you don't have to drill, cut or slice anything. It will probably take you about an hour to do.
The only tools you will need are a hex key, a small wrench or two, and possible a phillips screw driver. That's it. Follow the mounting instructions provided in the kit. The placement of the mounting brackets will be unique to your model of motorcycle. Often the female end of the bracket will be integrated into the rear foot peg bracket. In this case you will be required to remove that bracket to install the kit. The kit will include spacers and longer bolts to make this possible.
One thing to watch out for when assembling everything, is the remember to install one end of the quick release clip between the bracket and the mounting hardware. When you tighten the screws, make sure the clip end is pointing towards the rear of the bike and lined up nicely so you can easily clip in the other side when you put the bags on the bike.
Bag Design and Capacity
The bags themselves are very sturdy and are made from high quality 1680 ballistic nylon. The seams are strong and they don't look like they're on the brink of tearing when the bag is stuffed full like some other cheaper bags. The zippers are smooth and don't snag on anything when used. The bags have a really nice, sleek look. They don't look bulky or strange. They look like they belong on the bike and I reckon they make your motorcycle look pretty cool. 
There is a side zippered pocket that's great for small items that you need quick access to, however, when your bags are stuffed, these pockets can get a little tight. They are better suited for something flat, like maps or paperwork. The inside compartment is a bit small, but this depends on how much stuff you need to carry. They are big enough to fit a pair of sneakers along with clothing and other over-night items. The bags are a good size if you're going on one or two night trips.
If you need more room, they will expand with the expansion zipper to 21 liters. This gives you a surprisingly large amount of additional space. Because of the curved bag shape, you can stuff small items, such as socks, into every available space. If you pack smart, you'd be surprised at how much you can fit in these bags when they're expanded.
The main compartment is top loading and has a sturdy flap and zipper with two pulls so you can easily pull it open. It zips toward the back so the wind will not catch the edge of the cover in the wind. The zipper pulls are metal and include two holes so that you can install a small lock if you want to deter an opportunist thief while you're away from the bike. Like all soft sided saddle bags, these are not theft proof, but, they are so easy to take off, there's no reason why you would leave them on the bike overnight when you get to your hotel. However, it would be nice if there was some way to secure the bags to the motorcycle. While you can secure the opening, it would take a thief no more than a few seconds to run off with your bags. So, it's best to keep them with you.
What Doesn't Work?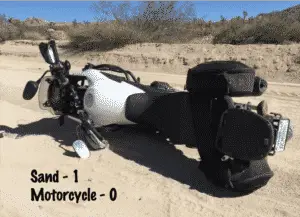 Complaint #1: One concern I had was that the support arm or the brackets would bend or break if I dropped my bike. Luckily (?) I had the opportunity to test this theory when I laid down my motorcycle in the sand going about 20 miles and hour. The mounting brackets stayed solid and did not break or crack; the support arms stayed in place and did not bend at all. However, the quick release clip snapped in two and broke. It wasn't surprised since these plastic quick release clips are usually the first thing to break on anything. To get past this, I tie the strap around my rear foot peg bracket to secure the bag. Currently, SW-Motech or their distributors don't offer a replacement clip that you can purchase separately.
Complaint #2: The bags, whether expanded or not, are not big enough to carry a laptop, not even a 13″. That can be a problem if you want to use these bags to commute to work and you need to transport your laptop. You'd have to find a different way to carry your computer. They will, however carry a tablet computer such as an iPad.
Complaint #3: The top opening is a bit small. It's not a huge problem, but if I want to store my riding jacket in the bag, it takes some doing to get it in there. And, the bag is not big enough to store a helmet.
Modifications
To eliminate the risk of theft, you can try to put the yoke of the bags under your seat rather than on top of it. This won't work for every motorcycle because the yoke on these bags is one wide strap and it might interfere with your seats locking mechanism. I can say that it works on the CB500X so it will likely work on some similar bikes.
Some owners of these bags have noticed that the bags will rub against the paint on their framework even when they use the clear acrylic stickers that are provided with the kit to prevent this problem. This won't be a problem with all motorcycles but some have experienced wear over time. So, some have found easy to modify the bags and add some extra protection at these contact points. One suggestion is to find a thicker clear adhesive, and apply it only to the points of contact. Another modification is to install a piece of soft padding to the bag at the point where the bag contacts the bike.
Modification to the friction points. People who own these bags have noticed that the clear tape provided with the kit does not last very long. It has a tendency to come unstuck over time and may not provide adequate protection for some motorcycle models. So, people have come up with some other ways to protect their paint when using the bags.
All-in-all, while these bags won't be the best choice for everyone's needs, they are a great solution for smaller motorcycles or sport bikes and for shorter trips. They leave plenty of room for a passenger to sit comfortably with the bags installed, and they expand nicely to carry a good amount of clothes, gear and personal items. Combine these bags with a tail bag or an additional top case and you're ready for a multi-day camping trip or tour of the countryside.
Interested in these bags for you and your motorcycle? Follow this link to find a set for your motorcycle on Amazon.