This morning, yes, literally the morning of the day I'm writing this post, I left my house at 6:00AM, pre-sunrise, on my motorcycle, to ride 2 hours to volunteer for an event. Morning ambient temperature: 34°F. I layered up, put on my warmest gloves, wore thick leggings under my jeans, etc. But, within a half hour, my hands and legs were painfully cold, to the point where I had difficulty pulling in the clutch.
I stopped to warm up for a few minutes, then mentally tapped out, turned around and went home. Now, before you judge and call me a wimp, please note that I have a normal to high tolerance for pain and don't normally call off a day of riding. But I was cold. Really cold.
It made me think; How can I better prepare myself for riding in cold weather? What kind of gear or accessories can I use to ride safe and warm? So I did some searching for every piece of gear, every gadget for sale that I could use to stay warm on my motorcycle in the winter. Here's what I found.
Clothing
What you wear is crucial. The most common advice is to layer up, but on a motorcycle, too many layers make it difficult to ride. The simple act of buckling your helmet is impossible if your arms are so layered up they don't bend. So, here's a good list of layering options.
Cold Weather Base Layer
Advancements in textile technology have made cold-weather base layers so much more effective over the years. Long gone are the old cotton thermals that your grandpa used to wear. They've been replaced with synthetic fabrics or high-quality natural fibers like Merino Wool.
Features to look for in a base layer are thickness, comfort, moisture-wicking, odor control, and durability. Synthetic fibers, such as dry yarn, offer all of these features while keeping the garment thin enough to not interfere with mobility.
Alpinestars Ride Tech Winter: Keeps heat locked into areas where it's needed most.
Dainese D-Core Thermo: Comes in a women's size and design specifically for a woman's curves. Yay! Finally!
FXR Vapour: Merino Wool. Breathable, soft, natural fiber.
Balaclava or Face Mask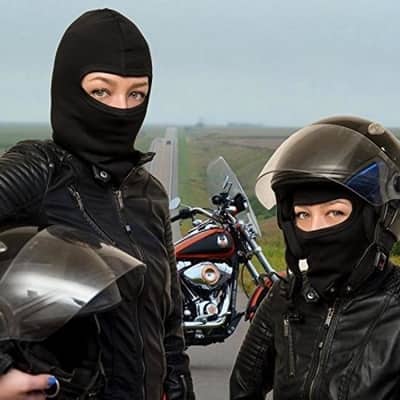 What the heck is a balaclava? It's a garment that covers the entire head, neck, and most of the face, leaving openings for eyes and breath boxes for easy breathing. They are more commonly known as ski mask or face mask. It's designed to be worn under your helmet and offers protection from the cold air that can swirl up under your chin while you ride.
Here are a few things to look for when selecting the right balaclava.
The neck skirt should extend low enough to add a layer of protection to your upper chest and upper back, under your jacket.
The elastic around the face should be thin, wide, and soft to reduce pressure points when wearing your helmet.
It should have a tapered shape to fit over your head and snug at the neck.
Breathability. By this I mean, how easy is it to breath with the fabric over your nose and mouth? Some come designed with a breath box that allows for easier breathing.
Here are a few suggested brands that make balaclavas specifically designed for cold weather motorcycle riding.
Rev-It Blaze: provides waterproof protection all around the front and back of the neck area.
Alpinestars Winter Touring Balaclava: Features holes near the nose and mouth for easier breathing, and an extra long neck skirt.
Klim Arctic Balaclava: For very cold weather. Includes large breath box for easy breathing and controls fogging. Extended skirt in the back.
Wind and Waterproof Outer Layer
Your outer layer of motorcycle gear is your first defense against the elements, so, if you ride in any kind of cold weather, make sure you have a good, quality riding jacket and pants.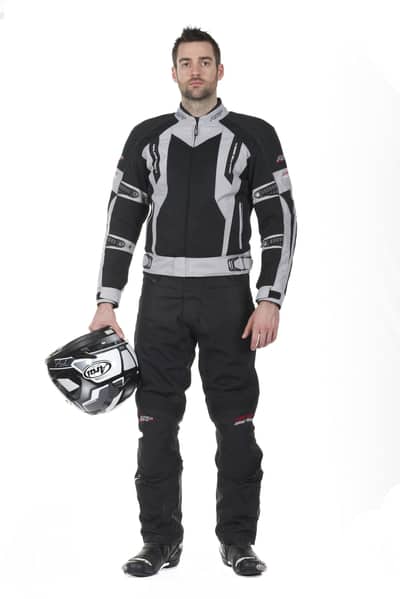 When choosing an outer layer, you want to look for features that will seal up any openings and prevent the wind from flowing through the jacket. Look for things like, flaps that cover the zippers, adjustable waist belt, and adjustable straps on the sleeves to keep them snug around your arms. Sealed seams will also provide water and wind protection.
Cold weather, especially in the morning, can often include a moister in the form of fog, mist, or even rain, so it's important that your jacket is waterproof. Look for jacket and pants that are rated to be waterproof, so you don't have to add a rain jacket on top. GoreTex is an excellent material for all weather riding.
For year-round riding with one set of gear, look for jackets and pants that have plenty of openings for ventilation. Even on a cold ride, if you feel yourself heating up, you can open a couple vents to regulate your temperature. A good riding jacket will position the vent ports so that rain can not get in, but a breeze can.
Jacket Liner
In addition to your cold weather base layer, or layers, and your weather resistant outer layer, consider purchasing a jacket that includes a liner. This will add more warmth and it is an easy layer to remove if the weather starts to warm up. Some jackets come with a lining vest, which won't add a layer to your arms, but it will provide extra protection to keep your core warm.
Wool Socks
A good pair of wool hiking socks will help keep your toes warmer and the natural wool fiber will wick away sweat. Also, knee high socks will add an extra layer of comfort and warmth to your legs.
Socks with waterproof liners are also a good option. The waterproof feature will, of course, keep your feet dry if you're caught in the rain, but the added protection will also add a thermal layer as well.
Winter Riding Gloves
Motorcycle gloves not only provide hand protection in the event of a crash, but, in cold weather, your gloves are the only thing between your fingers and the elements. You need to have protection against the wind chill that's created by moving at 60 to 80 mph. A lot of riders don't like wearing winter gloves because of the bulk which makes using your bike's controls more difficult.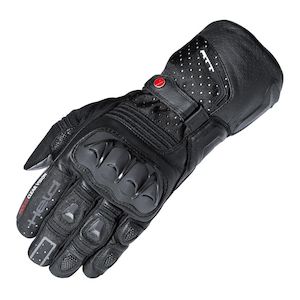 Too much padding in the palms and fingers will cause your hand to slide inside the glove, causing slower reaction time in your throttle hand. Materials like Thinsulate and Hypura fabric will provide warmth and water protection without adding thickness.
Here's what you should look for when choosing a winter riding glove.
Look for gloves with thin leather at the palms for a good feel on the controls, and thick material on the tops for warmth in the fingers and hands.
A rubber squeegee on the thumb is handy for wiping rain off your visor. Note: a squeegee on the left thumb is a lot more handy.
Look for silicone fingertips to make it easy to grip the levers even if they are wet.
A drawstring on the gauntlet is a plus so you can cinch the gloves tight over your sleeves.
Armor in the knuckles. Don't sacrifice crash protection for warmth. A good winter glove should include armor too.
Rev-it: Hydra H2O Gloves: comes in women's sizes too. Yay! Leather palms for good grip, textile or GoreTex exterior for water proof. Good winter gloves can be used together with heated grips to get the full, warm experience.
Heated Gear
Thermacell Pocket Warmer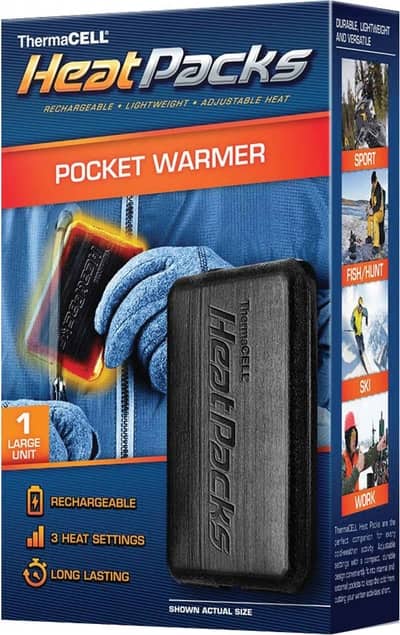 A thermacell pocket warmer is a rechargeable heating device that fits in your pocket. More popular with hunters, skiers and other cold weather outdoor enthusiasts. They come in two sizes; small hand warmers, to fit in your pockets and warm up your hands, and large: to fit in your chest pocket to keep your body warm. They will stay warm up to 6 hours on one charge and come with adjustable heat settings: 104°, 112° and 122°.
Pros: They are less expensive per use than the chemically activated pocket warmers. You can turn them off if you get too warm or when not in use.
Cons: On a motorcycle, you can't use them to warm your hands, but you can place them in your jacket for body heat.
Heated Jacket Liners
Riding with a heated jacket, vest or pants will help keep you warm without have to bulk up with layers upon layers of clothing under your jacket. A heated jacket liner is a great way to go so you use your year-round jacket and only use the heated liner when you need it.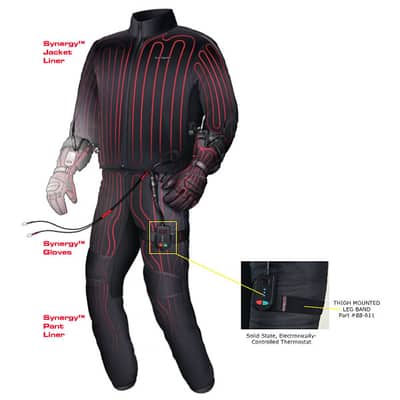 Heated liners come with copper wiring zig-zagging throughout the jacket. When the wiring is connected to a power source, they heat up, distributing warmth evenly. There are a number of brands on the market with a variety of features, but here are a few features to look for.
Most liners will come with all the controls and wiring needed to connect it directly to the battery. That main connector will plug into the controller which is either installed on the jacket, or, can be strapped to the thigh for easy access.
The better jackets come with thermometers to regulate the heat automatically without you having to constantly make tiny adjustments if you get too hot or too cold. You can set it at your desired temperature, and forget about it.
Most jacket liners also come with additional connectors on each sleeve so that you can plug in heated gloves or glove liners. Heated pant liners are also available and generally come with their own separate heating control.
A decent set of heated liners will set you back by about $200 and up, although if you want only a jacket, then the Sedici Hotwire 2.0 can be purchased for under $200. Like any motorcycle gear, if you do a lot of riding, it's worth the investment.
Heated Insoles
If your thermal socks aren't cutting it, if your toes are still freezing, then some heated insoles might be what you need. The function similar to heated liners and will plug in via a wire attached to the heal which is designed to go up your boot. Keep in mind that if you have tight boots, the cord could cause some discomfort.
Heated Socks
A step up from heated insoles are heated socks. They also connect to your heated gear and provide a controlled amount of heat. The are thin enough to be worn over a thin pair of socks inside your boots without feeling too cramped.
Heated Gloves and Liners
Heated motorcycle gloves come in a couple of types, battery powered, or those that connect to your heated gear. Good battery powered gloves come with rechargeable lithium ion batteries and include controls that are easy to access and to operate with the other gloved hand.
If you chose heated gloves, don't skimp on quality or protective features. Better quality gloves will include armor at the knuckles as well as extra protection at slide points. Some people complain about the bulk of the glove and the lack of true feel on the throttle and levers while wearing them.
Another option is a pair of heated glove liners. These are designed to be worn inside your regular motorcycle gloves. They will add a little more bulk and some complain that it interferes with the touch on the throttle and lever. So, heated gloves may not be for everyone, but are still a viable option for warm hands.
Accessories and Farkles
Here's a list of accessories that you can add to your motorcycle that will help keep you warmer.
Heated Grips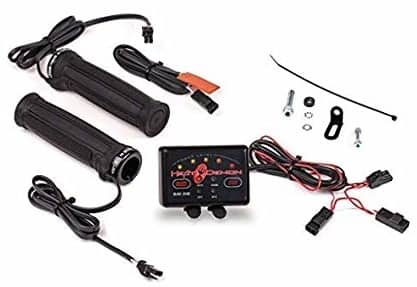 Installation of heated grips can help keep your hands warm with the flip of a switch, and usually come with multiple heating levels to get just the right amount of heat. Of course, they can be turned off when they are not needed.
There are a couple of ways to heat up your handlebars. One, is to purchase a system that includes new grips, that will replace your old grips. These will come in many different grip styles and sizes to fit your type, or brand, of motorcycle.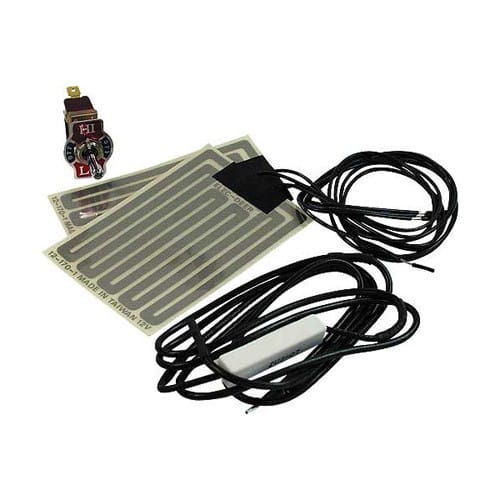 You can also purchase heating elements that are installed under your existing grips. The benefit of a heating element is that you can use whatever grip you prefer yet still have the heat that you need.
Either method of heating will work just fine. It's best to look for heated grips that have multiple settings, and a switch that can be mounted on the bars for easy access while you're riding.
They can be installed directly to the battery, or, if you are handing with wiring, you can install them switched to your ignition system to insure that they are off when you turn off the motorcycle. I have heard stories of people leaving their heated grips on by accident, only to come back to a dead battery.
Touring Windshield
One of my complaints on my morning ride was the cold wind blowing on my shoulders and arms. My Honda CB500x has a stock windshield and it's not very big. A wider, taller windshield would have eliminated, or at least reduced that problem.
If you're not much into windshields, there are a lot of options for aftermarket windshields that can be installed for winter riding, then removed for the summer.
>> Related Article:
Motorcycle Touring: 10 Reasons Why you Need a Windshield >>
Barkbuster Storms
Any handguard is going to provide you will some protection against the wind on your hands, but Barkbuster makes a handguard specifically designed for colder conditions. The Storms prove a full wrap-around design wrapping around the sides and over the top of the hands.
Barkbusters include mounting systems that are specific to your motorcycle and, with the aluminum brace, they provide crash protection in addition to weather protection. But, if you're only looking for weather protection, they also make a model with no aluminum brace; simply a plastic cover that fits on your handlebar grips. Protection from the elements without the added weight.
Handlebar Muffs
Handlebar muffs are insulated, waterproof covers that fit over the ends of your handle bars and provide full, wrap-around protection for your hands. Reach into the covers and operate your controls as you normal would. The hand covers will block out the wind, rain and cold keeping your hands warm. I wish I had these on my ride this morning; I probably wouldn't have bailed out if I did.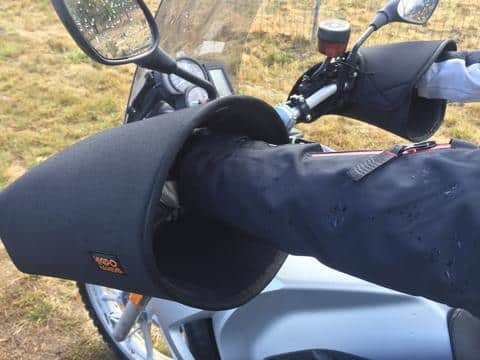 Tucano Urbano: requires removal of hand guards and bar ends for installation and removal. Somewhat complicated install. May require some modification to work around the mirrors. Small size
Hippo Hands: Large enough to fit over your handguards. Installs quickly with only a couple of snaps. Easy on and easy off.
BarkBusters Blizzards: Installs with an adjustable strap but requires you to screw them onto the bar ends. Still, a quick install. Fits over smaller barkbusters, but not over larger ones like Barkbuster Storm, you may have to remove them first.
Full Face Helmet
A lot of motorcyclists like to ride with anything other than a full face helmet. But, in cold weather, the smaller the helmet, the less protection you're going to get from the cold. The addition of a face mask will help, but, to ensure that your entire head and face are protected, a full face helmet is the way to go.
Tricks and Hacks for Staying Warm
All of this winter riding gear and heated gadgets can take a big bite out of your budget and not every rider is in a position to gear up to the nines. So, here are some tricks and life hacks to help you stay a little bit warmer on the motorcycle.
Wear surgical gloves under your riding gloves. Adds a small layer of protection from cold and keeps your hand dry in rain.
Add an oversized chemical glove, or dishwashing glove over your normal riding gloves. Blocks wind and rain, keeps your hands warm.
Hand and toe warmers. Grabber Mega Hand Warmers are air activated heating packets that you can place inside your pockets.
Plastic bags over your socks. Before you stick your feet into your boots, put them in a couple of plastic grocery bags. Works good in a pinch.
No rain gear? No problem. Use a large plastic trash bag as a rain resistant cover. Wear it under your riding jacket. Yes, your jacket will get wet, but you will stay dry.
Sheepskin seat covers will help regulate the heat in your seat.