So, you're looking for some saddle bags to install on your motorcycle, but with hundreds of options to choose from, how are you going to decide which to buy? There are so many things to consider such as, what type of motorcycle you ride, how much carrying capacity do you need, and whether or not you'll be carrying a passenger. Even more important, how do you know they will fit your bike? In this article we'll talk about how to measure your bike for bags and other obstacles that should be addressed before you invest in saddle bags.
Different motorcycle styles require different types of saddle bags, so we can't just make a sweeping claim that if you measure from A to B, then buy this style or that style. Instead, let's approach this based on motorcycle type: sport bike vs. cruiser vs. standard, exhaust placement, rear shock style, seat style, etc. My goal for this article is to help you determine what type of throw over saddle bags to purchase without having to install a mounting system, brackets or stays. While this may not be possible on every bike in every travel situation, there are plenty of saddle bags that will fit your needs without spending more money on complicated mounting system.
Sport Bikes
The rear end of a sport bike is usually very minimal and leaves the rear wheel somewhat exposed. The most common problem with saddle bags on a sport bike is preventing them from folding under, or sagging, thereby getting caught up in the rear wheel. Buying a set that is too large contributes to this problem. So, here are some things to consider and where you should measure.
To determine what size you should buy, measurements should be taken from the front of the rear turn signal, to the back of the rider's seat. Some sport bikes have rider's seats that are separate from the passenger seat or cowl cover. But other sport bikes have a one piece seat. In this case, find the point in the seat that transitions to the passenger portion and use that for your measurement point. Also, if you will be carrying a passenger, you will need to measure that width from the turn indicator light to the rear of the passenger foot peg. Honestly, the way rear pegs are set on a sport bike doesn't leave much room for saddle bags and your passengers boot. If you plan to do two up trips on your sport bike often, I'd consider a sport touring motorcycle instead, for your passenger's sake. A happy passenger is a happy rider. Back to the measurements.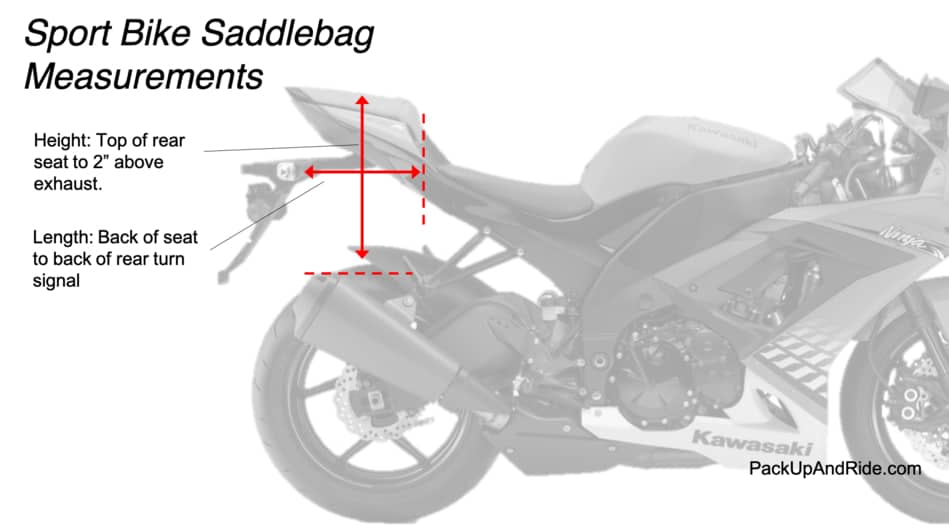 The second measurement should be taken on the side with the exhaust pipe since the pipe placement is going to determine how tall your bags can be. measure from the top of the seat, down to two inches from the pipe. You want to keep the bottom of the bag and a minimum of 1 inch away from a hot pipe, and 2 inches is ideal. Sport bike saddle bags are tear drop shaped so they fit the angles of the sloping exhaust. The narrow end of the bag should go towards the rear giving the pipe more room. This is not the case with every sport bike, but, in general this is the case.
One last measurement to consider is the bikes rear width, not just the rear seat width, but the width of the plastics or grab bars as well. You want to know the measurement at its widest point. This measurement will determine the maximum width between the bags.
Now that you have the measurements, you need to transfer those measurements to a set of throw over bags. On a sport bike the saddle bags need to sit up high so they don't sag down and under the rear of the bike. So use that width measurement to make sure the bags can be adjusted to accommodate that maximum width. With the bags sitting up high, you can incorporate the height measurement to make sure they are clear of your pipes. Lastly, check the length to make sure the bag will fit without interfering with the rear turn indicators, or with your riding position, or your passenger's ability to use the foot pegs.
If you need a larger set of bags that what's available without hardware, you may have to consider installing some kind of stay brackets to support larger bags and prevent them from sagging into the rear wheel. Check to see what's available from your bike manufacturer or from the bag manufacturer as many will have bike specific brackets and stays. If you need something with brackets, I highly recommend the SW-Motech Blaze saddle bag system. It's great for smaller bikes and the mounting brackets are easily removable and don't spoil the lines of your sport bike.
One more consideration with a sport bike is an under tail exhaust. This presents a set of problems that you'll have to consider. Depending on the placement of your exhaust, you may have to consider bags with some kind of heat resistant layer on the exterior portion that comes close to the pipes. Also, this will determine how you will secure the bags. Under tail exhaust prevents you from running a strap under the seat, so you will have to consider how your bags will stay secure on your specific motorcycle.
Cruisers
If you ride a cruiser, your choices greatly increase, which could make your job of choosing a bag system a lot more confusing. But let's start with the measurements to eliminate bags that won't fit your bike. The measurements will be very similar to the sport bike measurements but there are a couple of things to determine before you take measurements.
Will you be carrying a passenger? If so, you need to determine how much room your passenger will need for their boot on the rear foot peg. Your length should be measured from that point to the front of the rear turn indicator light. This will be the maximum length of the bag you choose.
Another factor is the placement of your rear shock. If you have an internal mono-shock, then you don't have to worry about it, however, if you have exposed rear shocks, you need to measure from the top of the rear shock to the turn indicator light. Also, you will need to select an angled bag that will leave room for, and sit behind the shock.
For the bag's height, measure from the top of the rear seat, down to two inches above the exhaust pipes. This will be the maximum height of the bags you choose.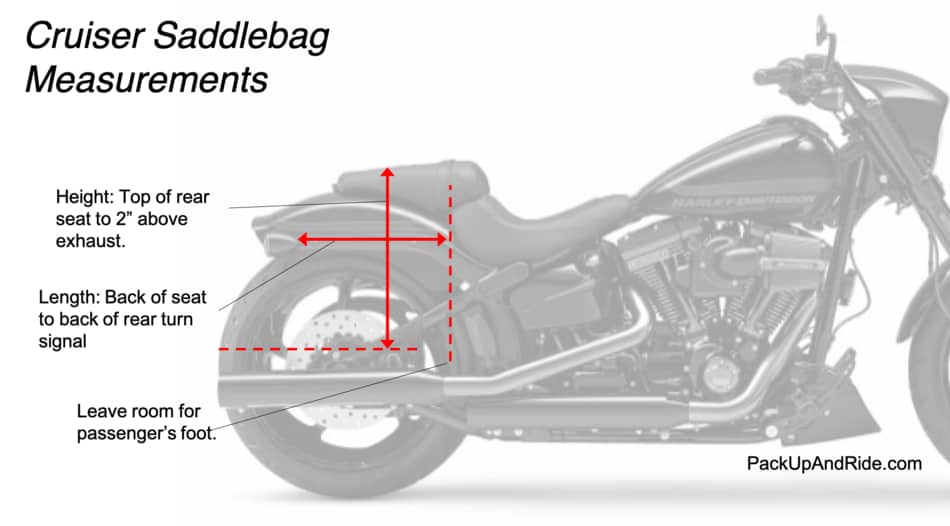 If throw over saddle bags simply won't work for your needs, then check to see what kind of mounting hardware your motorcycle already has. Many cruisers are manufactured with the perfect place to easily mount brackets. Consider the quick release, or quick removal mounting system. This system consists of a couple of mounting bolts on your motorcycle, and a set of bags with a hard exterior, and mounting holes that fit on the mounting bolts. They are easy to remove when you get to your destination, and they have the convenience of a lock to keep them secure from theft. Also, if you want to go sporty, you can leave the bags at home and you still retain the sporty look of your motorcycle; no bulky, unsightly brackets.
Standard Retro-Style Motorcycles
There is some speculation out there as to what a standard motorcycle is. For the sake of this article, a standard motorcycle is one in which the rider is in an upright position, handlebars at a comfortable level, and feet in a neutral sitting position on the pegs. Think of something like the Triumph Bonneville, Ducati Scrambler, or the BMW 1200R.
The same basic measurements will apply as well as the same considerations for external rear shocks, location of the exhaust pipes, rear turn signals, and passenger foot pegs. Retro-style motorcycles often have external rear shocks and a saddle bag thrown over the seat can interfere with those spring shocks or wear out your bags faster than usual. This may limit your selection of saddle bags that will fit with those measurement constraints and you might consider bags that sit up high. If this doesn't work, you're more likely to have to find a mounting system that will keep the bags away from the shocks. However, that doesn't mean you have to install big, ugly, bulky brackets. All you need is something to give the bag support and keep it away from the shocks and wheels. Triumph makes simple brackets for many of their retro-style models and SW-Motech also makes removable brackets for many of these bikes.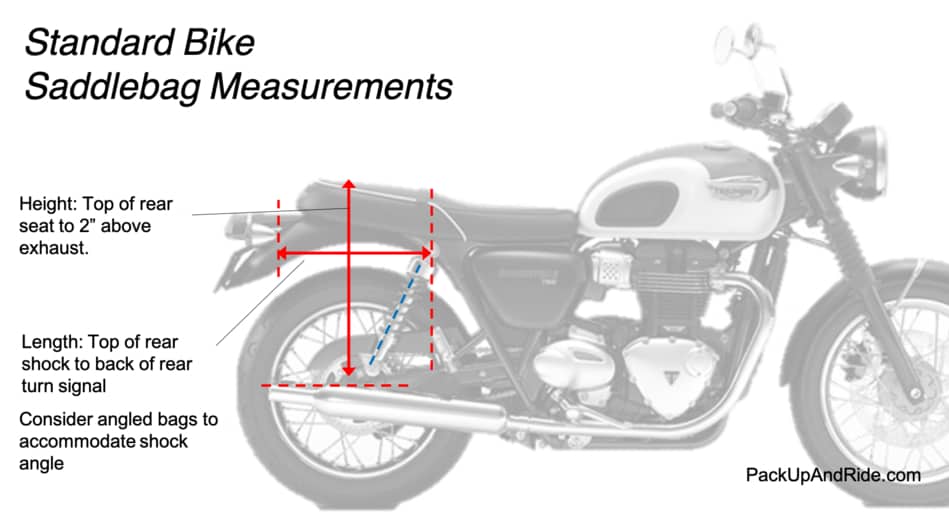 Some of the newer standard style motorcycles have rear ends that look a lot like sport bikes, for example, the Yamaha FZ9, Yamaha XSR900, or the Triumph Street Triple. For these bikes you could consider the same style of bags that would fit on a sport bike. Again, measure the length from the rear turn signal to the back of the rider seat; the height from the top of the rear seat to two inches from the exhaust; and the width at the widest part of the rear seat, including fender and/or grab bars.  One of the most important things to look out for is how the bag hangs and if it is at risk of rubbing against the rear wheel.
Modifications
On any style bike there are a number of modifications that you can make to your motorcycle to accommodate a set of throw-over saddle bags. First, consider a rear turn signal relocation kit. Often bag manufacturers will provide a kit so that a certain type saddle bag will fit with your bike. A good kit should come with everything you need to relocate your existing stock turn signals.
There are a wide variety of after market, low profile turn signals available. LED light technology provides a brighter, longer lasting light in smaller sizes that conventional motorcycle turn signals. They can be mounted in a variety of locations or can be integrated into the tail light, eliminating external turn signals completely. Installing these modifications will require some mechanical know how, and some re-wiring, but who doesn't love a good Sunday morning project anyway. Installation instructions will most likely come with the turn signals that fit with your motorcycle, and YouTube is a great resource for installation instructions.
If you find your bags sitting dangerously close to your exhaust pipe, and this can happen more often with under tail exhausts, you could consider installing a heat shield to the portion of the bags that sit close to the pipes. Thermaflect Tape, or heat shield tape, provides a layer that will reflect most of the heat away from your bags. However, for the tape to be effective, it needs to have at least 1 inch clearance from the heat source to provide sufficient air flow to keep the tape from over heating. So, this will not protect your bag if it is actually touching the exhaust. Frankly, if it is touching, you need to adjust the bag's installation or use a bracket.
Another modification to consider when using throw over saddle bags is something to protect your paint from scratches. Often a bag system will sit directly on rear fenders or side plastics and, over time, the bags will scratch the paint. Many bag manufacturers provide a thin, clear plastic barrier that sticks directly to the bike. If you're not comfortable putting this sticker permanently on your bike, like me, then consider a saddle bag system that includes an extra soft barrier to place under the yoke to protect the paint. For a DYI fix, a clean, soft towel under the yoke will do the trick.
If you're riding a cruiser and you spend your hard earned money on easy lock bags, some have found that the OEM mounting bolts aren't perfectly designed. In some instances the bags may not sit in the ideal spot, and you'll figure this out as you ride with loaded bags. If you find that your bags should sit farther away from the back of the motorcycle, you can install spacers to the mounting bolts. Sometimes it can be as little as a couple of washers, other times it may require 1/2 inch or more. This is a simple DIY fix and washers and spacer can be found at any hardware store.
Often times a rider simply isn't happy with the mounting brackets or stays that a bag or bike manufacturer provides, or the chosen bag system simply doesn't come with mounting brackets. In this case, a lot of riders will design and build their own custom mounting brackets. The perfect excuse to spend time in the garage and break out those metal working tools. This gives you all the freedom in the world to build the perfect, removable brackets that will give you the option to go sporty when the bags are not in use, then convert to touring bike when you're ready.
So, as you can see there are a lot of things to consider when selecting a set of throw over saddlebags and with all the choices out there you can easily get overwhelmed. So, start with the measurements first to eliminate the one's that won't fit. Then pick your style and storage capacity. After that, you can determine if any modifications need to be made. Lastly, after your first trip with your saddlebags, you'll get a good idea of ways you can improve the fit, where they can be tightened, how they should be tied down to prevent wiggle or slipping. Also look for any unusual wear that might indicate they are rubbing on the wheel or sitting too close to the exhaust, then make adjustments as needed.
I hope this quick article has helped you determine what kind of saddlebags to buy for your motorcycle. Riding on a trip without having to worry about your gear makes for a much nicer, stress free journey.