Beginner riders who are looking to purchase a new motorcycle in the United States of America have this frequently asked question in their mind –"Can I ride a motorcycle in the US without having a license?"
The answer is a straight NO! There is no way you can ride a motorcycle in any of the States of the US, legally, if you do not have a driving license. In all 50 states of America, you either need a permit for riding a bike, or a motorcycle endorsement, or a driving license if you want to legally and freely ride a motorcycle on public roads and spaces.
In most states, motorcycle permits are required for riders who are below the age limit of 18 years. In some of the states, the minimum age required for you to obtain a motorcycle permit is either 15 or 16 years. However, in order to get a legal permit as a rider, you need to fully complete a course on 'drivers' education', give a written test, and then pass a road or vision test with positive results and feedback. Only then you will be eligible for obtaining a motorcycle permit. Anywhere around the world, a license is a must for riding motorcycles. Most insurance companies offer motorcycle insurance as a safety asset against different penalties and accidents for bikes. A motorcycle impounded anywhere around the world will need a fixed penalty ticket and appropriate license to release. A motorcycle is private property so it needs to be treated like one. A license is the first step to insure a motorcycle. A motorcycle without a license and motorcycle insurance can become a liability. Insurance companies offer insurance coverage based on the range of the bike. Practice riding and appear for a written test and a riding test to get a driver's license and legally ride the road. Unlicensed drivers are a menace. They can be caught riding in an empty parking lot. Revoked license results in increased insurance premiums.
Let's take a close look at the license issue
The good news is if you already have a legal driving license in the US, all you need is a motorcycle endorsement to be able to ride a bike on public roads. This credential will be added to your existing driving license as an 'add-on'. With this endorsement, you are free to ride your motorcycle, or scooter, or moped on roads that are there for the general use of the public.
Almost all 50 states offer this endorsement to riders who already have a regular driving license, along with an option of getting a license dedicated to motorcycles only.   
An example of this system is applicable in the state of Florida.
In Florida, if you have a legal driving license, and you want to ride a motorcycle or for that matter any motorized vehicle of over 50cc or more, then the law implies you either have a motorcycle endorsement on your driving license or a motorcycle-only license. The endorsement fee in the state of Florida is just $7.
It's important to note a critical point that in the United States, it's legally possible for you to get a motorcycle-specific license only, without having a regular driving license.
Penalties for Riding a Motorcycle in the US without a license
If you are riding a motorcycle on public roads in any of the states of the US, without having a motorcycle license, have no doubt in your mind that you are breaking the law. And when you break the law, you are liable to pay a fine or face legal punishment. The legal punishment even includes jail time as well in nearly all the states.
If we take the example of California, the action of riding a motorcycle without having a license amounts to infractions or misdemeanors. If the law finds you guilty in these terms, you will be subjected to pay a fine of up to $1000 and in addition to that, you will have to serve 6 long months in jail. That's quite harsh!
In the case of Florida, the law will charge a fine of $500 from you, put you on probation for 6 months when you cannot even think of riding a bike and will also make you spend 60 days in a government jail. Even that's harsh as well!
However, it's safe to say that depending on the state you live in, the law and the punishment schemes can be more stringent, and therefore, we always recommend you get a motorcycle license before you start your riding life. Or you can be certain of facing all those hellish punishments, which are handed to riders when they lack a valid license. 
How much does it Cost to Get a Motorcycle License in the US?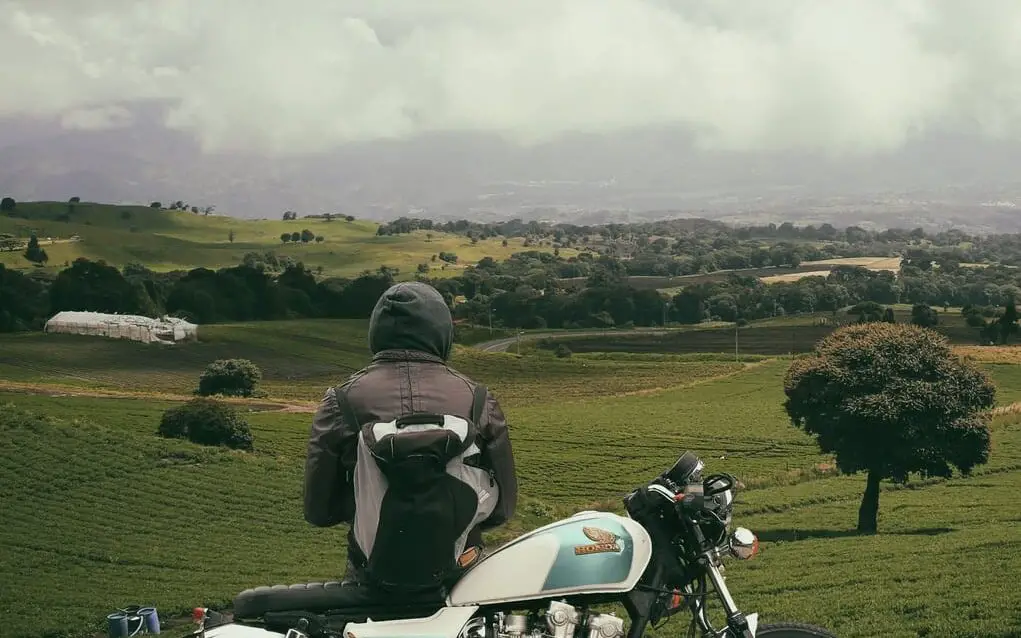 After riders complete their written tests and provided they pass those examinations, they need to do some paperwork and pay a certain amount of fee either to get a motorcycle-specific license or get an endorsement on their regular driving license.
Depending on the state you are applying for your license, the fee will vary slightly and it will also depend on the age of the rider.
More or less, for a license or an endorsement, the total fee won't cross $50 in all the states. Quite affordable!
For example, if we take the state of Texas, motorcycle endorsements cost 416, a motorcycle license for a rider who is under the age of 18 costs $16, and for a rider above 18 years of age, the motorcycle license will cost $18. 
How long does it take to Get a Motorcycle License?
For the entire official process to get complete, it takes several weeks and only after that, you will be able to get a valid motorcycle license.
However, the time varies from one rider to another. If a rider completes his or her motorcycle safety course, passes both the written and skill exams, they will get their license in a much shorter span of time.
In the case of young riders, the process will take a bit more time because they will have to spend a given period of time with a 'learner's permit' before they actually apply for a valid license. For example in the state of California, riders whose age is below 21 years, need to have a 'learner's permit' for a period of 6 months before they are eligible to take the road test for getting a motorcycle license.
We recommend you enroll yourself and complete the government-registered motorcycle safety course. The benefit of doing this is huge as then you will be able to skip the written and road tests, and in some cases both the tests. This will significantly cut short the waiting period of getting a motorcycle license.
Conclusion
In a nutshell, it's safe to say that if you have the required age and aren't under any legal sanctions or imprisonment order, then getting a motorcycle license is easier and is of course, wiser.
However, one thing which makes it difficult for riders who want to get complete their official formalities done in a short period of time is the entire process takes several weeks to complete. Therefore, we highly recommend all new riders who wish to ride on public roads pursue the government-registered motorcycle safety course because they will be able to get through all the tests within a week or two and also get their license soon after completing the course.
A motorcycle license issued in one state will allow you to freely ride your motorcycle in any of the states in the US. If you do not wish to pay a hefty fine or spend a considerable amount of time in jail, it's not just better that you get a motorcycle riding license but also, wiser. Get your motorcycle license without delay and enjoy the taste of freedom!
Last but not least, always carry your license with you whenever you are riding your motorcycle.
DISCLAIMER: The above is not considered legal advice, please seek out your own information from your relevant government websites.